Are you looking for random video chat apps to talk to strangers? Only a few apps allow you to keep your identity private and still speak. When you want to release a day's tension by being playful with strangers, you may not always get the right app.
Don't worry! You will get the best apps to chat with strangers in this article. We have handpicked more than twenty applications for you to try.
Best Random Video Chat Apps to Talk to Strangers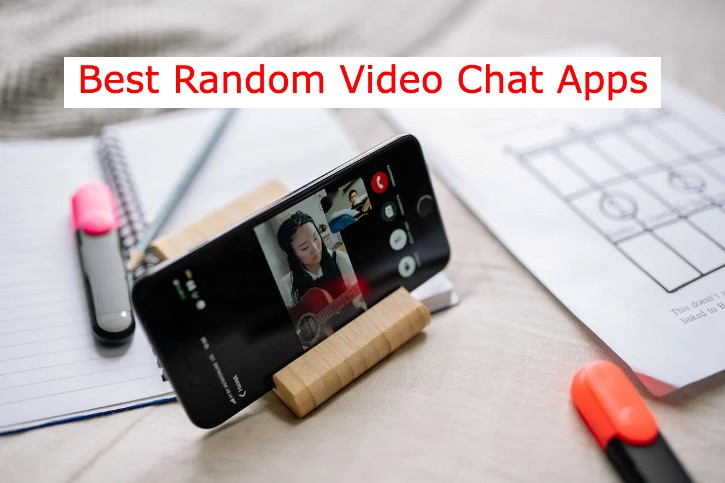 We set out on a quest to find the perfect video chat with strangers app. Though we did see many, the features of each are different. Hence, you will have to choose the one based on your requirements. Let's dive into the list right away.
HIYAK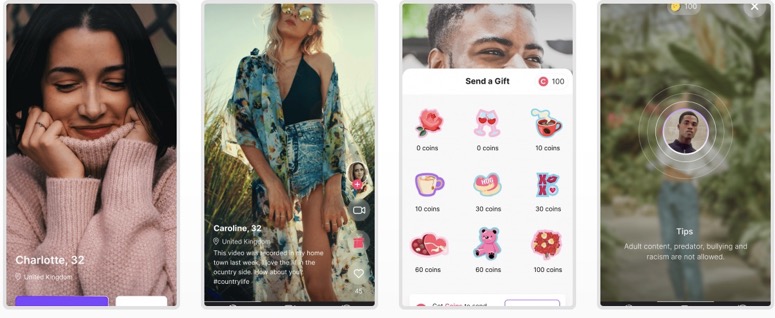 They market themselves as the number one Omegle alternative for random calls. Even if no personal information is required, you should create an account to start using the app. Of course, the random video calling feature is available. Once you make an account, you can post a story through which people can reach you.
In the same way, you can find other people. HIYAK has filters to narrow down your search to seek interesting matches. When you meet someone to your liking via random video chat, you can always call them directly. What intrigued us was the gifting feature. The developers ensure no illegal users sneak into the community.
The app is available for both iOS and Android. So, it doesn't matter what platform you are using.
JusTalk
Next up in our list of best random video chat apps is JusTalk. You can initiate a group call with up to 50 people besides one-to-one video calls. The night vision feature makes this app unique. Your video calls won't have to suffer due to low light. Just like any other video calling app, you can share stickers or photos in real-time.
Feel like doing something together? Well, JusTalk has an option to play games with your friends. The next feature that we are going to share may raise some privacy concerns. Yeah, it has a video (as well as audio) call recording facility. If you want disposable random chats, you may not like the person on the other end using this.
The app is available for both Android and iOS. Though the app is free, it has a premium version with enhanced attributes. The best of them is the lack of advertisements.
Holla
Holla is handy if you are looking for a video chat strangers app with a web version. Since you have created an account on the platform, you can start video-calling strangers immediately. When you want to use the app, the only caveat is the unavailability of an iOS version.
Holla has a Plus subscription with exclusive filters, which helps you land on the right kind of person to talk to. As obvious as it seems, you need to pay for using those filters. Just like any other app of the same purpose, chances are high for you to meet spammy people if you go for the premium subscription.
For some weird reason, the link to the Play Store on the official website is not working. However, you can find that with a simple Google search.
Mico
Mico is more like a social network of streamers than a mere app to video chat with strangers. The platform is a community of international streamers, where you can watch or stream yourself. Of course, you can meet unknown people here. Mico has a video classification algorithm that helps you get the best recommendations.
Apart from video streaming, it's easy for you to chat with strangers. Once you make friends with a few people, you can start a group chat session. Another astonishing feature is the live translations. When you meet someone who doesn't know English or your native language, live translations come to your rescue.
Wink
Let's get one thing straight! Wink is not a dating app, the developers have cleared the fact on the website itself. However, the swiping feature makes you think otherwise. The matching mechanism is based on interests. You get to see people whom you have the most interest with.
The platform has a coin (gems) system. The more you have it, the more requests you can send. What if you receive an inappropriate message? Well, Wink has a special team working around the clock to manage all the reports. So, you can report the person, knowing a deserving action will be taken soon.
With Android and iOS versions available, Wink is a versatile video chat with strangers app out there.
Cuff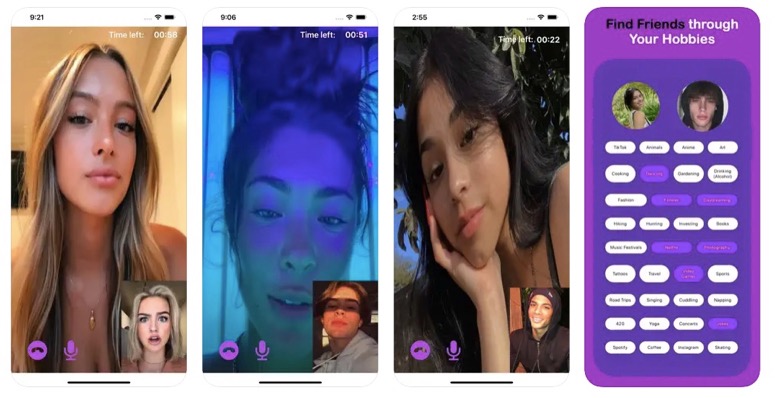 Cuff is a pure online dating app. If you want the best app to video chat with strangers so that you can date them, Cuff is going to quench your thirst. They have a systematic way of finding matching people. First, you sign up for them, fill out the profile, and add your interests.
What's next? Well, you will have to tell them a few dates (with time) for your video dates. Cuff will schedule a 2-minute video date at your preferred time. That's how you can meet new people and decide whether you want to continue the interaction or not.
Android users may be furious with us because Cuff is only available for iOS. The best thing about this video chat strangers app is its high rating on the app store.
Skout
With more than fifty million downloads (on Android only), Skout is one of the best random video chat apps for talking to strangers. It's more of a social networking site than a mere mobile application itself. Besides the app versions (Android and iOS), Skout also has a web version.
You can choose to find people from a proximity or a distant place. Moreover, the broadcasting facility helps you stay up-to-date with what's happening in the lives of people you follow. While the idea itself is good, the app needs a bit of refinement so that it won't be resource-hungry.
The free version is enough. However, for enthusiasts, a premium subscription is available with more features and no advertisements.
Azar
Meet Azar, the one app you need to video chat with strangers (so they claim!). Though Azar needs you to create an account, it doesn't share your personal information with anyone. Lounge is a space on the app, where you can right or left-swipe people.
What if you meet someone who doesn't know your language? Well, you can still video-chat with them as Azar has a live translation feature. On the Live tab, Azar, by default, shows streams from your country. The location-narrowing facility ensures you interact with people from the area you choose (if you want to pin it down to any other country).
AsChat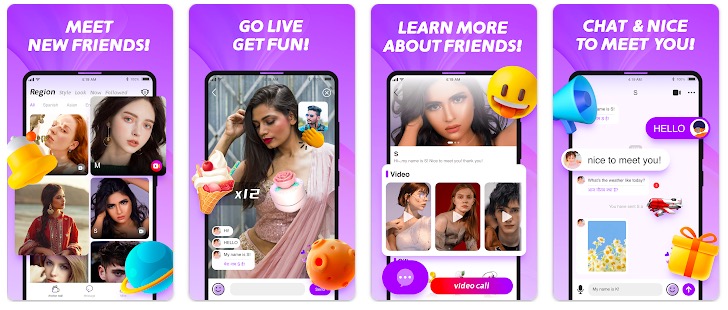 Are you looking for a video chatting application that does the job in a flash? Well, AsChat is one such app with a zero learning curve. You don't need to get used to the ecosystem. Just download the app, select a country, and find people with a single tap.
It may be true that AsChat has nothing new to offer. Nonetheless, it does get the job done. The clean interface, as we already mentioned, doesn't make the process complicated. As is the case with any other chatting app, this one also has some fake profiles.
Badoo
The tagline itself says Badoo is a dating app. However, many people use the application to find friends. So, the choice is yours. We have included Badoo in this list because it has been downloaded several million times over different platforms. For serious users, a Premium Plus plan is available.
Apart from the usual features, Badoo offers many privacy-centric options. Photo verification checks and selfie requests help you make sure people are who they claim they are. Chances are high for strangers to be rude when we don't share common interests. The Rude Message Detector acts as a protector in such cases.
Who
We have shared with you apps with many features. Some people don't want that. They just want to jump right into video chatting. Are you one of them? If you are, 'Who' is here for you. Available for both Android and iOS, it takes a couple of taps to get you equipped for video calling.
When you look at the numbers, you know you are going to be a part of a large community. Despite the free version, you can always go for the paid plan to elevate your privileges. The one disadvantage, the users pointed out is the timer feature for free video calls.
Chatrandom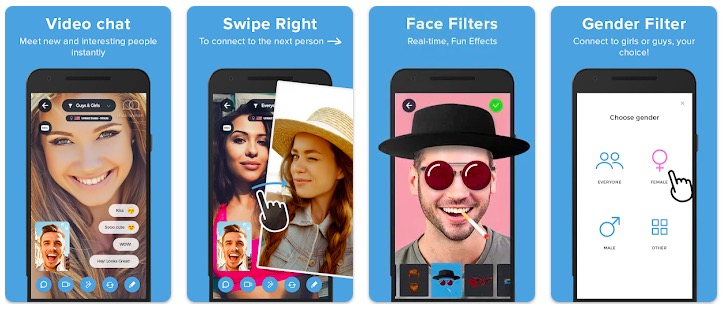 Are you looking for a video chat app like Omegle to talk to strangers? Chatrandom got your back. You are going to get uncensored video chat without having to go through a tedious registration process. The gender and location filters ensure you stumble upon those whom you are desperate to meet with.
Launched in 2011, its Android app has been used by over a million people. Moreover, many more enjoy the service through their website. The iPhone users may find themselves disappointed because the app isn't available for them.
Hitwe
Next up in our list of free random video chat apps is Hitwe. Despite of having the typical features, it can notify you when a person you like comes online. That way you won't miss out on chilling with your favourite people. The rest of the features resemble the other apps on the list.
Monkey
Here comes a fancy alternative to Omegle. However, you need an account on the platform to start chatting. It has a swiping system with personalised profiles and group video chat.
ChatjoyChatjoy
Chatjoy is another application to help you find your type of people. It has a series of filters to narrow down your quest for companionship. You are not going to miss out on any features from the paid version because the app is available for free.
A Few More Best Random Video Chat Apps to Talk to Strangers
Conclusion
There you have it, the best apps to video chat with strangers. In this hectic real world, we may not find suitable friendships or even relationships. However, these applications help you do the same, as many of them have interest-based matches. Have you used any of the apps listed here? Don't forget to share your experience with us in the comment section down below.