CPU or Processors are electric devices that use electric signals to work. These electric signals tend to generate heat when moving from one place to another. So, depending on the CPU, it requires adept cooling and stable temperature to keep working efficiently.
As you might have experienced thus far, computers require a lot of care and testing to give the maximum potential all the time. However, keeping temperatures at bay is one of the most challenging things since it requires a lot of troubleshooting.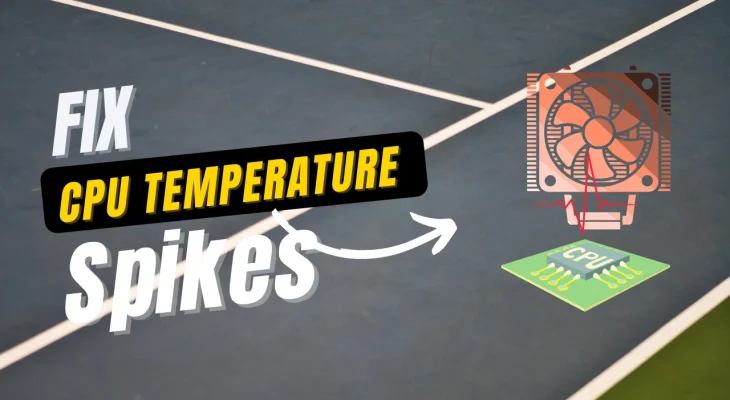 We at CPUReview have tested a lot of CPUs over time, and we had to fix several temperature issues every now and then. So if you want to understand:
Why does CPU temperature randomly spike, and what is the acceptable CPU Temperature?
Why does CPU temperature randomly spike while idling?
Why does CPU temp spikes while gaming?
How to prevent your CPU temperature from rising?
Then, this post is for you.
CPU Temp spikes are usually normal. When you are running heavy applications of tasks like rendering or any other CPU boggling task, it tends to generate more heat than usual. However, an unexpected or idle temperature spike can be something unusual and require immediate attention.
Why CPU Temperature Randomly Spikes? Why is my CPU Spiking?
There are a lot of applications and programs running in the background to make your PC run properly. However, some backgrounds are more necessary than others.
If CPU high temperature for no reason, then that is something else, and the problem is with your cooling system. However, the random CPU temperature spikes are a cause of some heavy or complex tasks.
Things like Wallpaper Engine, Skype, Discord, Steam, Windows Defender, and any other Anti-Virus program can add up and cause your CPU to work hard. Other things like download, uploading, gaming, or Rendering can also cause your CPU to work hard and generate a lot of heat.
In other cases, a failed cooling system can also lead to unexpected CPU temperature spikes. For that, you will have to open the casing and do some troubleshooting to find the cause of the problem.
Also, a faulty Power Supply Unit or Low-voltage PSU can lead to overheating since it will not provide a proper voltage for the cooling system, thus less performance.
In such cases, it would be best to run the Task Manager head to Processes and see which programs or applications are boggling your CPU usage and causing it to overheat. Then, close these unnecessary programs one by one and wait for a little to see if the temperature cools down to normal.
You can also check if your Windows is updating in the background; it can also cause your CPU temperature to rise a little because of downloading.
What Temperature is Normal for CPU?
Before we move any further, it is crucial to understand what temperature is normal for the CPU. Under normal circumstances or when your PC is idle, 30° C to 40° C is normal. However, due to a little weak cooling system or a few background processes, it can sometimes go upto 60° C. This is normal in almost all cases.
As for complex tasks and gaming, 70° C to 80° C is quite normal since the CPU executes complex tasks under tough circumstances. However, some extra CPU-heavy tasks like RenderingRendering or gaming can also cause your CPU to reach upto 90-100° C temperatures, which can also be considered normal for some models. However, it should not remain at such temperatures for an extended period, let's say 4-hours.
CPU Temp Spikes Idle – CPU Temp Jumping 10 Degrees
As stated before, some CPU spikes are usual and normal under some circumstances. However, there are many things that can cause your CPU to spike temperatures now and then, even when it is idle. Things like many background processes, faulty cooling systems, and Power Supply Units can cause your CPU to generate more heat.
If you are facing a CPU temperature spike, even at idle. The first thing you need to do is open the Task Manager and see if there are unnecessary programs running in the background, causing your CPU temperatures to spike. Things like downloads, Spotify, Skype Calls, and Windows Updates require your RAM memory to work, but they can often add up and boggle your CPU. However, random temperature spikes after every few seconds can be a cause of a serious problem that needs immediate attention.
As stated before, 30° C to 60° C CPU temperature while idling is quite normal and does not require any immediate attention. If your CPU temperature remains under that while idling, then you don't need to worry.
If there is nothing out of the ordinary in terms of processes, then you need to open your PC casing and do some troubleshooting. You can find different troubleshooting methods and solutions at the end.
CPU Temperature Randomly Spike While Gaming
Video games usually operate using graphics cards. However, they require a decent amount of CPU resources to work properly. Moreover, it also depends from game to game.
Some games are extremely heavy and more inclined towards CPU usage. Valorant is one such example that is more CPU usage games rather than GPU. Games or RenderingRendering mostly cause your CPU to spike temperatures randomly or constantly. As stated before, temperatures ranging from 70° C to 85° C are considered quite normal for games that require big resources.
Anything more than that is not normal in some cases and requires immediate attention. Just like before, it can be a cause of a faulty PSU or cooling system. Or your current cooling system is not good enough to cool down your processor under tough circumstances. In which case, you will need to give a few upgrades to your current cooling system.
Moreover, overclocking can also be the cause of overheating in your case. Overclocking the CPU unlocked its potential to provide more processing power. However, more processing power means more heat. If that is the case, you need to either underclock your processor or upgrade your cooling system.
How to Prevent Your CPU from Overheating? Possible Solutions
There are quite a few solutions you can try to prevent your processor from overheating and stay under stable temperatures. Some of these methods are easy to do and require not much experience and information. However, some troubleshooting methods require some sort of information.
Note: Do not attempt to troubleshoot your system if you are not sure what you are doing. In such cases, it would be best to seek professional help.
Running several applications and programs at once can boggle your processor and cause it to generate a lot of heat. In such cases, you can try closing these programs one by one and monitor the temperatures to see if it helps. In most cases, the temperature cools down quickly. If you still find your CPU overheating, try other solutions
Executing resource heavy programs like games or RenderingRendering require a lot of CPU power to perform. In such cases, try to free your CPU resources as much as possible. If you face temperature spikes every time you play a game or run a resource heavy program, then there is not much you can do except investing in a better cooling system.
You should also boot into your BIOS and check all fans related settings. You should also troubleshoot and check if the fans are changing their speed with the rising temperatures.
If you are still facing the issue, then open your casing and clean every last bit in it. The dust that accumulates in the case over time can cause your PC to overheat a lot. Furthermore, the inside temperature of your casing can lead to higher CPU temperatures.
Now, we move on to more hardware related troubleshooting methods. The first and most-easy thing is to check the thermal paste on your CPU. Now maybe the time to re-apply thermal paste on your CPU. Old thermal paste gets dry overtime and becomes way less effective than it needs to be. Thus, heat energy is not properly transferred from the processor onto the heat sink which leads to CPU overheating. In most cases, this solves the overheating. Therefore, you should try this method before moving on to other methods.
Another thing that might be causing this issue can be your Power Supply Unit. Most people don't think about PSU being the issue. However, if your PSU is faulty or low-wattage, then it cannot properly power up your cooling system, thus leading to overheating issues. You will have to troubleshoot with a different PSU to see if the issue continues. You can ask a friend or co-worker to borrow their Power Supply Unit for your testing.
If you are still facing the overheating issue, then it is time to check your cooling system itself. First, check if all the fans are working properly. Try to monitor the fans and see if there's a faulty fan leading to overheating. You should also check your current heatsink on the CPU and see if it is good for your current CPU. You can find guides on your CPU online. Furthermore, you should also check your system's airflow configuration. Check the numbers of the fans, their specs and effectiveness. There are three mostly used PC airflow configurations; Positive Airflow, Negative Airflow, and Balanced Airflow. PC's Airflow Configuration can change the overall temperatures of your system by a long shot, so it would be best that you are using an adept settings.
As for the liquid-cooled systems, you should check your reservoir and the overall flow of the liquid. You should also monitor your radiators and see if they are working properly.
Conclusion
Processors generate a lot of heat under pressure and execute complex tasks. However, there is a limit to all processors, and if they exceed the said limit, you will face exponential performance loss and even end up damaging your hardware. Therefore, it is crucial to monitor your temperatures and ensure everything is working properly.
Random CPU temperature spikes is also one related issue that can be caused due to various reasons. First, you should check if those temperatures are under the defined limit, then you will have to manually troubleshoot and see what is the main cause of the issue. It can be caused due to both software level issue or hardware level issue.