Not all CPUs are suitable for every task. Some are specifically made for gaming, while others are designed for various tasks such as video editing, rendering, and encoding. Best CPUs for rendering purposes are a bit expensive than the standard CPUs, which in result make all video editing tasks effortless and straightforward. Keep in mind that you cannot use a normal computer for an intensive task such as video editing.
| Award | CPU | Cores/Threads | Price |
| --- | --- | --- | --- |
| Best CPU For Light Photo/Video Editing | AMD Ryzen Threadripper 2990WX | 32/64 | Price |
| Best Ryzen CPU For Video Editing | AMD Ryzen Threadripper 2950X | 16/32 | Price |
| Best Intel CPU For Video editing | Intel Core i9-9900K | 8/16 | Price |
| Best Budget CPU For Video Editing | AMD Ryzen 5 2600X | 8/16 | Price |
| Best Cheap CPU For Video Editing | Intel Core i5-9400F | 6/6 | Price |
Video editing is not an easy task, so it is vital that when you are building up a PC for this task, you should opt for the best one within your budget. Most video editing software only works on CPUs that have high specs, and this is the primary reason why you should get the best one.
If you are serious about your video editing job, the performance of your CPU is crucial. Many factors impact on the processor's performance when you are engaged in video producing or editing tasks.
On the other hand, the market is full of CPUs, and sometimes it can be confusing. This is true for content creators who produce videos all the time. With that mind, we have come up with these reviews of the best CPU for video editing purposes. Here they are:
Best CPU For Light Video Editing And Rendering

If video editing is more than a hobby for you, this AMD 32-core processor can efficiently handle all video processing tasks. AMD Ryzen Threadripper 2990WX is suitable to use for production, mass rendering, video encoding, and video editing.
Like other AMD CPUs, Threadripper 2990WX features the latest technology that vigorously adjusts according to your CPU parameters. These parameters are the workload and power consumption environment. This ensures that the CPU always delivers maximum efficiency and the best performance.
2990WX has various remarkable features. The unit comes with 32-core processors that are further divided into four nuclei, which are balanced and correctly connected. This enables each processor to easily access any of the 64 PCIe lines and CPU memory, which in result, offers super-fast working.
The unit is compatible with any X399 motherboard that makes the installation a breeze, and you can also connect it with old motherboards via an sTR4 connector. Overall, it is well-suited for professional video editing tasks that need high power.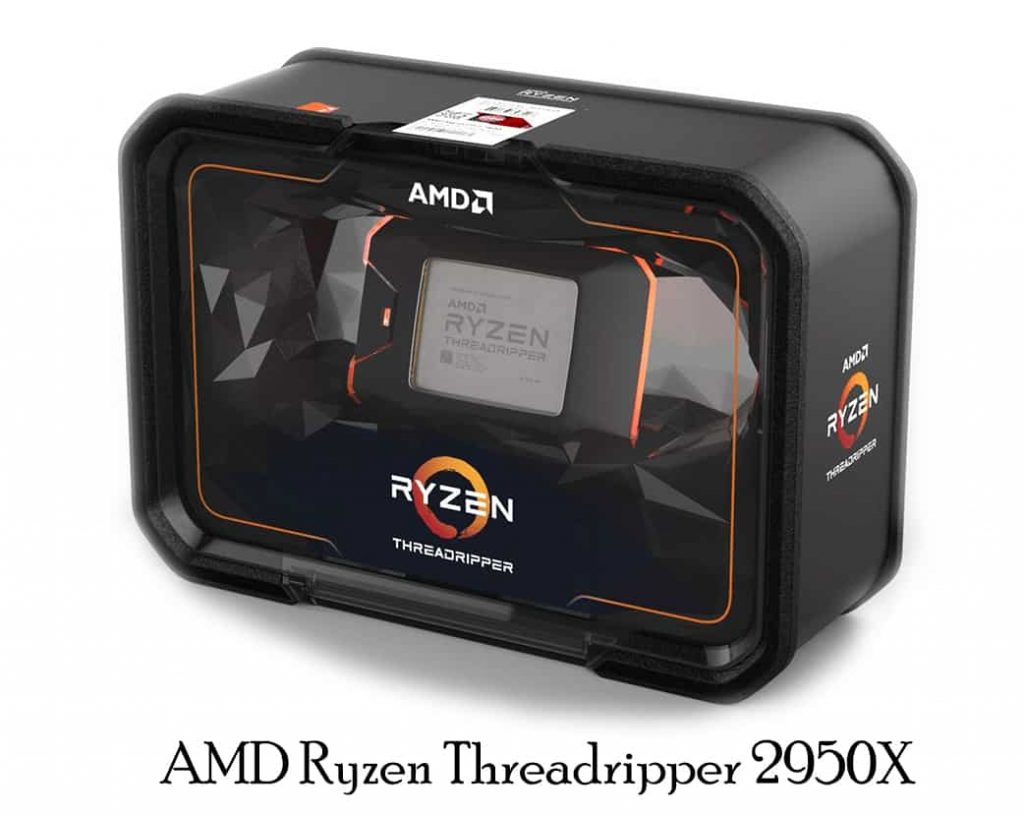 Next comes the AMD with its latest Ryzen Threadripper 2950X. The CPU lives up to the brand's reputation by offering a terrific performance. Most importantly, this AMD CPU for video editing purposes is much cheaper than the others. The unit can handle various demanding tasks such as modeling, rendering, video editing up to 8K, and video streaming as well.
Also, check out the best CPU for streaming and gaming for smooth streaming and gaming.
The unit features a 16-core and 32-stream processor that can work up to 5.00GHz. AMD has designed this CPU, keeping in mind the needs of video content creators. The device is expertly made and carefully thought out. Moreover, a smart application in this device allows you to enhance the acceleration limits without affecting the settings and combinations that may lead to your PC's damage.
By using the Ryzen Master Software, you can switch between Creator and Game modes. In a Game mode, half of the cores will be disabled, and you will find some changes in the memory that will improve the gaming performance.
Ryzen Threadripper 2950X delivers excellent performance for various video post-processing tasks that utilize all CPU cores and threads. Lastly, the unit is well-balanced for common and highly-specialized tasks, including video editing.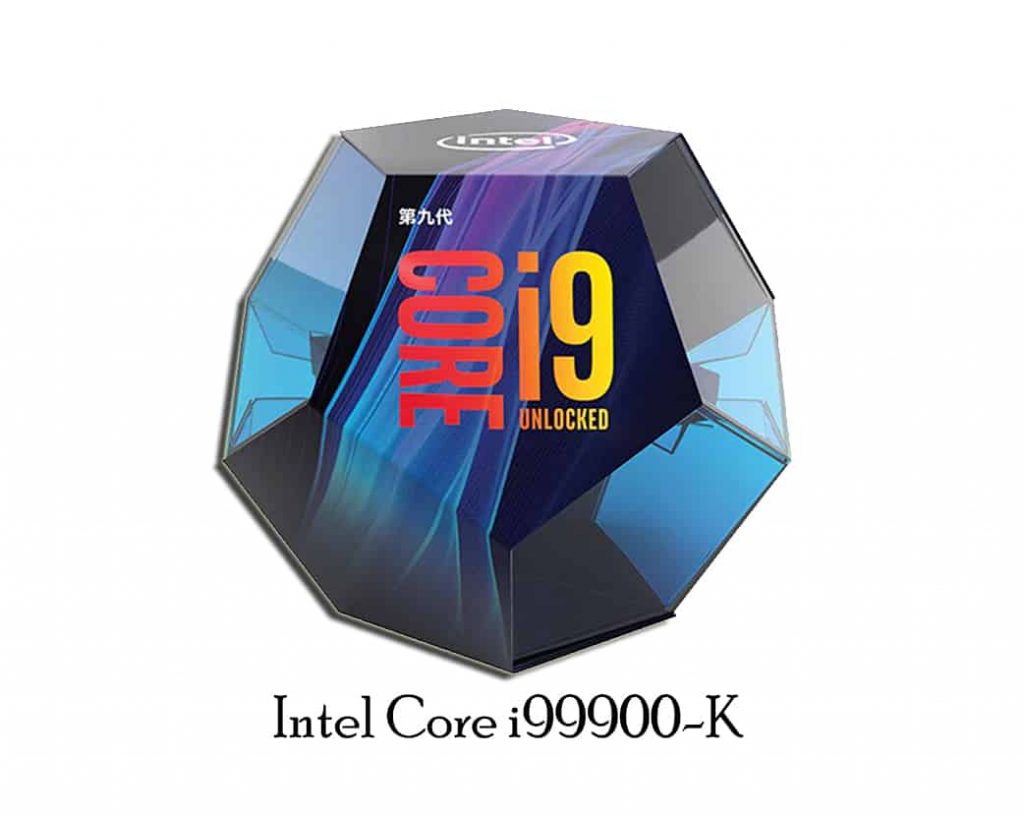 On first place in our list comes our very own the Intel Core i9-9900K. The processor comes fully loaded with eight cores and sixteen threads. So, it is sufficient to export and encode or decode videos. Moreover, the 3.6GHz base frequency allows you to perform video editing and other intensive tasks with ease.
If you want more power, i9-9900K can perform at higher frequencies up to 5GHz, which does an excellent job of calculating timeline effects, and it is subjective to overclocking.
The CPU features a better micro-architecture; it is compatible with motherboards with the 300 series chipset. The cooling STIM offers great heat dissipation and allows you to overclock the processor without any type of overheating.
You will also find an integrated graphics card for video editing in this video. The Intel UHD 630 and the processor works flawlessly with Intel Optane memory and delivers lightning-fast performance.
Lastly, it can support up to 40 PCIe lines and 16MB cache memory, and indeed it is the best choice for video editing uses that offers a perfect balance of price and performance.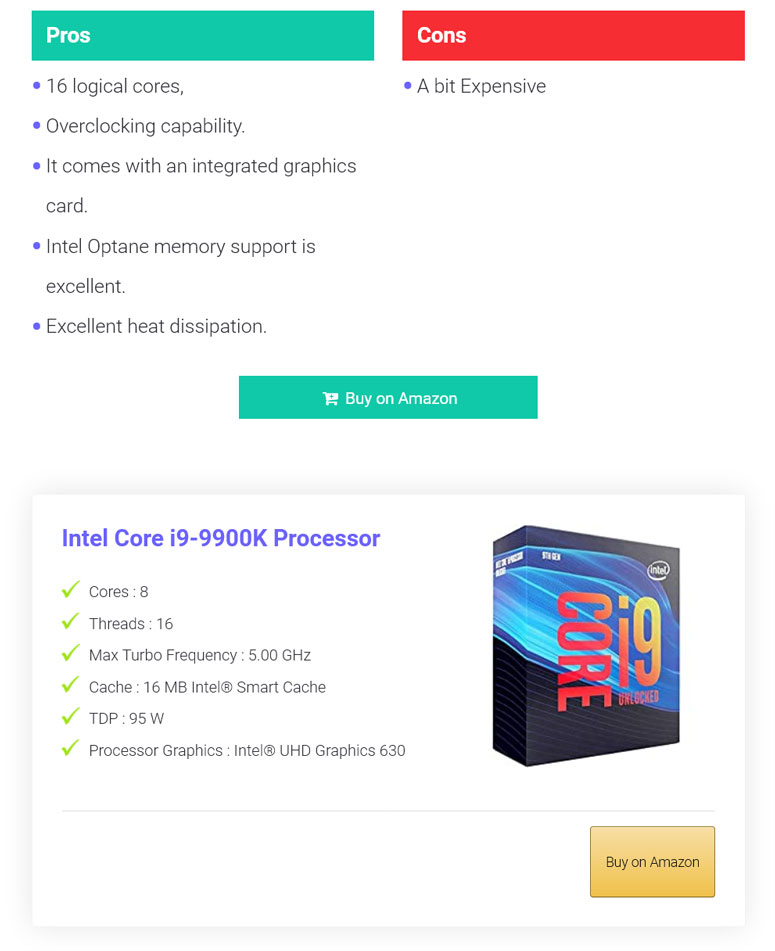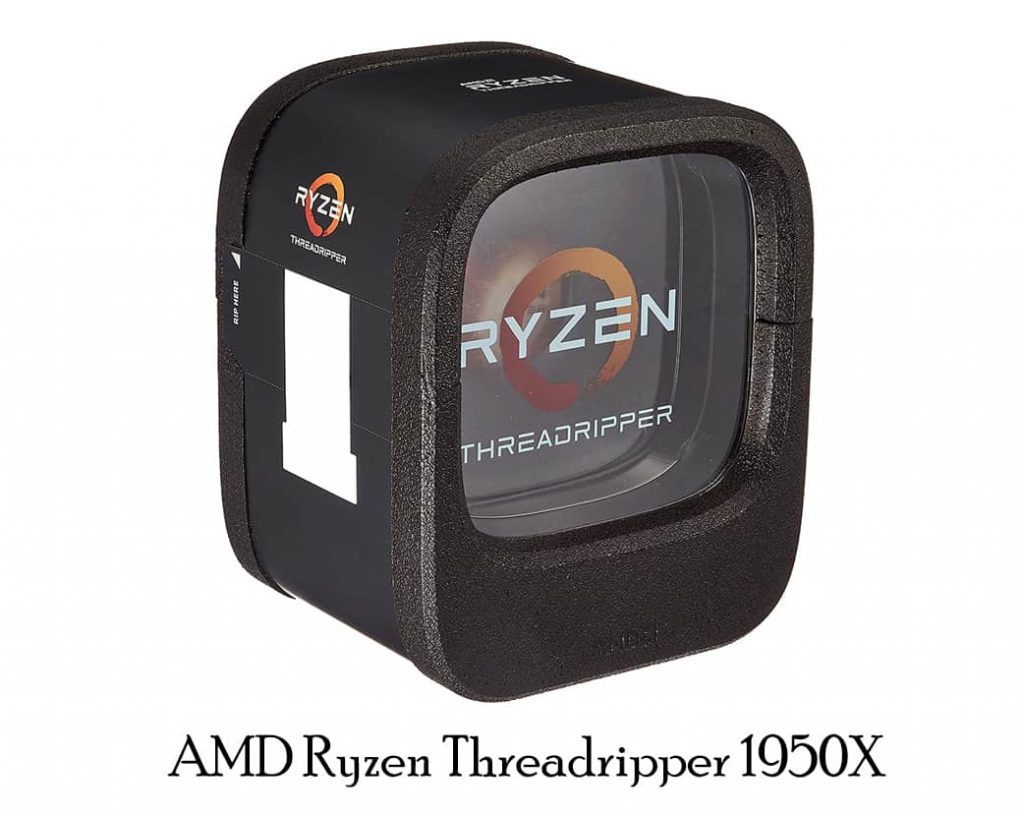 Here comes another AMD processor on our list. AMD Ryzen Threadripper 1950X has a base frequency of 3.4GHz, and it can support 16 cores and a large number of PCIe. Sixty-four cards in the model connected to the board working at full speed are a significant advantage if you want to install an additional video card in the future. Moreover, this also comes handy for video capture cards and network devices.
This AMD Ryzen Threadripper 1950X features two latest and dedicated modes for video editing users and gamers as well. In this AMD Ryzen 1950X, you will find an outstanding thermal shell that effectively transfers the cores' waste heat to the CPU cooler.  The AMD model also has a remarkable cache memory up to 40MB, and you will find it cheaper than analogs as far as performance is concerned. Lastly, the expertly designed packaging and an adjustable torque wrench is a bonus to the purchase.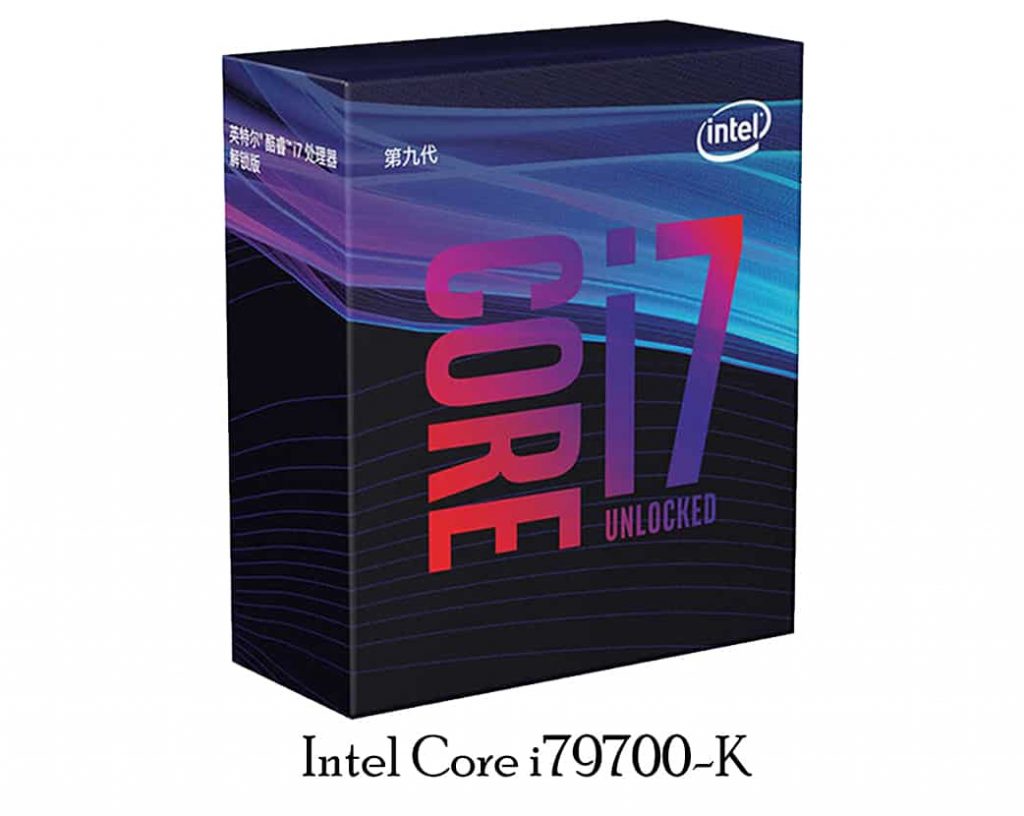 For many years, Intel i7 was the top choice processor. The era ended when Intel released Intel i9. However, Intel i7-9700K is still outstanding when you need the best CPU processor for video editing purposes. The unit comes with eight cores and eight threads.
The unit's base frequency is also remarkable up to 3.6GHz, and you can upgrade it up to 4.9GHz before you need an overclocking. Moreover, the model comes with an integrated Intel UHD 630 graphics card; hence it is well-suited for intense jobs.
Intel i7-9700K might not be the quickest in the market, but it delivers satisfactory performance and offer many benefits that all video editing users demand. A nice bonus with this model is that it offers decent gaming performance.
With straightforward custom installation and effortless overclocking, it is still the best choice for video editing users that need high performance at a reasonable price.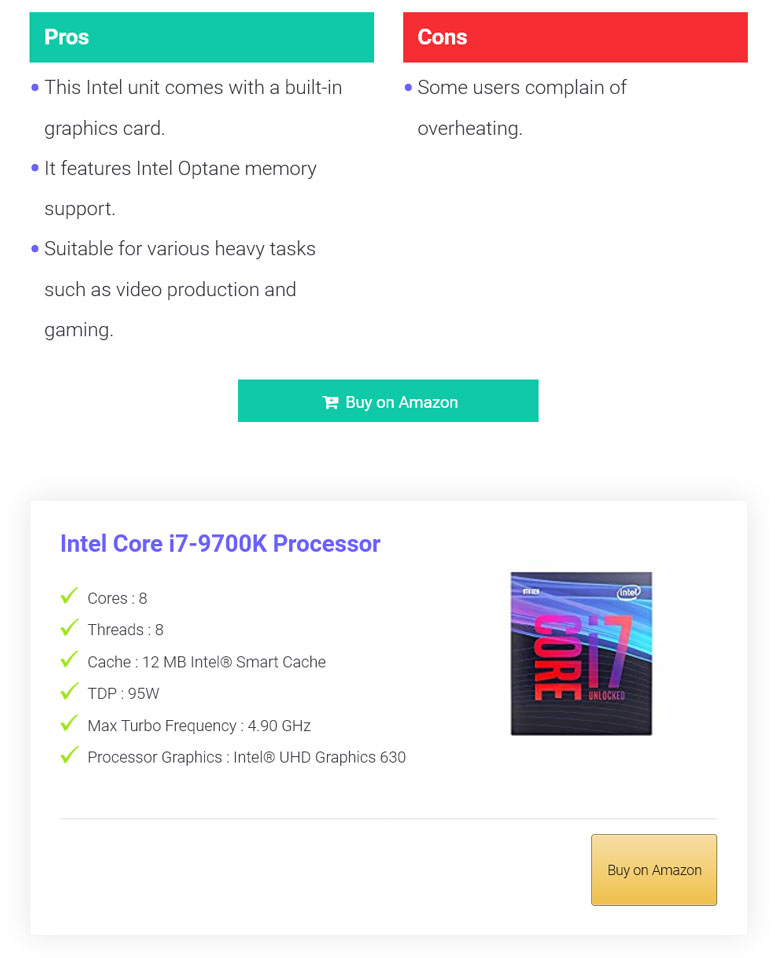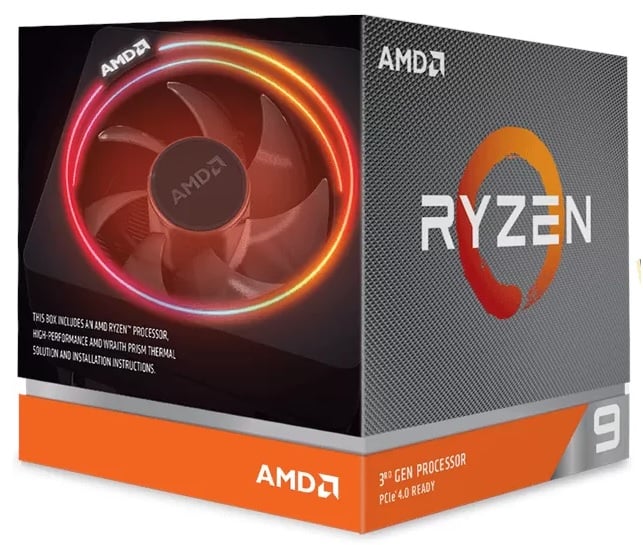 Coming from the AMD, Ryzen's 3900X is among the best mainstream CPUs that you can get for heavy video editing tasks.
The unit comes with 12 cores that are more than enough for heavy video editing uses. Moreover, you will also find multithreading in this AMD 3900X that will double the processing thread count by up to 24.
As for clock speeds, the 3900X is great as well. The model clocks in at 3.8 GHz with a boost of 4.6 GHz. Hence it can efficiently perform all types of video editing assignments.
According to the consumer reports, the unit's high clock speed and additional cores and threads are much better than the others, including Intel's Core i9-9900K.
The 3900X comes with an unlocked multiplier. In simple words, you can comfortably overclock this chip if default stock settings are not suitable for your needs. Another thing that we love in this unit is that it features AMD's AM4 socket. It allows you to upgrade it from older generation chips to the latest. All said and done; it is a powerful chip for video editing uses that demands your serious consideration.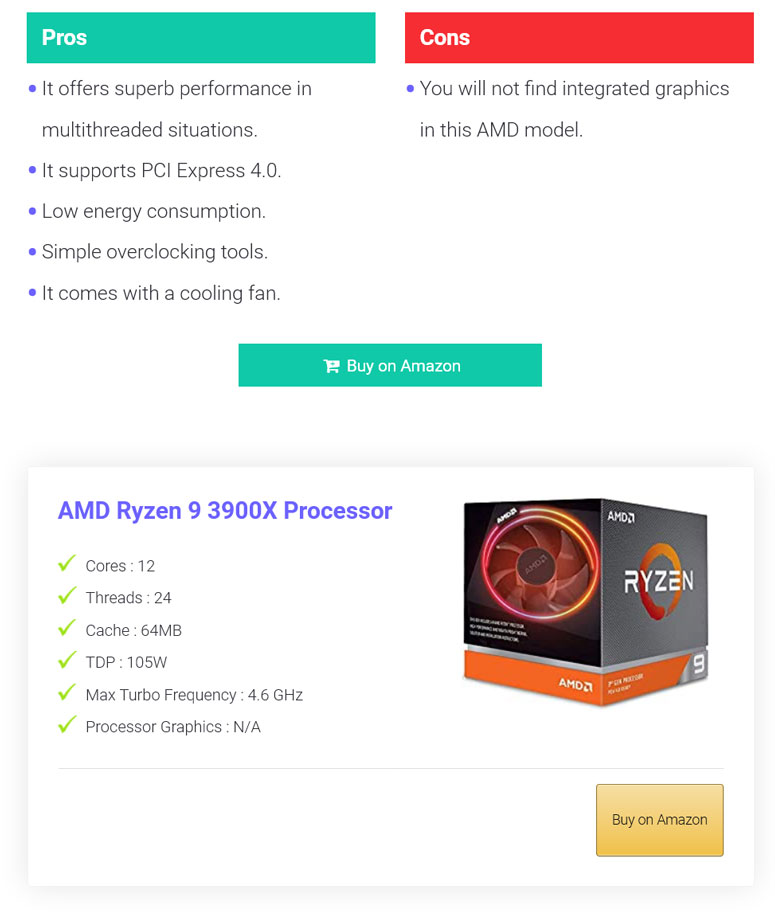 AMD Ryzen 5 2600X – Best Budget CPU For Video Editing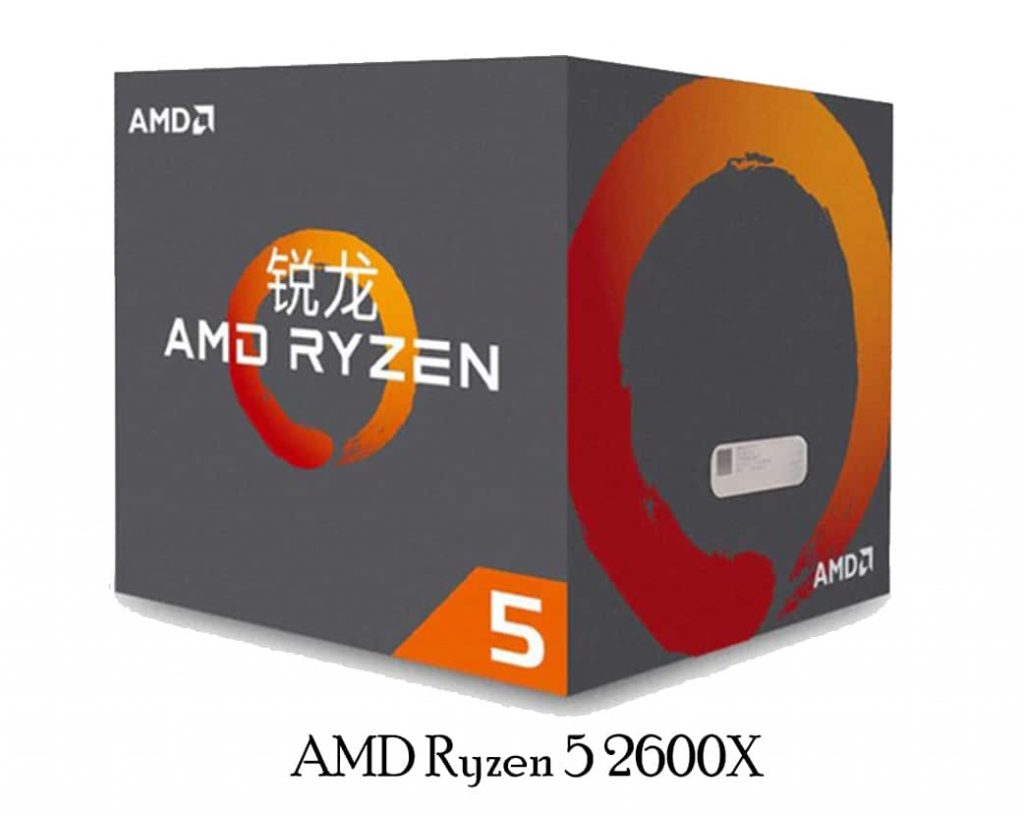 The Ryzen 5 2600X features six-core and twelve-threads that are enough for day-to-day and heavy uses. That is why this AMD processor can efficiently manage 1080p resolution. Furthermore, you can also use this processor to edit 4K videos.
Like other AMD CPU's, you can overclock this model as well. This AMD Ryzen 5 2600X has a base frequency of 3.6 GHz with an upgrade up to 4.2 GHz before overclocking.
In our opinion, Ryzen 5 2600X is intelligently designed for primary and intermediate level video editing uses. It might not be the best, but it can handle your editing things. This AMD model's main drawback is that you will have to buy a graphics card separately as it does not come with a built-in graphics processor. If you can deal with the only drawback, it is the best-budgeted CPU for video editing purposes. Lastly, the 19 MB of cache is sufficient.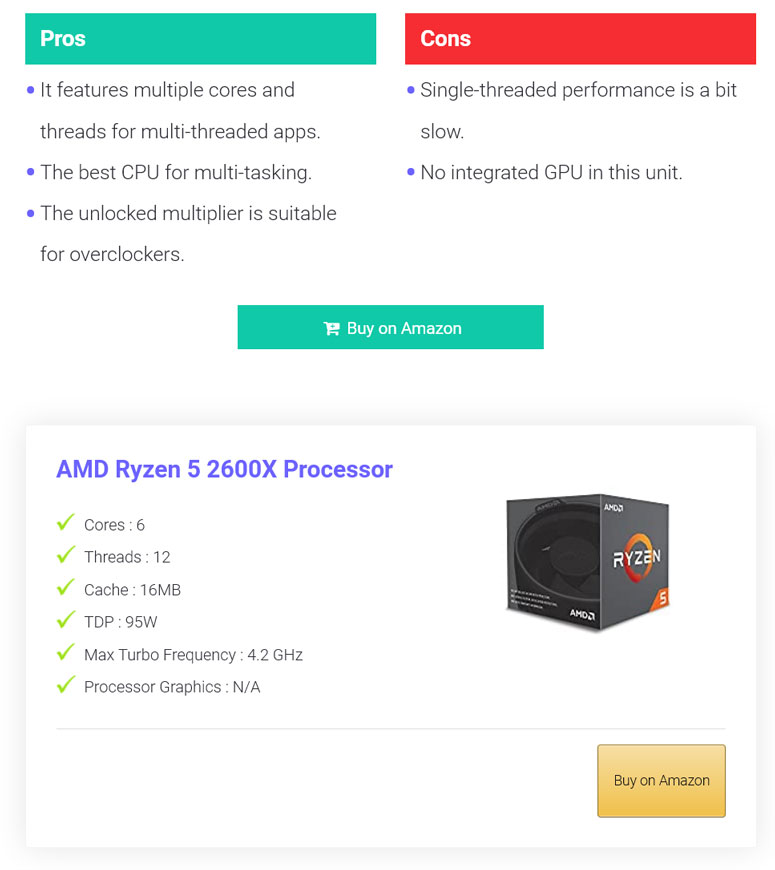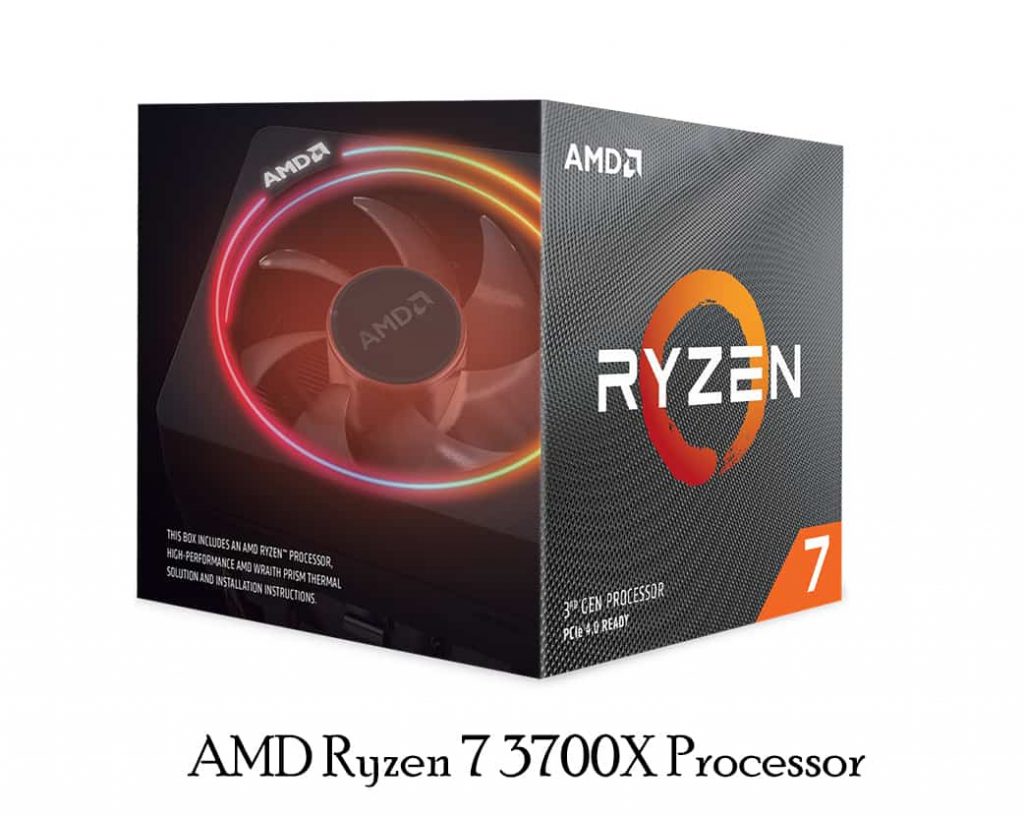 There are only two CPU's in AMD's 3rd generation line up and 3700X is the second one. As compared to the other top-rated model, Ryzen 7 3700X has excellent overclocking potential. You will have plenty of headroom with this processor.
The AMD 3700X includes eight cores and 16 threads that enable you to use it for multithreaded tasks such as video editing, rendering, and encoding. This AMD model is a strong competitor of Intel's 9th generation Core i9-9900K, and according to some users, it is much better in terms of price and performance.
This AMD silicon chipset features a 3.6GHz base clock that you can enhance up to 4.4GHz if needed. The unit's CCX design is unique, and it comes with double L3 cache memory as compared to the other second-generation Ryzen units. In this unit, you will get a total cache of 36MB.
All things considered, if you want to save a few bucks and don't want to compromise on performance, this Ryzen 7 3700X is the perfect CPU for you.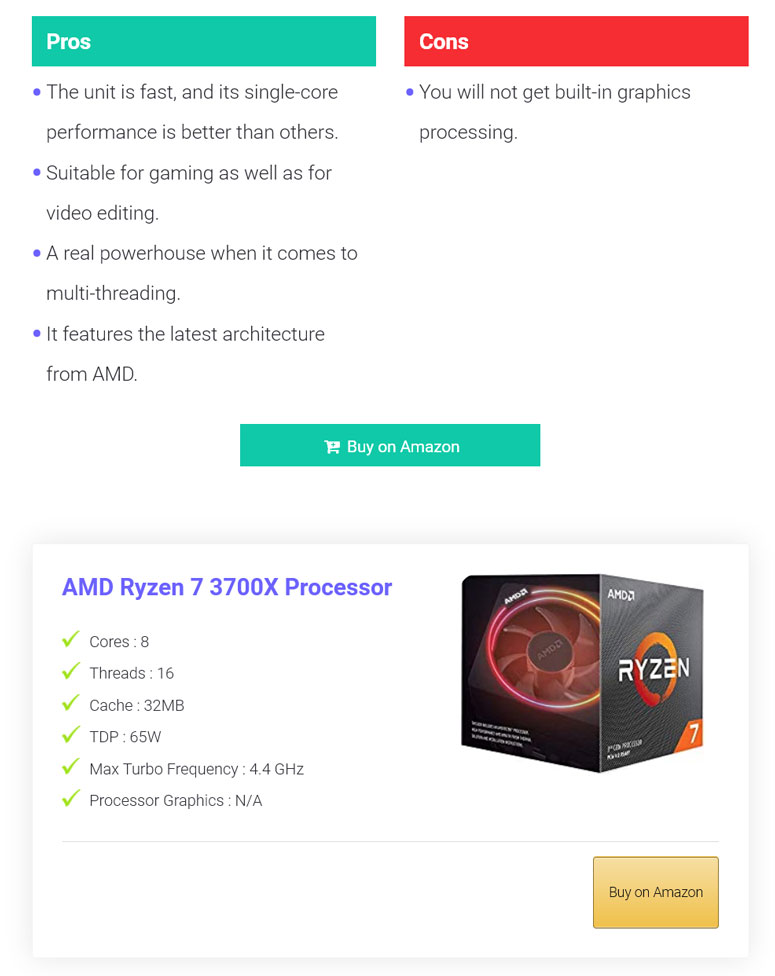 F-processors by Intel are the 9th generation of processors. This Intel CPU is much cheaper than the other options on this list. The Intel i5-9400F does not come with an integrated graphics and overclocking function. Perhaps it is the biggest and only drawback of this Intel processor. However, you can still use it for video editing uses.
The 9400F by Intel features six cores and six threads. So, if you have a limited budget, this is the processor for you.
The processor's base frequency is around 2.9 GHz, and you can raise it up to 4.1 GHz under the workload. In our opinion, the base frequency will be more than enough for most users. However, you can't overclock the Intel 9400F.
If you still think that the overall performance of this Intel unit is not up to the mark, keep in mind that it is cheaper as compared to the other video editing processors. So, in this way, it is an excellent choice for you.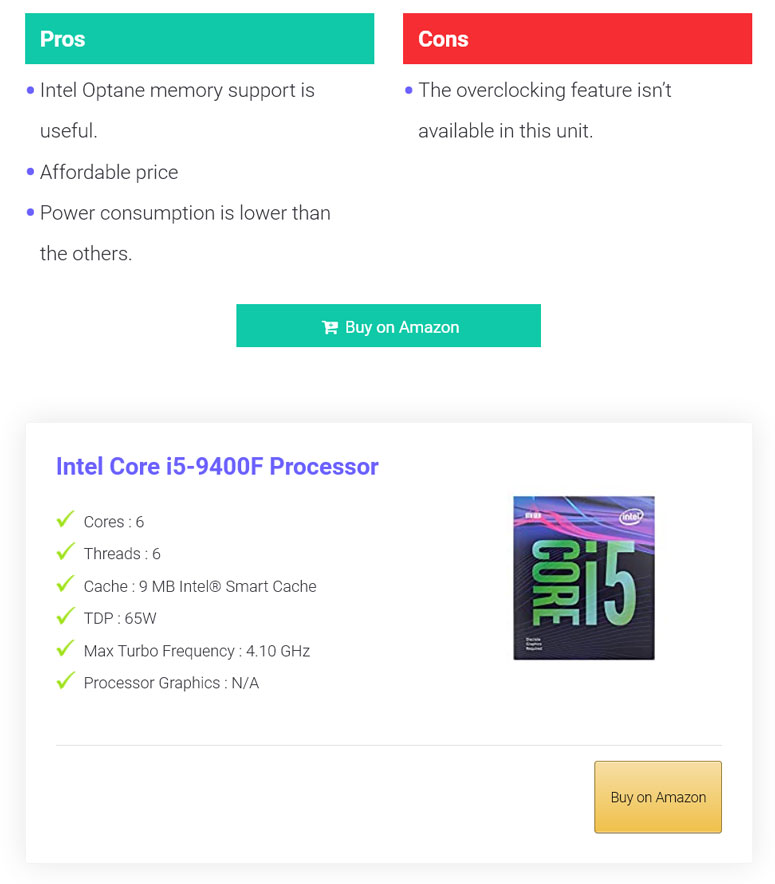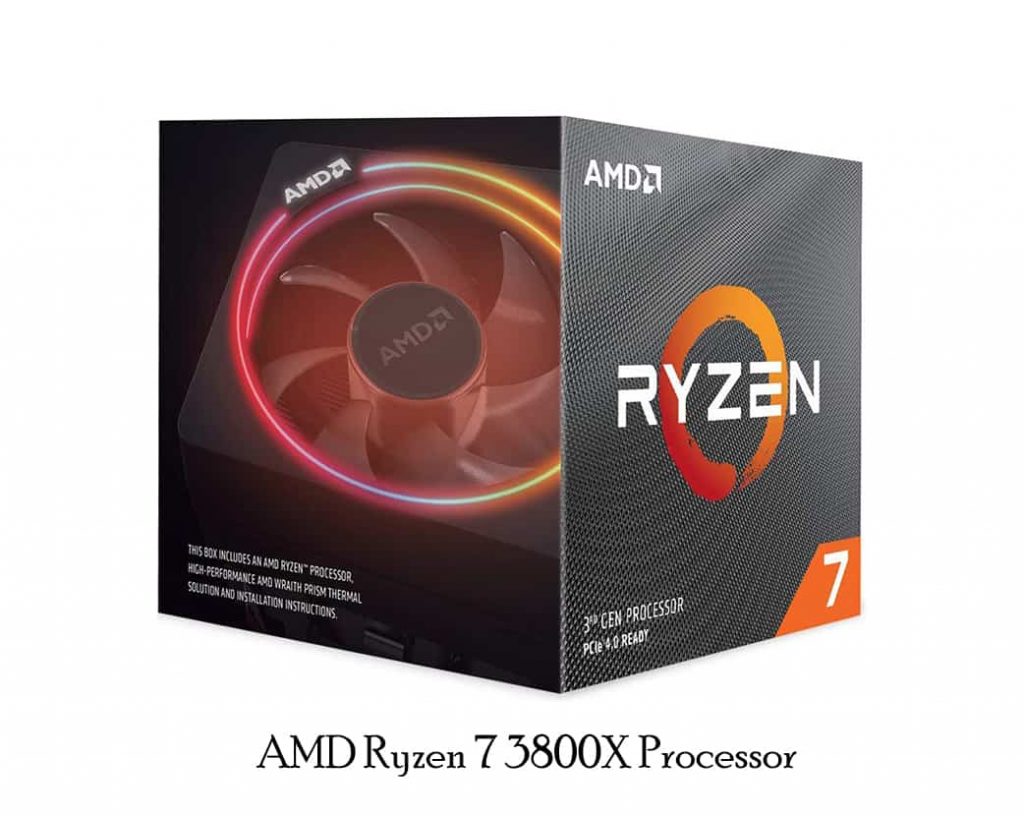 The AMD line up is full of great products, and you will find all sorts of models in AMD's range of processors. At this spot, we have a powerful option for you, Ryzen 7 3800X.
This powerhouse by AMD features 8-core, 16-threads is more than enough. According to many users, this is the best alternative to AMD 3950X's or 3900X's cores. The unit allows you to produce high-quality videos with ease.
The unit will work flawlessly until and unless you are not working with 3D and 8K. The eight cores with multithreading offer enormous power. To make the rendering tasks effortless, it features high clock speeds.
The best thing in this AMD CPU is that it utilizes an AM4 socket. In simple words, you can upgrade it anytime with more powerful Ryzen 9's if needed. Lastly, if you don't need 12 core for your video editing tasks, then the Ryzen 7 3800X is one of the best chips that you can buy.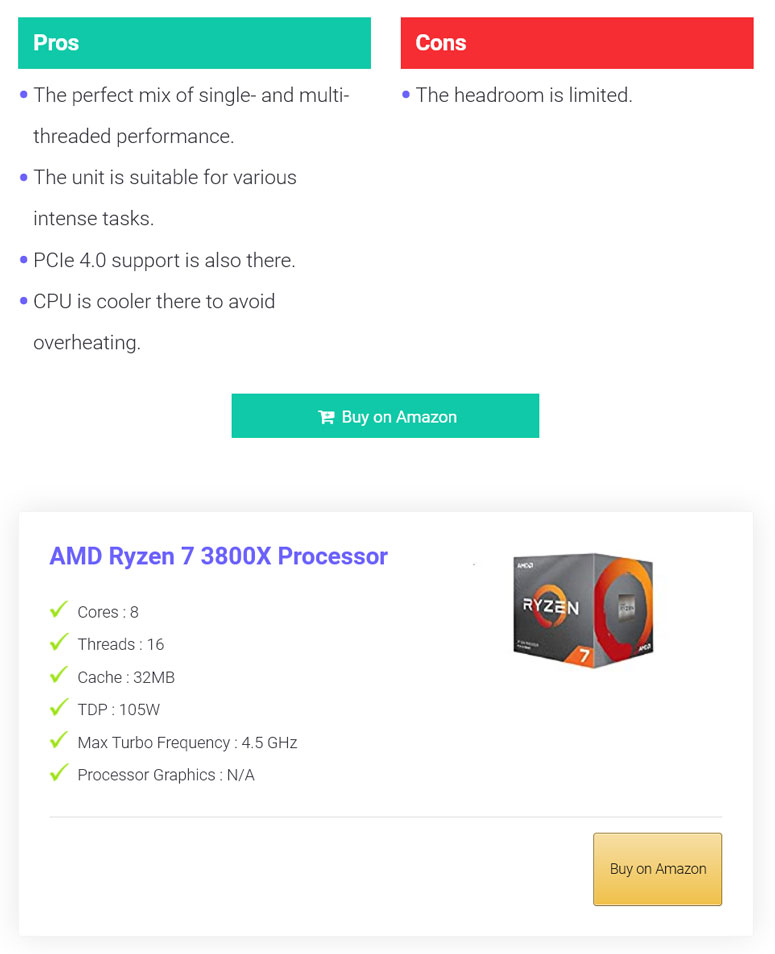 CPU Requirements For Video Editing: Buying Guide
If you want the best PC build for video editing, keep in mind that not all processors are suitable for these tasks. Even some expensive models might not work efficiently. So, let's discuss how to choose a CPU for video editing purposes.
Cores and Threads.
For all video editors, a multi-core processor is essential because it is the base of any workstation. For normal video editing tasks, four to six cores are suitable. When purchasing the best CPU for video editing, remember that a larger quantity of cores will make your system speedy and enable you to perform several tasks simultaneously.
The number of threads and cores directly affects the rapid processing of previews, rendering speed, encoding files, and overall it offers better responsiveness when you are using multiple programs.
Therefore, we will advise you to go for a multi-threaded processor that includes a large number of cores.
Clock Speed.
The clock rate is also essential when you are building up a PC for video editing tasks. To keep the things short and sweet, the more number of cores, the lower the clock speed.
Speed Test your processor For Free.
When you increase the clock speed, it will make the software more responsive and quick. High clock speed is necessary when you are using 3D effects and 4k rendering.
For 4K video editing tasks, the benefits of a higher and quick processor are quite obvious. Almost all processors support auto overclocking of the speed with an increase in the capacity. So, it is advised to buy a processor with a high clock speed but with an unlocked multiplier.
Built-in GPU and Micro-Architecture.
Nowadays, most processors come with a built-in graphics processor, which decreases power consumption. The integrated graphic processor can manage the various tasks of GUI processing and video playback. Separately, this processor is not an active participant in video processing as the CPU. Only some applications like DaVinciResolve, PremierePro, FinalCutPro, AfterEffects use the GPU as they have many video effects and transitions working. So, if you want the best CPU for multimedia, don't underestimate the GPU.
As for the micro-architecture, presently, all processors feature modern architecture. It impacts the overclocking abilities, chip size, number of operations, and compatibility with boards. Therefore, if you have a less graphical load, then a CPU and an available graphics card are enough for daily needs. But for professional uses, you always need a powerful separate graphics card.
Choose a CPU Cooler wisely.
All PCs have their own fans, but the processor requires its own fan or a water cooling system. Here, a CPU cooling fan is the cheapest option, but we will advise you to go for a water cooling system as it allows you to overclock your CPU. When building up a CPU for video editing purposes, ensure that you are buying a CPU cooler that is compatible with your processor.
Power consumption.
Ensure that the processor you choose consumes low or moderate power. This will curtail your electricity bills and keep the processor cool.
If your processor consumes too much energy, it will get overheat quickly, and your work will get disturbed. So, ensure that you pick wisely.
Wrap Up.
Finally, the CPU that you will buy for yourself mainly depends on your overall budget and video editing workload. If you are a professional that works on multiple videos daily, you need the best CPU for your video editing needs. The extra cores in the processor will make the things rapid, and you will see noteworthy gains in video rendering and encoding time.
We hope our efforts will help you out in your search, and our recommendations will make your video editing tasks a breeze.
FAQs
How many CPU cores are enough for video editing?
No matter what type of video editing you are planing to do, a quad -core is minimum requirement. And if you are engaged in high video editing, 6 to 10 cores will be suitable for you.
How much RAM is enough for a 4K video editing?
For this purpose you will need minimum of 32 GB RAM for 4K or 6K editing.but for HD editing 16 GB RAM is enough.For 4K 32GB RAM is crucial as it allows the data to move quickly to both the CPU and RAM. Otherwise, Your PC performance will be much slower.
Are 2 cores enough for video editing?
No, in our opinion, at least four are the minimum requirement for video editing and programs. However, there are some post-production software that you can use on dual-core processors, but quad-core processors running at 2.5GHZ or faster are always a better option for most video editing software.
Which CPU's is the best for video editing in 2020?
Some of the best CPU's for video editing are:
1. AMD Ryzen 9900X
2. Intel Core i9-9900K
3. AMD Ryzen 73800X
4. AMD Ryzen 73700X
5.Intel Core i7-9700K
Does RAM affect video editing?
For all video editors, a sufficient amount of RAM is vital, if you are engaged in motion graphics, having sufficient memory can make things more rapid and efficient for you.