AM3+ is an advance and updated version of the previous AM3 Socket. Launched many years ago, AM3+ CPU features AMD Bulldozer microarchitecture, and the unit works flawlessly with AM3 CPUs.
In simple words, the AM3 processors are suitable to use with the AM3+.
Being said that, it is not the latest model in the AMD lineup, but still, the unit is popular among the PC builders due to its high-class performance, best speeds, and it offers smooth gaming experience.
So, if you're building a PC or want to upgrade your computer, AMD3+ CPU is your safest bet. But you will find many available options in the market, and to get the best AM3+ CPU, you will have to do some homework and research work.
Below, you will find the reviews of the AM3+ best CPUs. We've sorted out only the best ones after testing and comparing them all.
Here are our picks of the top AM3+ CPUs that our experts find the best. Each one of these delivers wonderful performance and speed up your PC.
Best AM3+ Processor For Gaming
The FX-8370 by AMD operates at a rapid pace, and it comes at a reasonable price.
However, the unit's performance and features are exceptional, especially when you compare the price with performance.
With this cpu, you'll enjoy a quick working and amazing performance.
Like the other black edition processors by AMD, this phenomenal processor comes unlocked for unbelievable overclocking capabilities.
As it features AMD's exclusive overdrive software, it can be overclocked, and you can get a speed of 4.3GHz.
However, the processor's base frequency is 4.0GHz, which is enough for daily uses.
You will also find a wraith cooler in this unit that prevents overheating. It offers noiseless performance and maintains an ideal temperature with remarkable efficiency.
Moreover, the eight cores and 8MB L3 Cache with 8MB L2 cache design allows for smooth multitasking.
With this processer, you can enjoy your favorite shows, games, or use intense programs without any issues!
The processor also includes other prominent features such as FMA instructions, Advanced Vector Extensions, and AMD virtualization. Consequently, you will get a trustworthy unit that will move you with ease!
AMD FX-9590 is the world's first 5GHz processor that was released back in 2013.
The processor is now quite old but it still supports over 10 motherboards.
The starting price for this processor was around $1000 in the first year of its release. This AM3 Socket CPU comes packed with a base clock frequency of 4.7GHz while maximum boost capacity falls around 5.0GHz.
This high clocking frequency is the main highlight of this AMD processor which provides you immense power to handle heavy computer tasks.
The CPU features eight cores and the same number of threads but still, Core i7-5960X Extreme Edition (released in 2014) took the stage by offering much better performance.
The biggest problem with FX-9590 is that it consumes immense power than other CPUs in the market.
The TDP of this processor falls around 220Watts and you need some serious cooling solution to keep the temperatures maintained. This TDP rate is almost 2.5 times higher than similar performing Intel processors.
In 2014, AMD decided to decrease the retail price of its FX-9590 processors, which made it much more reasonable at a price tag of $229.99.
Gamers were already avoiding this processor because of its power consumption, heat, and expensive price but after a decrease in price, their sales shot up again.
The FX-9590 became the flagship CPU of AMD until the year 2017.
There were two reasons behind its popularity, the first was that AMD tremendously dropped FX-9590 prices, and secondly, they also added a CPU cooler by CoolerMaster to fix overheating issues.
We cannot conclude that this CPU is excellent for gaming but it is still a reliable option for those who have limited budgets and are fine with its high power consumption.
AMD FX-8320E is one of the best CPUs for am3+ by AMD. The unit is highly durable and offers reliable performance without breaking your bank.
Perhaps the most prominent selling point of this best processor am3 socket is its affordable price and fast processing speed; hence it can manage all your demanding tasks.
The unit comes with an unlocked clock multiplier and delivers amazing control and performance.
This is something exclusive. And you will not find it in others. Due to this, you can adjust the power according to your particular needs.
The unit comes with 8 cores and 8 threads with a base speed of 3.5GHz. So, it is a highly efficient multitasking unit.
This unit's overclocking ability makes it different from the others; you can upgrade it up to 4.0GHz.
Another thing that we admire in this is that it is the best socket am3+ CPU which is reliable for a cooling system that prevents overheating and maintains adequate temperature.
Lastly, the AMD FX-8320E has a lot to offer and with this unit, say goodbye to lagging issues even when you are using demanding software.
At number two, we have AMD FX-8350 AM3+ CPU. This AMD eight-core processor comes with AMD's Overdrive system that enables it to overclock from 4.0 to 4.2 GHz.
That feature allows for multitasking and smooth working of high-end applications and programs. FX-8350 is also known as one of the best budget CPU for streaming, it can stream at 1080p 60fps depends on your builds.
Also Check Out
You can use this device with four or six cores, depending on your usage and how much power you need at the moment.
The cpu reliable structure ensures that it will not overheat while you are using demanding software.
In this unit, you can set the exact security levels for individual processes.
The 128-bit floating-point engine delivers smooth and rapid performance.
The 256-bit AVX supports two engines; however, you can use it with a single core.
The unique design of the unit allows for consistent and smooth airflow while you are working and prevents heat from circulating in your CPU.
Lastly, as it comes with a single 16-bit link, you can use it up to 5600MT/s and enjoy the lagging free performance.
AMD's Vishera devices are popular because of their multitasking abilities, and this FX-8300 live up to the exceptions.
This unlocked 8-core processor delivers rapid and lag-free performance. When using this unit, your computer will work like a horse, and it will handle various rigorous tasks comfortably.
In this unit, you will get a dedicated L2 cache of 8MB and an 8MB L3 cache along with a 3.3GHz of the base frequency. All these innovative features result in blistering processing speed.
It has a handy overclocking feature that you can use and upgrade the speed up to 4.2GHz.
This is a useful feature that offers the required boost to play heavy games and allows you to work on heavy multimedia applications.
Moreover, the AMD Turbo Core technology enhances the unit's power. When you consider the unit's price, it is a budget-friendly AMD AM3+ CPU. It has the capability to deliver flawless working with ease.
At this spot, we have a budgeted AM3+ CPU for you that offers outstanding performance.
The performance is high, and you can compare it with the other expensive modern processors. If you want to build a budgeted computer, this AM3 CPU can be a handy addition!
The processor features 6 cores and a base clock speed of up to 3.5GHz; thus, it can handle demanding games and software without affecting the speed.
Still, if you need a boost in speed and performance, you can overclock it up to 4.1GHz. Moreover, the device also includes AMD's signature overdrive software.
After overclocking it, you'll notice a substantial improvement in the unit's speed and overall performance. And you will get amazed by its incredible overclocking abilities. Furthermore, the unit is entirely customizable, and you can comfortably customize its overall performance and efficiency according to your specific needs.
Just ensure that you have a dedicated cooling fan that prevents overheating. With this unit, you can enjoy various games on a decent FPS without lagging.
Similarly, it allows you to work on multiple programs simultaneously.
So, what are you waiting for? Go and get the one to transform your PC into an accelerated beast!
This unlocked processor by AMD features a clock multiplier that lets you to control the overclocking features without any hassle. In this way, you can configure it as per your requirements.
The processor features a decent base clock speed of 3.8GHz and works faster than the others in the same category.
However, you can upgrade it anytime up to 4.0GHz through overclocking.
This quad-core processor by AMD also features a cooling fan that protects it from overheating.
However, we will advise you to add another fan if you are using the overclocking function.
The 4MB L3 Cache is handy and offers faster and smarter working.
A sufficient amount of memory enables it to handle various tasks at the same time and with top-notch efficiency.
If you are planning to use it for gaming purposes, we will recommend setting it up with powerful components, and by doing so, you can enjoy your favorite games at playable FPS.
Lastly, the unit is ideal for normal uses, and various office uses. Despite the fact that it is an old processor by AMD, it still works due to its economical price and outclass performance.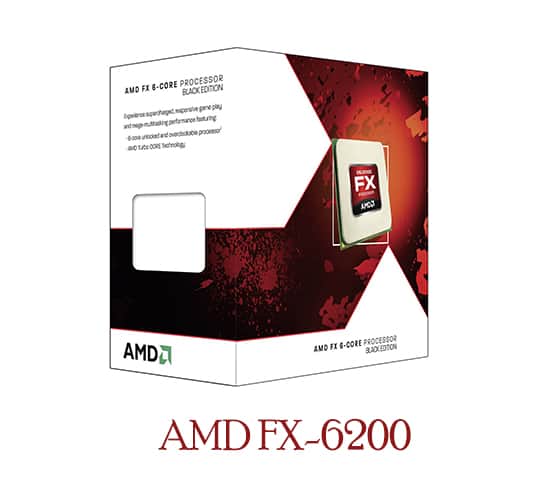 Our last pick for you is this FX-6200 processor by AMD. This six-core CPU features large L3 memory and ensures that you can transfer more data in less time.
As it features six core and six threads, it can efficiently manage several individual processes and applications at the same time.
The unit's base clock is set at 3.8 GHz, which is enough for most users.
AMD has increased the unit's TDP up to 125 watts to achieve this clock speed, which is higher than the AMD FX-6100. Moreover, the max turbo speed of AMD FX-6200 is up to 4.1 GHz.
In this way, we can say it is more than enough for normal uses.
Another thing that we loved in this AMD AM3+ CPU is that it includes a pretty heavy heat sink and an effective cooling fan that prevents it from overheating. Both these features work together and manage the additional thermal load that it provides.
Lastly, some of you might argue that this processor is outdated but believe us, it is still one of the best AMD am3+ CPU for beginners and casual users in the market.
What Things To Look Up While Buying AM3+ Processors
Purchasing the right AM3+ processor depends on many factors. Below, we'll talk about some of the important features that are vital in the best AM3+ CPU, and you must keep them in mind when shopping.
Cores
All processors contain multiple cores. These cores are basically processors in the processor.
Each of the core allows you to work on multiple things at a time. These Cores work together to deliver more power and rapid processing.
When building up AM3 CPU, a minimum of four cores are enough for normal uses, but if your requirements are high, you can opt for the processor that features more cores.
Threads
Threads are the number of processes that a chip can deal with at a time. Generally, the number of threads are the same as the number of cores. However, some high-end CPUs come with a multi threading feature.
This means a single core can generate two or more threads. If the number of threads are higher, multitasking performance will get better.
Cache
The cache is the memory of the CPU that accelerates the access of data from storage disk and RAM. It reduces the average time to access the PC's memory.
There are three different formats of the cache. The L1 offers rapid operation, but with minimum room for data storage. L2 cache to have plenty of room, but it works slower. The L3 offers more than sufficient space, but it is quite sluggish
Clock Speed
Clock speed reflects that how fast a chip can work. Here, the higher is the faster and, indeed, better. Usually, clock speed is measured in gigahertz or GHz. CPUs have different clock speeds.
The speed is adjusted according to your working and unit's temperature automatically by the processor.
Some AM3+CPUs come with a handy overclocking feature that enables you to accelerate the chip's speed so that it can work faster than specified.
Cooling
CPU tends to produce a lot of heat during working. This heat can damage the CPU if not controlled. That's why you should have a strong cooling mechanism in your CPU. For this purpose, most CPUs have cooling fans that reduce the temperature and prevent overheating damages.
All AMD's AM3+ CPUs have an effective cooling mechanism. However, it is safe to be extra careful.
Motherboard
Ensure that your motherboard is compatible with your new AM3+ processor. Every motherboard has a CPU socket, but not all boards are compatible with all the processors. Therefore, you must ensure that your motherboard includes a socket that is suitable for your AM3+ CPU.
Power Source
Lastly, when building up the best AM3+Processor, ensure that you have a reliable power connection.
The cable that you use to connect your power supply and the motherboard should be dependable and long enough.
CPUs and boards require an enormous amount of energy, so you need a power supply that can deliver adequate power to CPU.
Reasons To Pick An AM3+ Processor
When AM3 CPUs were launched, they took the market by storm. Obviously, their best selling points at that time and still is their affordable price and rapid processing speed.
When AM3 CPUs were launched, they took the market by storm. Obviously, their best selling points at that time and still is their affordable price and rapid processing speed.
With these AM3+ processors, AMD has made sure that the product's price is less than its rivals. Besides, it offers fast work than others.
In this way, AM3+ is an ideal blend of high-class performance and worthy of your hard-earned money. When combined with a high-quality graphics card and sufficient RAM, AM3+ has the full potential to compete with the expensive processors.
These processors are suitable for various heavy-duty jobs such as 3D animation, video animation, and editing, and more. For gaming purposes, AM3+ might not be the best but delivers satisfactory performance.
Some of you might argue that AMD Ryzen processors overshadow AMD's AM3+ series, but the fact is benchmark tests reflects only minor differences between both these AMD units.
To cut a long story short, AM3+ processors still deliver a super solid performance providing you use the right rig with them.
Final Words
It is a fact that AM3+ CPUs are still widely popular among users due to various reasons.
Despite more advanced processors such as AMD Ryzen and Intel Core series, AMD A3 CPUs firmly hold their place in the market. Some of the best AM3+ CPU offers better working than the expensive ones.
Lastly, all the AMD processors are reliable and suitable for gaming purposes, video editing, or multitasking.
Just make sure that a dedicated GPU backs them. Hopefully, our guide will provide you with a detailed overview of the best AM3+ CPU, and after reviewing this post, you can easily get the right one for yourself.
FAQs
Will overclocking improves the performance of the AM3+ Processor?
Technically, yes. Overclocking allows for high clock speeds, which enhances the PC's performance. However,in some PC's the improvements is not that much.

Are AM3+ Processor suitable for gaming uses?
If you are building up PC for gaming, the AM3+ CPU should not be your first choice. you will find more advanced processors for your gaming setup, Such as AMD's Ryzen series. the multi threaded performance of the ryzen series is far more superior than the AM3 processors.
However , if you are already using K10 hardware and will not upgrade your computer in the near future, any AM3 + CPU will be suitable for gaming users.
Are AMD Ryzen processors compatible with the AM3+ socket?
No, Ryzen processors have AM4 socket, hence they are not compatible with AM3+ socket or the AM3 socket.
What is the best am3+ cpu?
AMD FX – 8350 and FX-9590 are one of the best am3+ cpu in this article, The FX-9590 are little expensive but the performance is way better then all other cpus in list while FX 8350 comes in moderate price with really good specs and features.
What is the best cpu for an am3+ motherboard
We listed all best CPU for an am3+ motherboard , it totally depends on your budget and use , but overall FX-8350 is the best CPU for am3+ motherboard with a great specs which can easily handle all type of programs .
What is the best am3+ cpu for gaming?
When it comes to gaming , FX-8300 Vishera is the only best AM3+ CPU for gaming . It can handle most of the modern games if it has a good build and GPU .
Building a PC for gaming or heavy duty work and looking for the best am3+ CPU? Well we researched and listed all best am3+ processors that you can buy.