Ryzen recently launched their 5000 series processors. This new lineup includes one of the world's top-performing CPUs, Ryzen 5900X. Along with this high-end processor, they also released Ryzen 5 5600X model which seems to be very tempting for gamers and streamers.
Is this new lineup really worth it? To answer this question, we are going to compare Ryzen 5 5600X with another processor 3600X from Ryzen 3000 series. And will give you a detailed review of 5600x vs 3600x.AMD Ryzen announced its 3000 processors lineup back in July 2019.
The new 5600X outperforms 3600X in many aspects but what about their price? Is 3600X still a budget option for gaming? Before we compare both of these processors, let's first have a look at their overall specifications.
The main difference between 5600x and 3600x is that 5600x has a TDP of 65W while 3600x has a TDP of 95w. 5600x is based on new technology then 3600x.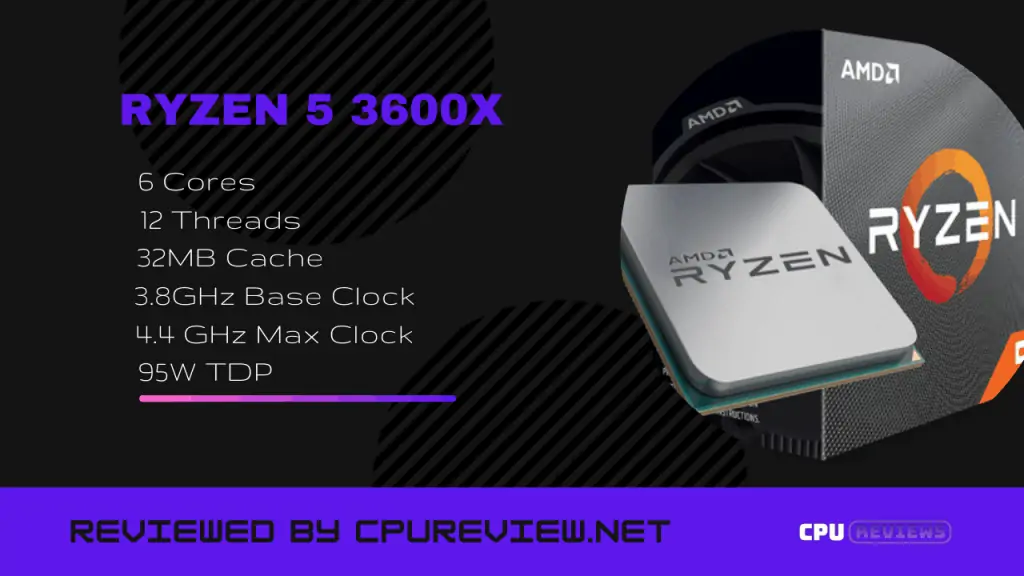 The Ryzen 3000 lineup was released in 2019. The 3600X processor from this lineup was one of the most budget-friendly options for gamers and streamers.
This series also included Ryzen 9 3950X which was a top of the line processor.
This gaming processor comes with 6 cores and 12 threads which is a baseline requirement for all gamers. The processor provides excellent performance on both single and multicore ends. The base clock frequency stands at 3.8GHz while the maximum boost clock can reach up to 4.4GHz.
The processor is based on Zen2 Architecture which was used in most old generation processors by Ryzen. The new lineups are now based on Zen3 Architecture, hence better performance can be predicted. There are 3.8 billion transistors in 3600X.
The TDP of this processor is 95W which is fair enough but AMD is trying to reduce the TDP in its future generations for a much optimization performance without consuming much electricity
The cache distribution on 3600X is also pretty good but we cannot call it excellent because the L1 cache only stands at 384KB while it also features 3MB L2 and 32MB L3 cache. The L3 GameCache particularly contributes to your gaming performance as it is well-optimized by AMD.
The processor is also Unlocked and it can be overclocked to get an extra edge. A basic Wraith Spire cooler comes packed with 3600X which is again not as good as Wraith Stealth but still, it's worth considering. The maximum temperature of 95°C is mentioned by Ryzen which can be brought down with the help of a cooler.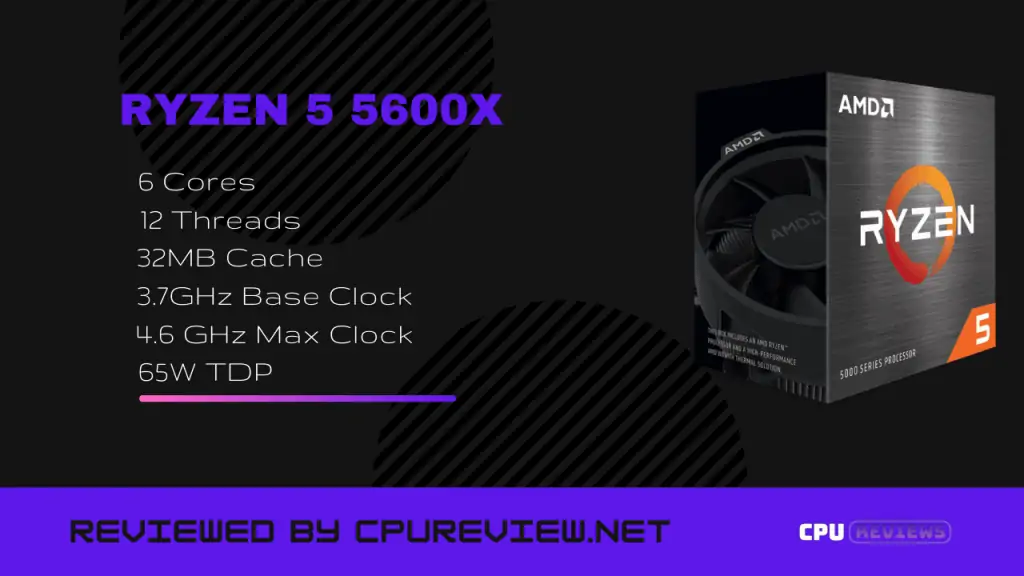 We can call Ryzen 5600X an advanced version of its processor 3600X. This processor is based on a Zen3 architecture and it almost supports all motherboards that were previously compliant with last generation processors.
The all-new Ryzen 5000 series was launched back in November 2020. This Ryzen lineup also includes AMD Ryzen 5900X which outperforms another extreme processor Ryzen 9 3900XT.
The 5900X is even more powerful than most of the top of the line Intel processors. This processor is a good choice for hardcore gamers who are seeking perfection.
On the other hand, 5600X is more of a budget-friendly option which is far better than any processor of this caliber.
The processor features 6 cores and 12 threads and comes with a base clock frequency of 3.7GHz which can be boosted up to 4.6GHz.
The processor is also unlocked and AMD Ryzen Master Utility software is officially provided to control all the overclocking options. So, you do not have to rely on any external software for overclocking.
The TDP is also reduced to 65W which makes it much more energy-efficient than any other processor from previous lineups.
This further reduces the temperatures due to less energy consumption. All X570 and B550 motherboards are compatible with this processor and chances are that you do not have to replace your motherboard.
A Wraith Stealth cooling solution is provided along with this processor which is far quieter and more efficient than the Wraith Spire.
The cooler has a sleek and simple design and it efficiently keeps the temperatures maintained and Ryzen 5900X, being an energy-efficient processor, does not heat up enough like previous generations.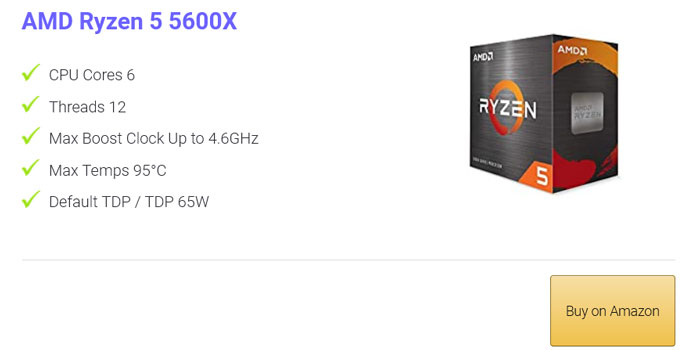 Comparison — Ryzen 5 5600X vs 3600X
Indeed, it is already pretty much clear that 5600X is a more efficient option than the previous 3600X but here is a detailed comparison where each of their components and functionalities is compared in detail.
| Specifications | 5600x | 3600x |
| --- | --- | --- |
| CPU Cores | 6 | 6 |
| Threads | 12 | 12 |
| Base Clock | 3.7GHz | 3.8GHz |
| Max Boost Clock | 4.6GHz | 4.4GHz |
| Total L1 Cache | N/A | 384KB |
| Total L2 Cache | 3MB | 3MB |
| Total L3 Cache | 32MB | 32MB |
| CMOS | TSMC 7nm FinFET | TSMC 7nm FinFET |
| Default TDP / TDP | 65W | 95W |
| Max Temps | 95°C | 95°C |
| Price | Check Price | Check Price |
Hardware Specs
Graphics Architecture
The previous 3600X processor was based upon Zen2 Architecture which AMD has replaced with a much improved Zen3 Architecture in 5600X. So, how really it affects performance?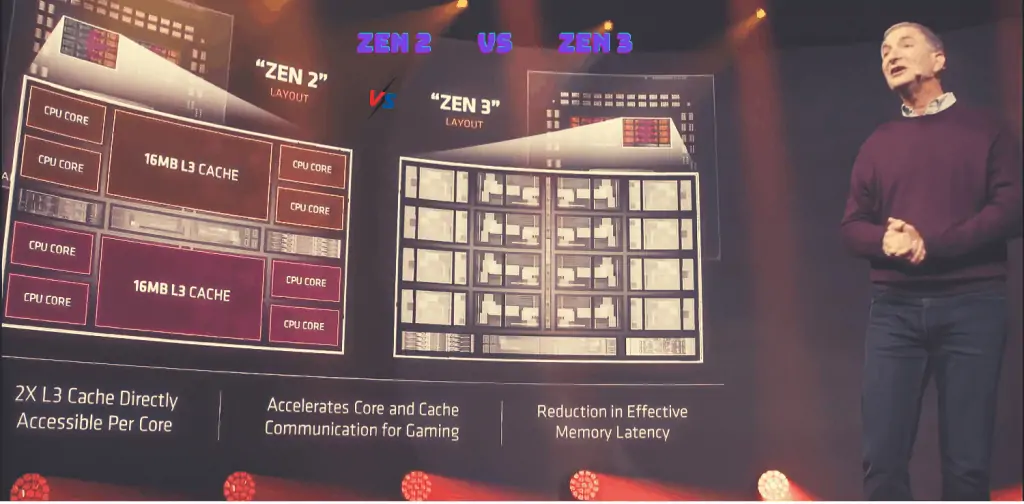 In Zen2 Architecture, the cores were divided in half by L3 cache For Example, if a processor had 8 cores and 32 MB L3 Cache then 16 MB of the cache was divided between 4 cores each while this is not the case with Zen3.
In Zen3 Architecture, all cores are placed together and they have direct access to the L3 cache, For Example, if the CPU had 8 cores and 32MB L3 Cache then all of these cores will be placed together and they will have direct access to all 32MB rather than two chunks of 16MB cache.
So why does it really matter? In gaming, the single-core performance matters a lot and with Zen3, the performance is much optimized because there is no division between the cores.
Die Sizes
The die sizes in CPU chips is another considerable factor because it directly affects the costs and increases density.
The Ryzen 3600X had a die size of 74mm while the all-new 5600X has a far smaller die size which is another plus point.
Processors Codename
All processors by Ryzen are given some codenames. Most people do not pronounce these names and they simply rely on the processor's model and generation.
The Ryzen 3600X is given a cool name "Matisse" while the new 5600X processor has its own unique codename, Vermeer.
All other processors from Ryzen's 3000 and 500 lineups have their own specific code names.
Number of Transistors
The Ryzen 3600X was introduced with over 3.8 Billion transistors but this number has significantly increased in the case of 5600X. This processor from the 5000 series has over 19 Billion transistors according to some sources.
Processor Technology
Both processors including 5600X and 3600X rely on 7nm chip technology.
Ryzen reduced the chip size from 10nm to 7nm in its previous generations because 7nm processor technology tends to be 35% better in terms of performance and speed.
Performance Specs
If we compare both of these processors based on their performances and benchmarks then 5600X still outperforms 3600X on most grounds. Here is a detailed comparison
Clock Speeds
The all-new Ryzen 5600X processor has a 3700MHz base clock speed while 3600X stays behind with 3600GHz of base clock speed.
The difference is not huge but the 100MHz difference provides an edge to the 5600X processor.
The single-core performance is extremely important and this difference plays a role in providing 5600X much efficient performance.
| 5600x | 3600x |
| --- | --- |
| Max Boost Clock Up to 4.6GHz | Max Boost Clock Up to 4.4GHz |
| Base Clock 3.7GHz | Base Clock 3.8GHz |
The maximum boost clock speed for 5600X is given at 4600MHz which is really magnificent when we compare it to 3600X.
The speed is around 5% faster than 3600X making it an ideal choice for gamers.
The boost clock speed for 3600X stands at 4400MHz which is not bad by any means but still, it cannot compete with the new Ryzen series processor.
Both of these processors come unlocked and overclocking can easily be controlled by using the Ryzen Master Utility software officially provided by AMD. Both of these processors have unlocked multipliers of 100x but AMD does not take any guarantee of damage taken due to overclocking.
You might also have to buy a separate powerful cooler if you are going for overclocking.
Cores and Threads
If we give it an overall look then both 3600X vs 5600X features the same number of cores and threads.
The 3600X has 6 cores with 12 threads while 5600X is no exception. So, where does the actual difference lie? The difference lies in the clock speeds and performance.
Check out our detailed review on 3800x vs 3700x which have more cores and threads.
The base and max clock speeds of 5600X are much better than the old 3600X. Hence, the processor provides better single and multi-core performance as compared to the older one.
| 5600x | 3600x |
| --- | --- |
| CPU Cores 6 | CPU Cores 6 |
| Threads 12 | Threads 12 |
Benchmarks
According to benchmark tests by UserBenchmark, an overall increase of 13% in the speed of 5600X can be seen when we compare it to 3600X.
If we run single-core tests for both processors then 5600X is still 14% much efficient. Considering the overclock score, both processors have the same overclock multiple but 5600X wins the race by 14% to its higher clock speeds.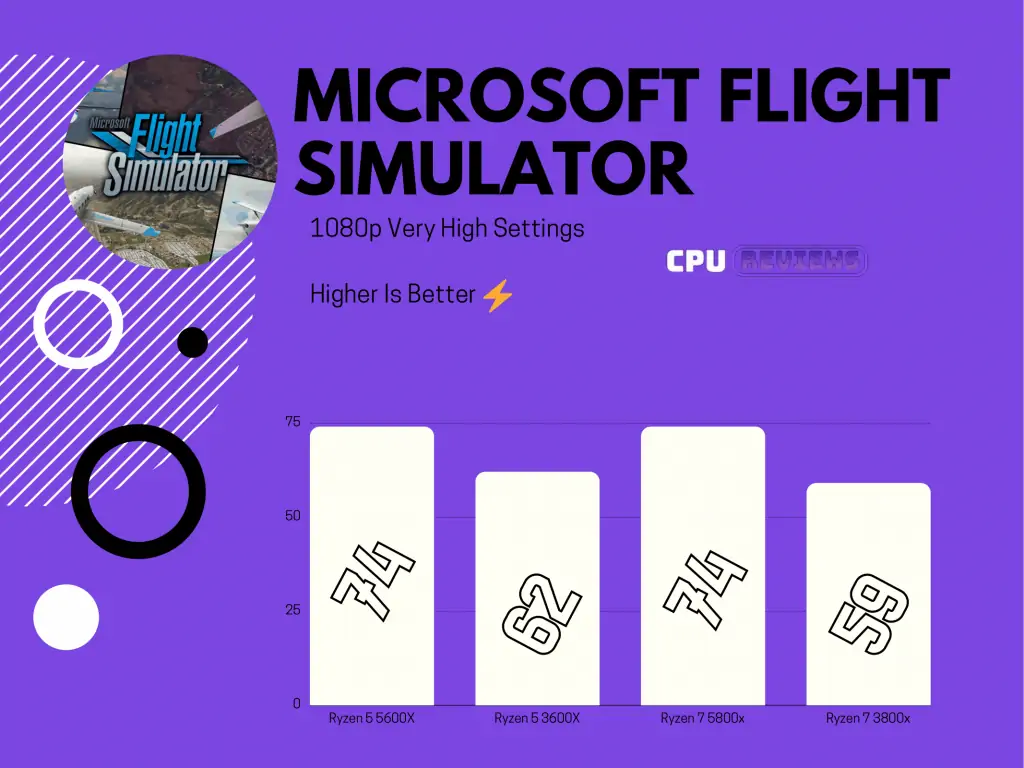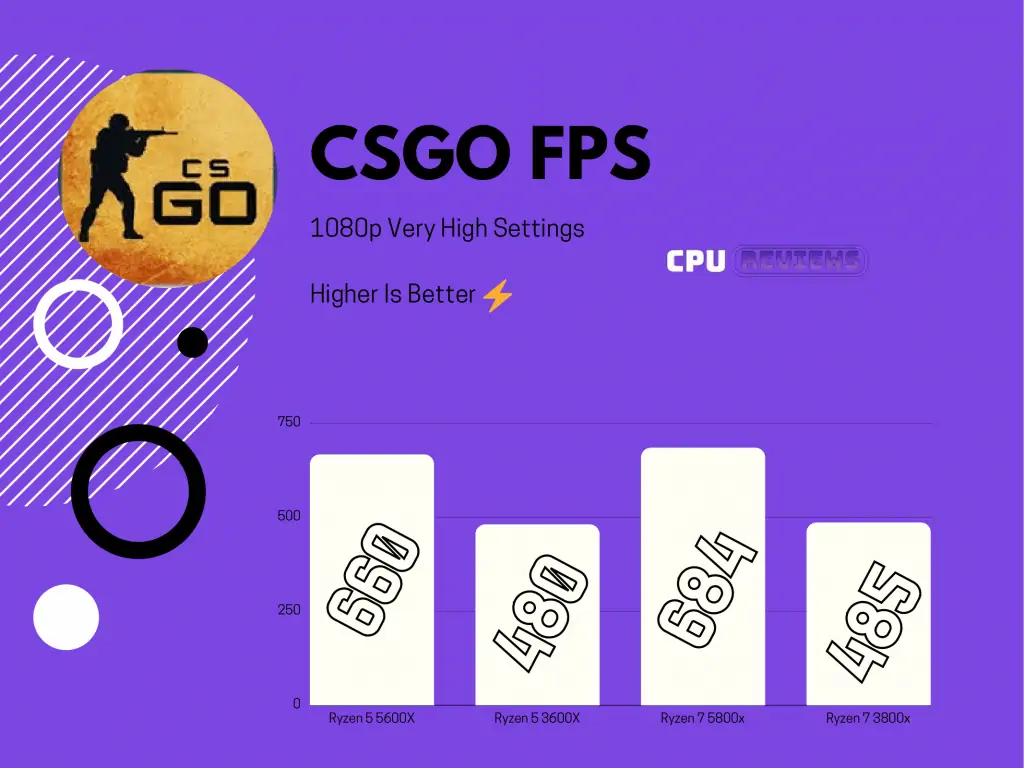 Cache
The Cache size of L1, L2, and L3 is the same in both processors. The difference comes in the L3 cache where the cache for 3600X is divided into two parts due to its older Zen2 architecture where the division of cores can be seen.
On the other hand, there is no L3 cache division in 5600X, all cores are connected with each other due to Zen3 Architecture and the L3 cache is utilized equally by all these cores at the same time.
This gives an edge to the new 5600X processor because all cores are given access for direct communication without any barrier.
| Cache | Ryzen 3600X | Ryzen 5600X |
| --- | --- | --- |
| L1 Cache Amount | 384 KB | 384 KB |
| L1 Data Associativity | 8-way | 8-way |
| L1 Data Size | 6x 32KB | 6x 32KB |
| L1 Instruction Assoc | 8-way | 8-way |
| L1 Instruction Size | 6x 32 KB | 6x 32 KB |
| L2 Cache Amount | 3 MB | 3 MB |
| L2 Data Associativity | 8-way | 8-way |
| L2 Data Size | 6x 512 KB | 6x 512 KB |
| L3 Cache Amount | 32 MB | 32 MB |
| L3 Data Size | 2x 16 MB | 1x 32 MB |
Power Consumption & Cooling
Once again, Ryzen 5600X stays at the top due to its less power consumption as compared to 3600X.
The 5600X has a TDP of 65W and the 3600X has a TDP of 95W and we can clearly see that the new processor is 32% more energy-efficient than the processor from the 3000 series.
A minimum of 450W power supply is required to house both processors.
The maximum temperatures of both these CPUs can rise to a maximum of 95°C which can easily be brought down with the help of coolers.
The Ryzen 5 5600X comes with a Wraith Stealth Cooler which is a little bit more optimized than Wraith Spire used in 3600X. Both coolers work efficiently but Wraith Stealth is quieter.
| 5600x | 3600x |
| --- | --- |
| Default TDP / TDP 65W | Default TDP / TDP 95W |
| Max Temps 95°C | Max Temps 95°C |
Prices
The all-new Ryzen 5600X is available for $299 while the Ryzen 3600X comes at $249. A $50 price difference is nothing when you are getting a Zen3 Architecture based 5600X processor rather than any older technology.
Conclusion — Which one to Buy?
Ryzen 5 5600X is our clear winner on all grounds. Here are a few reasons to prefer 5600X over 3600X:
5600X is a new Zen3 Architecture based processor.
It consumes 32% less energy as compared to 3600X due to its 65 TDP.
A 5% increase in Turbo Frequency then 3600X
A whopping 27% increase in performance according to GeekBench scores.
Saving $50 is not a wise option in this case because 5600X is totally worth the price but if you want to get a used processor at budget then 3600 is probably your go-to option.