AMD's Ryzen 3000 series is launched and has been dominating the market. This AMD series is getting popular day by day among the gamers. In fact, industry experts have stated this series as the biggest rival of Intel due to its high-stakes game for desktop PC. These new chips feature higher core counts and more raw uses than ever before. As a result, Intel's dominance is threatened significantly.
Here we will only talk and compare the AMD Ryzen 3700X vs 3800X. We are impressed with the user reviews, but we feel that some crucial things are missing.

So, in this lengthy post, we will discuss the most significant differences between the AMD Ryzen 7 3800X and the 3700X, and in the end, you will get to know everything about these processors.

Before we start our detailed review, the very first thing that we find necessary to mention here is that Ryzen 3800 features an additional 100 MHz boost clock frequency and an added TDP margin. The 21% higher launch price translates to just 2% more effective speed over the 3700X.
The main difference between 3800x and 3700x is that 3800x has a base clock of 3.9GHz while 3700x has a base clock of 3.6GHz. 3800x has a TDP of 105w then 3700x 65W TDP.
Ryzen 7 3700x vs. Ryzen 7 3800x Detailed Review and Comparison
We have gathered the specs of both Ryzen 7 3700X and 3800X into a comparison table to make the things simple for you. Next, we will compare Ryzen 7 3800X with the reputable Ryzen 7 3700X.
Ryzen 7 3800X is an upgrade version, but the overall performance boost is not that significant, according to our experts. However, you will find a significant improvement of over 4% in a single-core performance across the board. You will also find the much-needed boost in clock algorithm and Infinity Fabric settings of Ryzen 3800X.
But for more casual users like us, the difference might not be that big. The reputable 3700X remains stable in our in-house stress testing, and till date, it is not locked at 4.3 GHz even for once. Keep in mind that you will get the same frequency in the latest Ryzen 3800X.

The 20% of 3800X processors surpassed their 4.3 GHz AVX2 testing. At the same time, 21% of all 3700X processors were stable only at 4.15 GHz. The remaining 3800X processors remain stable at 4.2 GHz during our testing, while the remaining 3700X processors were only at 4.05 GHz. In short and simple words, the 3800X offers 150MHz more margin to you in terms of overclocking. Probably, it is the main difference between the two.
This innovative technology is the primary reason why AMD is well compatible with larger CPUs. It offers excellent performance that too at an affordable price tag.
Furthermore, the highly advertised 3700X is also tremendous and delivers real-world gaming performance as compared to the other models of AMD and Intel. Reasonably priced, the 3700X offers excellent value for full-time multimedia users and also for general desktop users.
However, the 3800's memory controller is much better than 3700X. It still features limited bandwidth but high latency that improves gaming performance.
Now, let's discuss the specs of these two AMD products:
Specifications:
Ryzen 7 3700X and Ryzen 7 3800X measurable parameters are cores and threads, clocks, manufacturing, cache, and multiplier lock state. All these features indicate the performance of Ryzen 7 3700X and Ryzen 7 3800X.
| Features | AMD Ryzen 7 3700X | AMD Ryzen 7 3800X |
| --- | --- | --- |
| Cores / Threads | 8/16 | 8/16 |
| Base Clock | 3.6 GHz | 3.9 GHz |
| Max Boost | 4.4 GHz | 4.5 GHz Clock |
| L3 Cache | 32 MB | 32 MB |
| TDP | 65 W | 105 W |
| Process | 7 nm | 7 nm |
| Socket | AM4 | AM4 |
| FP32 Yield | 1,689.6 GFLOPS | 1,728 GFLOPS |
| Die size | 74 mm² | 74 mm² |
| Transistors | 3,800 million | 3,800 million |
Gaming and Overall Performance of Ryzen 7 3700X & 3800X:
In our opinion, 3800X has a minimal advantage over 3700X when it is about gaming performance. But the results are not the same when it is about running general multitasking benchmarks. Firstly, it looks that 3700X is the same as the 3800X. But there are significant differences between the two.
Now let's check out how good Ryzen 7 3700X and Ryzen 7 3800X is for gaming purposes. As you know that gaming system requirements are different from the typical uses; hence sometimes these requirements may return inaccurate performances.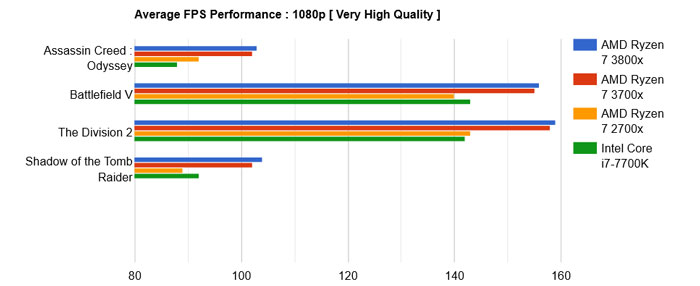 AMD Ryzen 7 3700X for Gaming Use
Being said that and for gaming specifically, according to our team, Ryzen's 3700X features slightly higher gains due to its PBO as compared to the Ryzen 7 3800X. The advanced PBO allows the processor to match the upgraded version Ryzen 7 3800X at average frame rates in all configurations.
The AMD Ryzen 7 3700X is just 12.6% less than the maximum scores achieved by the AMD Ryzen 3800X. For an old model, these results are excellent and rank it near the top of the list.
When reviewing the consumer reports, we found out that 3700X delivers solid gaming performance. The only issue lies in its memory controller, which is better than the previous Ryzen models but no better than the Ryzen 3800X as it features limited bandwidth and high latency.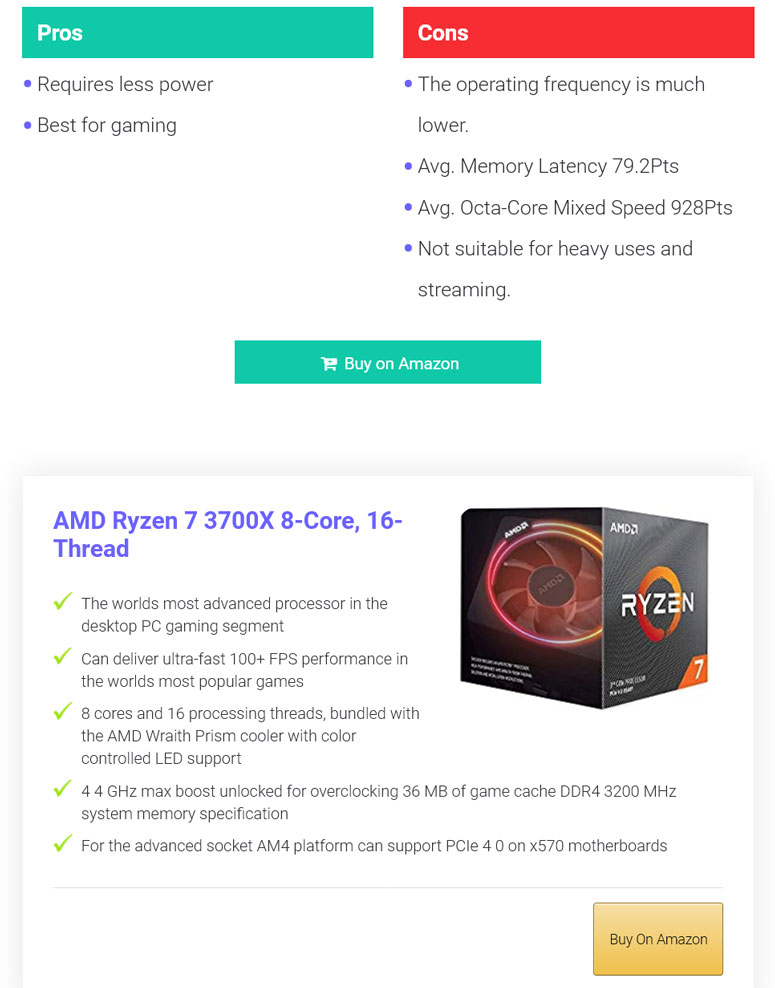 AMD Ryzen 7 3800X for Gaming Use
For gaming uses, the 3800X performance competes with Intel's i7-9700K benchmarks. However, when overclocked, the 3800X is 10% worse for gaming purposes but relatively faster when uses with 64-core processing.
Another worthy mentioning here is that the 3800X is also 15% more expensive than the other AMD model. Furthermore, the memory controller in 3800X's is significantly improved compared to the previous Ryzen models and Ryzen's 3700X.
The other significant difference between the two is like other third-generation Ryzen processors, the AMD 3800X is well-suited to use with the new PCIe 4.0-compliant X570 chipset, and with 400 and 300 series motherboards. That's something you will not find in the Ryzen 3700X. For all heavy uses such as animation, movie production works, AMD 3800X offers decent performance. Besides, AMD 3800X is also the best to use for HD streaming purposes with dedicated hardware like NVENC. You will not find any dropped frames.
Overall, we can say that Ryzen 7 3700X delivers an equivalent performance as compared to the 3800X, particularly if you are looking to buy it for gaming purposes.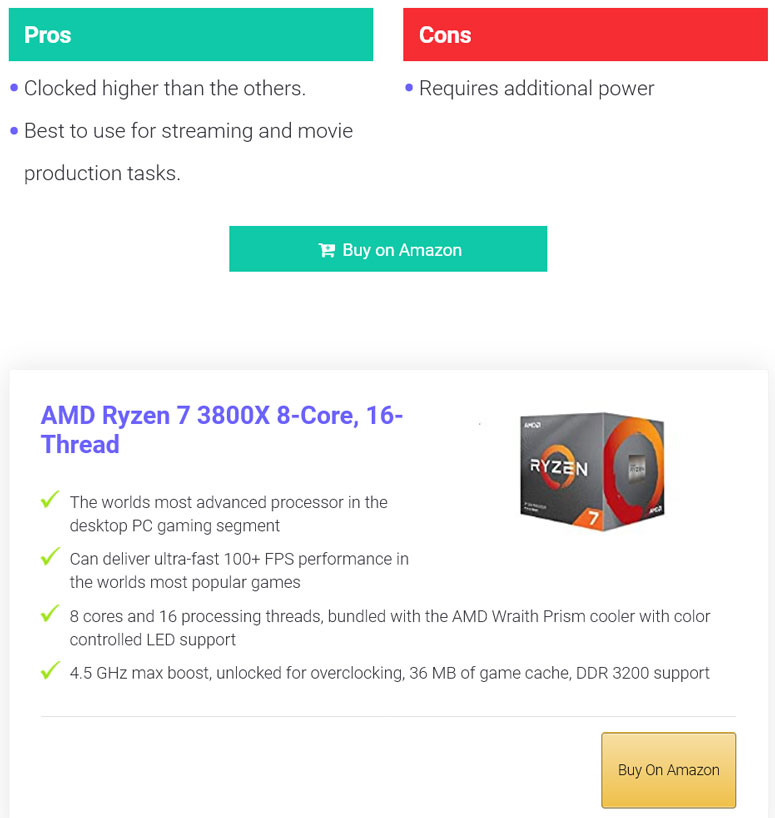 So, in short:
The differences between the AMD Ryzen 3700X and Ryzen 3800X in real working are nominal. If you are planning to buy any of them for gaming uses, then keep in mind you will not find a significant difference in the performance. All games work almost the same on both these processors.
We will recommend you opt for Ryzen's 7 3800X's highest 300MHz base clock for heavy workloads such as rendering, compression, and encoding. For regular day-to-day uses, 3700X is more suitable as it is cheaper than the other. All things considered, both are excellent CPUs for the price, and you won't regret your purchase with any of them.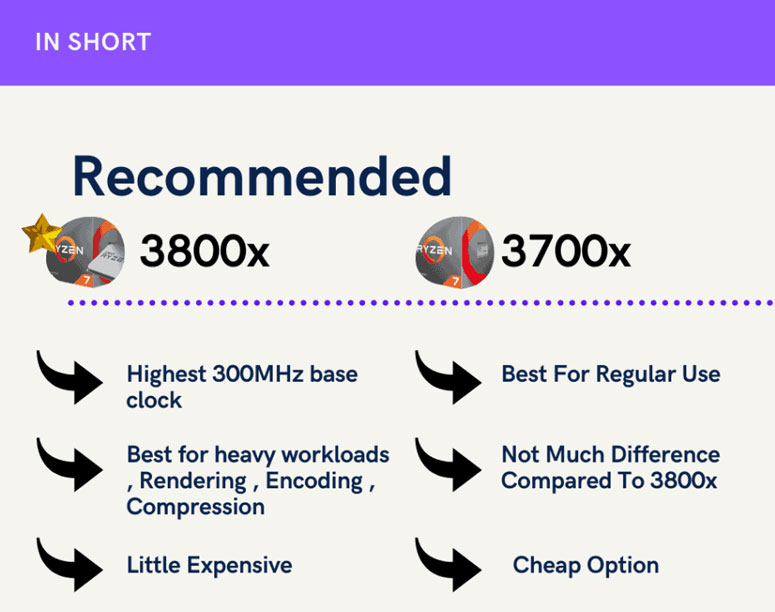 Get your Ryzen 7 3800x & 3700x From Amazon
One crucial thing to remember here is that both these great CPUs demand high-quality motherboards. Luckily, many motherboards are compatible to use with the 3700X or 3800X. And you can easily find the best one as per your choice.
When making the decision, carefully examine your needs, and keep in mind the certain features that we have mentioned above.
Last Thoughts:
We hope that you will find this complicated and a bit technical post helpful. We have tried our best to keep things simple and concise. In this read, you will find all the necessary info related to the Ryzen 3700X and 3800X that, too, in the simplest way.
Thank you for reading!
FAQs
How good is Ryzen 7 3800x?
The Ryzen 7 3800X is an extraordinary processor that delivers the perfect mixture of performance. However, if you have a narrow budget, you can also go for its less expensive sibling that is Ryzen 3700X.

Is Ryzen 3800x good for HD streaming purposes?
If you don't want to break your bank and want one of the best processors for streaming purposes, the AMD's Ryzen 7 3800X is a processor that needs your serious consideration. The Ryzen 3800X features an eight-core, 16 thread configuration, and it is the right choice for streaming uses.

Does Ryzen 7 3700x have integrated graphics?
The AMD Ryzen 7 3700x does not come with integrated graphics. Some Ryzen models have built-in graphic cards but not 3800X.

Do I need a CPU cooler for Ryzen 7 3700x?
Usually, the AMD Ryzen 7 3700X does not throw out too much heat and offers noiseless performance. The stock cooler that comes with this AMD processor will comfortably keep it within the preferred operating temperature level. The addition of a CPU cooler also depends on your usage. For common uses, a built-in stock cooler is enough. However, if you want more headroom for overclocking, you can buy an aftermarket cooler.