There are a lot of cooling options out there for pc, but some of these might not be the best when it comes to a budget pick.
If you were looking for something more affordable than the standard CPU cooling solutions, a v5 CPU air cooler is exactly what you need.
Vetro v5 combines something for everyone at an affordable price of $30 or less on sale.
We're looking at some low-cost CPU cooling solutions; more specifically, we will be reviewing v5 CPU air cooler and comparing it to a couple of similar low-cost cooling options.
The vetro v5 is one of the best CPU coolers in this price because it combines so many things that people are looking for nowadays into a single cooler that Costs about 30 bucks or a little bit less, If you can find it on sale.
Before we get into vetroo v5 CPU air cooler review and performance, testing, let start with packaging and Installation.
Package
The vetroo cooler was well packaged and protected in its cardboard box, with a layer of open-cell foam on the bottom of the box protecting the cold plate and a layer of foam between the fan and the heatsink protecting the aluminum fins from damage while shipping.
Vetroo v5 Cooler and accessories were packaged tight, helping prevent possible damage and shipping while still being minimalistic and avoiding waste materials.
| | |
| --- | --- |
| Overall Dimension | 128 x 148 x 75 mm |
| Fan Dimension | 120 x 120 x 25 mm |
| Fan Speed | 800~1700 rpm ± 10% |
| AirFlow | 21-52 CFM |
| Static Pressure | 3.61mm H2O |
| Bearing Type | Hydraulic |
| Noise Level | 30.8 dBA(Max) |
| RGB Connector | 4 Pin / 3 Pin |
Installation :
The installation instructions were included and not just the QR code, but they were clear and easy to follow. Installation on the am4 socket was pretty simple while using the stock AMD backplate.
Vetroo V5 Review – HeatSink/Build Quality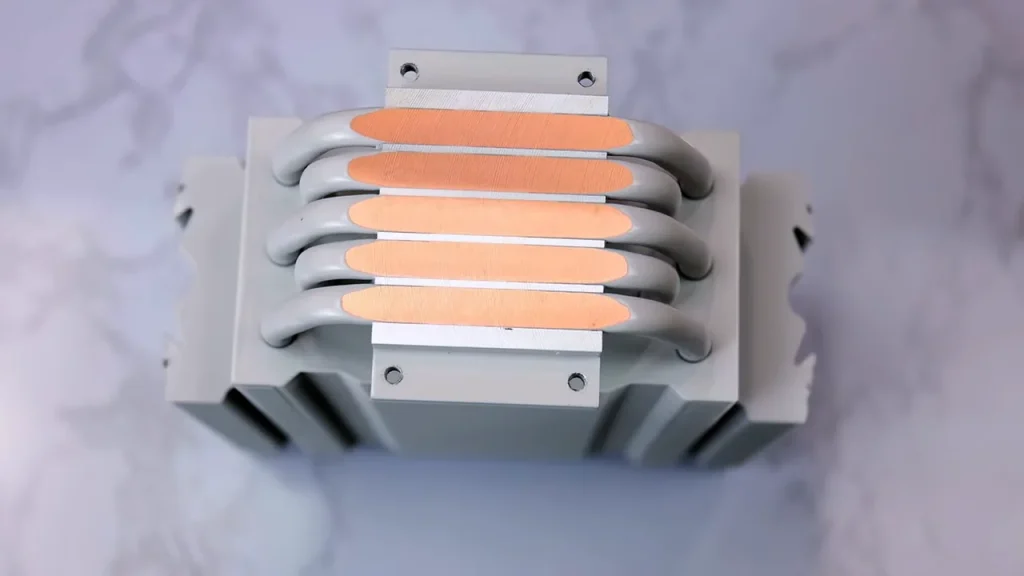 The heat sink is a basic tower that's actually pretty compact.
Vertroo V5 will easily fit in the vast majority of cases out there in the market as long as you're not rocking in one of those super small itx cases.
Or you can check another alternative of CPU coolers which are more reliable and better in performance . AIO 240mm CPU coolers are a little expensive but a great deal for overlockers.
The Vetro V5 is one of the first coolers that we've seen with 5 heat pipes 120mm on its base in this price point.
The base is not super well finished, and you never get the ultimate polished finish when you have an HDT base, but at the same time, it's well done for the price point.
These heat pipes go up into a really dense fin array, and that fin array has probably a unique feature about this cooler, and that is a stepped back section where some of the fins are actually wider at the top than at the lower portions.
The reason for that is that you're able to mount this in east-west or northwest directions on an intel system, While you can't do that on the AMD side due to the mounting brackets.
Pros
Performs Well
Inexpensive
Quiet
Good Design And Aesthetic
Aura Sync Support RGB Fan
5x Heat Pipes
Cons
Doesn't Come With RGB Controller
Fans
The low-noise fan is excellent for people who want more than just a little air. Fan speed of 1700 rpm with an average static pressure envelope given its speed levels provides enough airflow to cool computers.
The selling point of the v5 CPU air cooler is that it comes with a socket w addressable RGB that can be controlled with aura sync or any other 3 pins compatible motherboard or RGB controller.
How We Test? Testing Procedure
Let's talk about the test procedures first
We will be conducting all the temperature testing on this open-air test bench for vetroo v5 review because there's no single enclosure representative of every user.
We will be using a ryzen 7 3700x at stock settings with 16 gigabytes of ddr4 3600 megahertz memory and an MSI b450 tomahawk motherboard.
Testing procedures included a 30-minute burn-in using the 8-64 stress test followed by a 30-minute cooldown period to ensure a full spread of the thermal paste in a proper mount.
The system is then restarted and run for 20 minutes at idle to bring the system up to an operating temperature.
Next, ada64 will be started again, and statistical data, including minimum maximum and average temps, are collected at the end of another 20 minutes with the system at idle.
Finally, the stats will be cleared, and the stress test or system stability test will run for 20 minutes, and temperature data will be collected, and then the system will be shut down for 20 minutes.
This process is repeated three times, and then the CPU cooler is removed, re-pasted, reinstalled, and the process is repeated.
In total, the CPU cooler is mounted three times for a total of nine test cycles, the results being averaged.
Finally, the stock fan will be removed and replaced with a Noctua nfp12 redux 120-millimeter fan, locked at 1700 rpm for a normalized fan test.
Comparison With Other CPU Coolers : Vetroo V5 vs Hyper 212
For comparison, the vetro v5 was compared to three other coolers.
First, it was tested against a baseline cooler to compare their performance levels: Ryzen stock Wraith Prism.
The two others were low-cost alternatives that are similar and of comparable pricing; Deep Cool Game Max 400 V2 and its more popular counterpart, the Hyper 212 Evo from COOLER MASTER itself.
All three coolers used Noctua NT H2 thermal paste for testing purposes, so no one had an unfair advantage over any other product.
Results – Benchmarks
Temperature At Idle System
Starting with idle tension, the Vetro V5 averaged the lowest idle temps of all test group members coming in 3.6 degrees lower than that of a stock cooler and reaching one peak temperature below any other competitor.
Temperature At System Load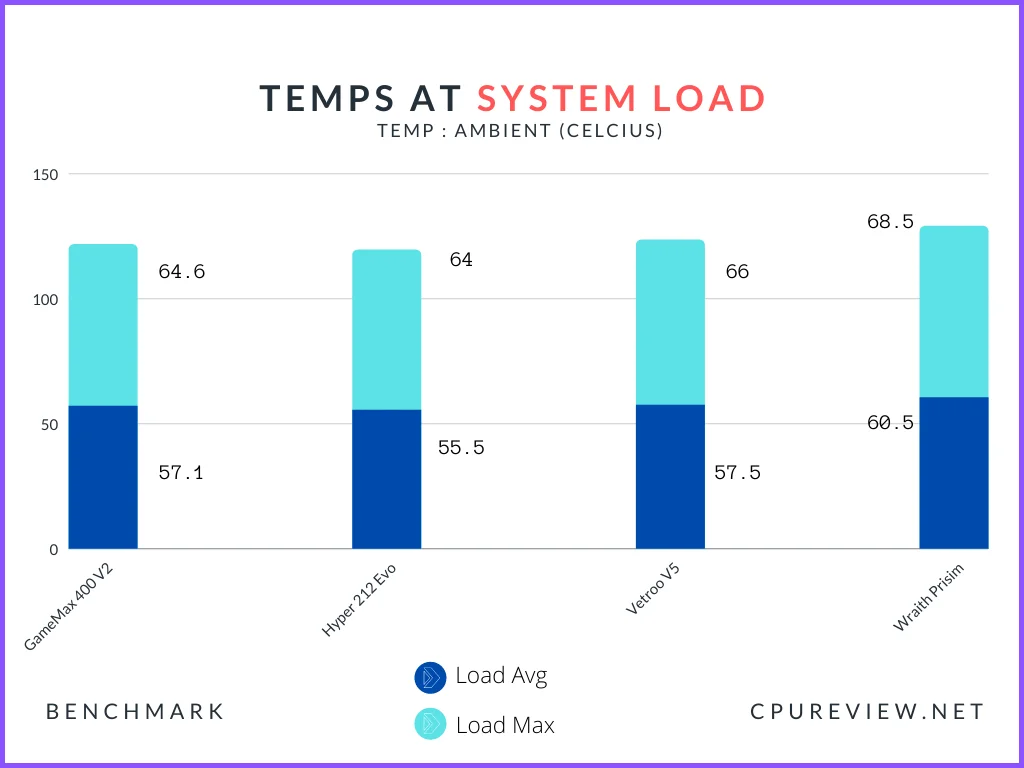 Moving on to temperatures at load again, we see the vetro maintain average temps three degrees cooler than the race cooler and pretty much match the game max.
However, due to its significantly faster fan with a max speed of 2000 rpm, the hyper 212 comes in a full 5 degrees under the stock cooler.
Temperature Fan Normalized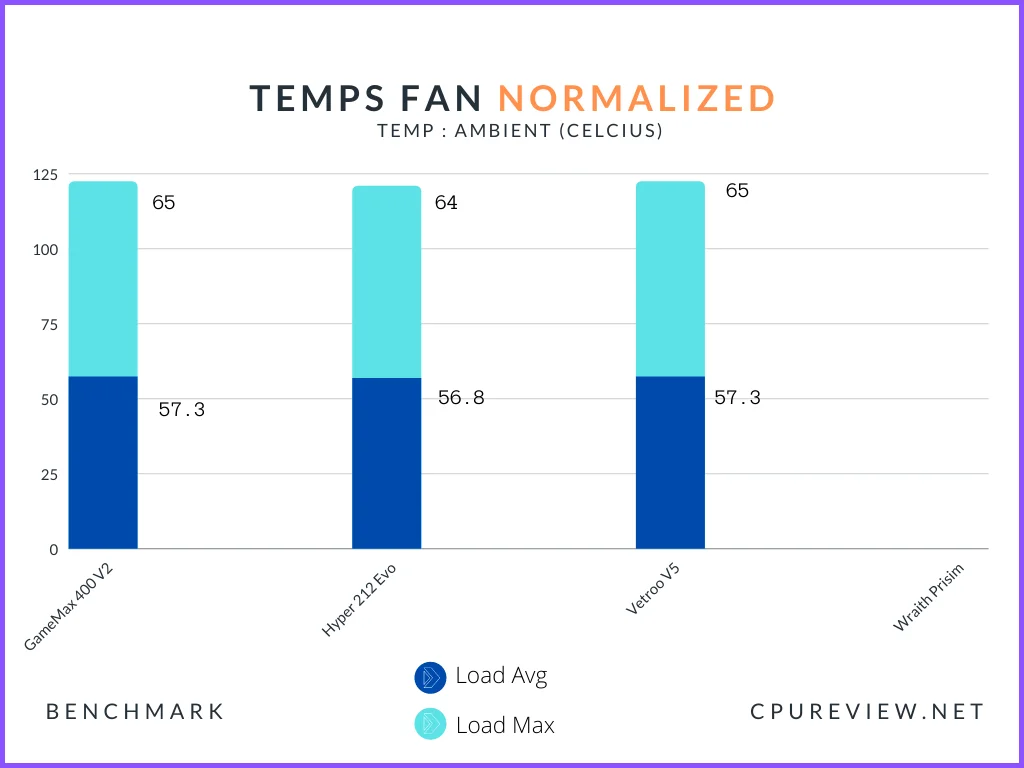 When we standardize the fan on all of our tower coolers to test how efficient just the heatsink is, they all performed pretty much identically.
The Vetro and Deep Cool models were identical in performance with average temperature differences less than half a degree; however, cooler master's significantly denser fin stack came out looking great as well, coming only slightly warmer by an average of about 1/2 degrees Celsius.
Noise Levels
The noise levels of these coolers at load adjusting for background, the biggest limitation of the stock ryzen cooler with its smaller fans spinning at over 3000 rpm producing a noise level of 59.1 decibels
The faster fan and denser fin stack of the hyper 212 produce 55.1 decibels of noise.
While the vetroo v5 comes in under 50 dB and the game max was the quietest at 46.7 dB.
Conclusion
As far as cooling efficiency, at first, I wasn't sure about testing the painted or coated heatsink against bare aluminum heatsinks because coating the aluminum fins does reduce the cooling efficiency.
However, vetroo is compensated in two ways first by adding a fifth heat pipe, which the more heat pipes you have, the more heat you can move away from the CPU
And second by notching out the bottom fins of the heatsink.
The hyper 212 Evo had the best cooling performance, but it's loud and too expensive, in my opinion.
The vetroo v5 comes in white or black and has a fully addressable RGB fan, so it'll match any build or theme.
Vetroo v5 CPU cooler, a worthy contender in the budget cooler