Whether you have a standard desktop PC or a high-end laptop, there's a good chance that if you halt your activity for a couple of minutes and listen carefully, you will surely hear the annoying "whirring" from your PC. If your PC includes high-end graphics or video cards, the sound can be much higher and more annoying.
Like any other powerful PC component, the CPU also generates a lot of heat while working and needs adequate cooling to perform at its best.
In most PCs, cooling fans do this job of keeping the component and CPU cool. But for those fanatics who have high-end hardware or coax their PCs into working faster, a cooling fan is not enough.
So, which is the best and most effective way to keep your PC working at the ideal temperature? You will find many ways to cool a processor, but the most effective is the air- or liquid-based coolers.
It might look a bit odd to put liquid stuff near or under delicate electronic components, but believe us, this type of water cooling is far more efficient than the other cooling types or fans.
Having said, in this read, we're going to talk about the best 240mm AIO so that you can identify which is the right one for your setup.
Best Value 240mm AIO Cooler: NZXT Kraken X52
Our top pick, Taking shades and illumination to a whole new level, the Kraken X52 240mm AiO cooler comes next on our list. Probably this AIO is the most good-looking on the market that is going to turn a few heads.
For more details, continue to read as we dig in and compare its aesthetics with the performance.
You will find all the hardware included with the unit that you can use with all modern sockets. You can use this cooler with current AMD's and upcoming AMD socket AM4 as it will have the same mounting mechanism.
The NZXT Kraken X52 features an infinity mirror design to deliver unmatched cooling, and that makes it suitable for highly overclocked machines.
This NZXT AIO cooler features 35 mm RAM height clearance for an appropriate fit. It also features a CAM control mechanism that ensures fine changes and accuracy.
Not only the unit has a dedicated 'manage option, but it also includes desktop and mobile app usage controls that you can use to adjust and monitor pump speed and temperature. With these handy features, the cooler allows for easy monitoring.
A-RGB LED
Push-Pull Fans
PWM Support
Radiator Material: Aluminum
Fan Speed: 2000 RPM Max
Fan Air Pressure: 2.93mm-H2O
Noise Level: 36dBA Max
Featuring robust and lightweight aluminum and copper construction, this AIO cooler can efficiently withstand whatever your machine throws at it.
Furthermore, you will also get six years of warranty along with reliable restore and repair benefits. All these additional benefits ensure that you can claim an easy replacement if the unit doesn't live up to your expectations. However, the chances for that are minimum.
Besides, its smooth and efficient liquid cooling option ensures entirely silent operation without any irritating noise. To be precise, it features a 38 dB noise level at max speed.
Lastly, this 240mm AIO cooler features high airflow of up to 59.1 CFM, and it is compatible with AMD and Intel 1150 sockets.
Why We Recommend
Great Looking Cooler

RGB Works

Great
Easy To Install
Better In Cooling Performance
Why We Don't
Cam Software Seems To Be Making Minor Issues ( Updated And Working Fine)
Best Budget 240mm AIO: Cooler Master MasterLiquid ML240R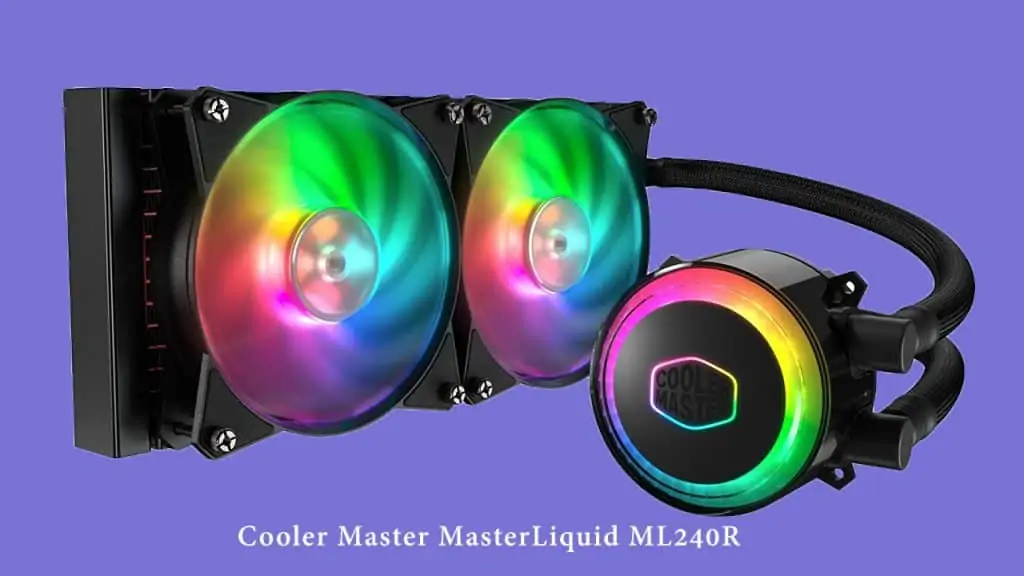 The Master liquid all-in-one liquid cooler, is a custom, low profile unit that comes in a dual-chamber pump to outperform the previous single-chamber models in terms of heat transfer.
Furthermore, the unit features top-notch build quality that offers a complete noiseless operation.
Moreover, you will find elegant, addressable RGB LEDs placed on both the pump and fans for color customization, and you can control it via the provided controller or CM Plus software.
The unit also features kink-free, factory-sealed FEP tubing that gives it an entirely premium look. Just screw it and get the optimum liquid cooling without any messy refills or complicated maintenance. This brilliant thermal innovation will serve you for decades.
Addressable RGB LED
Push-Pull Fans
PWM Support
Radiator Material: Aluminum
Fan Speed: 2000RPM Max
Fan Air Pressure: 2.3 mm-H2O
Pump Noise Level: 15 dba
Pump Voltage: 12 VDC
Another beneficial feature of this MasterLiquid ML240R is its removable, domed cap, which clearly reflects an outline of the Master logo. You can also rotate the cap to alter the installed orientation.
Besides, you can comfortably enter coolant tubes through the housing via 90-degree swivel fittings, and the entire hose comes covered with a black nylon braid and further sealed with the heat sink.
The cooler's base features a laterally milled copper cold plate along with integrated mounting tabs that enable you to swap them if needed to get the ideal proportional tension.
Lastly, the 12-tube aluminum also features 120mm fans that are rated up to 2000 RPM with 4-pin PWM and ARGB cabling. Yes, this AIO cooler comes with thermal paste that makes the installation breeze.
However, a few users commented that installation is simple but using the software can be a little annoying, but overall the cooler is worth the buy.
Why We Recommend
Keeps K Series & Ryzens Proceesers cool
ARGB Lighting Is Awesome
RGB controller works well
Why We Don't
Installation Is Bit Tricky
No Proper Manual For Installation
RGB Software Is Not Stable
Best MSI Cooler: MSI MAG CORELIQUID 240R
Next comes another stylish AIO on our list with optimum cooling for all high-end PCs, the MSI MAG CORELIQUID 240R boasting a unique rotating pump head along with an addressable RGB implementation.
You will get two durable ARGB PWM 120mm fans within the box, a smart fan controller, fan mounting hardware, and a comprehensive installation guide. Thus, you'll have all the things at your disposal to get it set up in less time.
Indeed, the best part of this AOP is the simplicity of installation, and as for the terms, it competes with other expensive 240mm AIO coolers. Starting with the installation, you will only need few screws to quickly mount the pump and fans. In fact, most of you can set this thing up in less than ten minutes.
Furthermore, the unit is compatible with almost all modern Intel and AMD processors and others. As mentioned above, this CORELIQUID 240R is the most attractive out there.
The RGB extends up to the fan blades and on the company logo printed on the pump head. Even those who don't like the RGB will appreciate the vibrant shades that it offers. Moreover, the lighting is adjustable with the included remote or via your PC.
Besides, the MSI cooler features a rotatable pump head up to 270 degrees, and you can also mount the cold plate in your preferred way to get the optimum cooling.
ARGB LED
PWM Support
Radiator Material: Aluminum
Fan Speed: 2000 RPM Max
Fan Air Pressure: 78.73 CFM
Pump Noise Level: 18dB(A) Max
Fan Noise Level: 34.3 dB(A) Max
Additionally, the pump is built into the radiator, which provides you two handy things. First is the excellent sound dampening, and the second, it helps increase the unit's lifespan by keeping it away from the heat source.
We also liked its split pathway design that allows for excellent heat transfer than the other traditional radiators. The unit is suitable for a highly overclocked machine and efficiently handles the stress.
While its cooling performance is up to standard but the best thing is how quiet it works. Averagely, the unit 5 decibels quieter than the other premium coolers in the same class.
Overall, this MSI AIO offers high value for your bucks besides top-notch performance, unique styling, and some handy features that make it one of the best 240mm liquid cooleron the market.
Best In Performance: Corsair H100i v2 Extreme Performance
Next on our list comes the Corsair H100i v2 Hydro Series, an extreme performance, all-in-one liquid CPU cooler that works flawlessly with 240mm radiator mounts.
The unit features dual SP120L PWM fans and a 240mm radiator that offers reliable heat dissipation that highly overclocked machines demand.
Corsair H100 AIO also includes a built-in display that allows you to easily monitor temperatures, adjust cooling performance, and you can quickly customize its LED lighting right from your PC.
Furthermore, the unit comes loaded with a 30mm robust radiator with two extremely densely braided tubes that come out from one end and joints with the pump for optimum cooling.
These tubes are sturdy and flexible, so there is no harm in placing them per your preferences and enjoying a hassle-free installation.
RGB LED
Push-Pull Fans
PWM Support
Radiator Material: Aluminum
Fan Speed: 2435 RPM Max
Fan Air Pressure: 4.65 mm-H2O
Noise Level: 37.7 dBA
As compared to the previous models of the Corsair, this H100i V2 features an improved and premium pump block that has small dimensions and is effortless to install.
You'll also find the pre-installed Intel brackets to make installation straightforward. This is something that was not present in previous models.
And if you have AMD, just twist it, and it'll come off, clip your AMD in one place, and you're all set to roll. The thermal paste and anti-freeze substance comes with the purchase, and you have the choice to use your own.
Lastly, you will notice an elegant Corsair Logo on the radiator's side, which looks awesome and makes it more attractive than the stock black radiators.
Why We Recommend
Cooling Is Good

RGB Works Fine
Why We Don't
Short Life Spam

Fans And Pump Is Noisy

RGB Software Is Not Stable
Best Silent 240mm AIO CPU Cooler: Corsair ICUE H100i PRO XT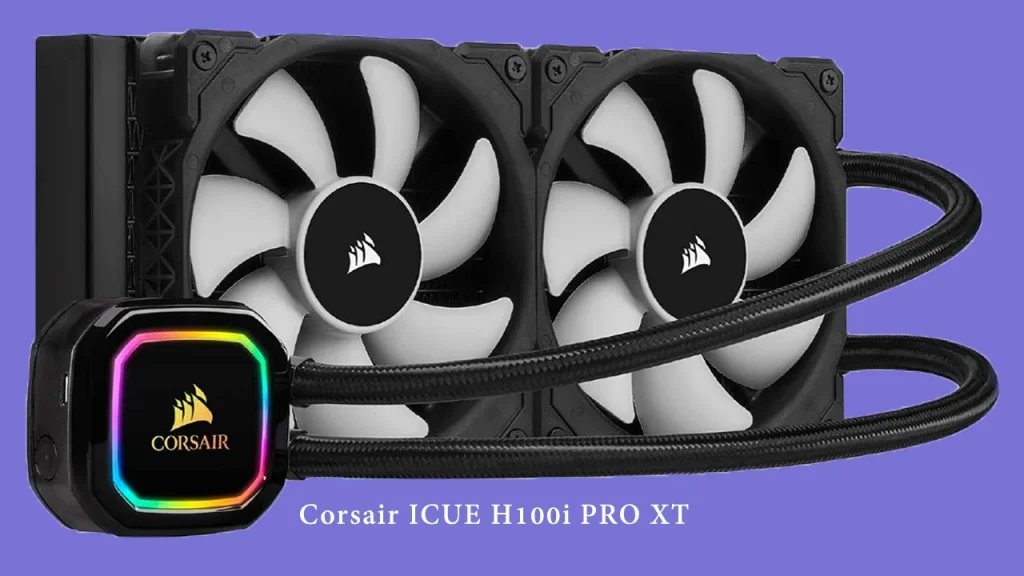 Here comes another Corsair on our list, this time, we have the Corsair ICUE H100i PRO XT AIO cooler. The AIO features two 120mm ML120 PWM fans with a maximum RPM of up to 2400 RPM.
The fans also feature Zero RPM mode that turns it off when senses low load on CPU while streaming or playing. And, due to this auto shut-off ability, it provides a silent working.
The H100i PRO is compatible with both AMD and Intel processors. The unit features an A-RGB-lit pump head and makes back their product by offering a five-year warranty. As for the working, the H100i PRO is one of the best 240 aio on the market.
Furthermore, the Corsair H100i Pro series comes ready to use and perfect to fit in full tower PC casings, mid-tower cases, and even in a few ITX cases.
The AIO's working mechanism is simple; no mess, no fuss, and without any hassles.
It comes with a 240mm aluminum radiator, along with dual 120mm fans, and an efficient, low-profile pump with a durable copper plate that pulls all the heat generated by your CPU.
A-RGB LED
2x Fans
PWM Support
Radiator Material: Aluminum
Fan Speed: 2400 RPM Max
Fan Air Pressure: 4.2 mm-H2O
The included fans also feature a PWM control, so you will not find any disturbing noise during operation. To be precise, the max dB level that you will get is up to 37 decibels. The efficient working is fully supported by the elegant look.
The pump features vibrant A-RGB lighting that you can easily adjust using Corsair's iCue software. Via this program, you can control and adjust fan and pump speeds.
So, the bottom line is, this is the quietest 240mm AIO on the market that offers optimum cooling performance while not being heft on your bank account.
Why We Recommend
Best Cooling Performance

RGB Works Fine

Powerful high-flow fans
Mounting the radiator and fans was easy peasy.
Why We Don't
High noise levels at full speed
Best AIO CPU Cooler Premium:Asus ROG STRIX LC 240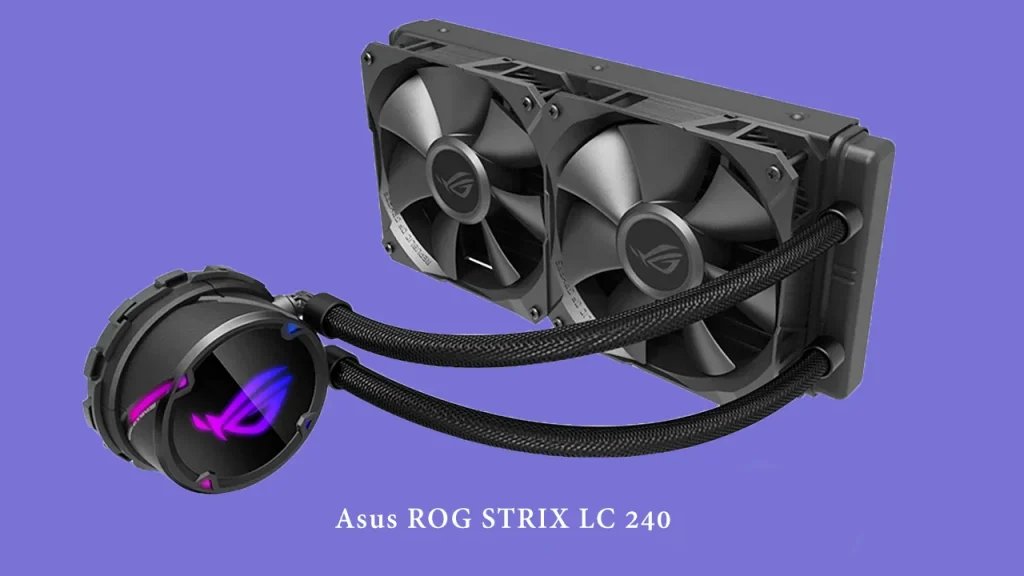 ROG Strix LC is 240 comes from a series of high-end CPU liquid coolers specifically designed for intense and demanding gaming builds. The unit can handle all with minimum noise and matchless efficiency.
Featuring a lightened ROG logo with exclusive Aura Sync support and ROG-designed radiator fans, the ROG Strix LC 240 AIO brings the best combination of top-notch performance, useful features, and design details that you expect from the best cooling brand.
Moreover, ROG Strix LC 240 comes loaded with the latest cooling plates and features micro-channels that offer quick thermal dissipation for processor heat.
This advanced feature reduces thermal resistance more efficiently and maintains the adequate temperature.
ARGB LED
PWM Support
Radiator Material: Aluminum
Fan Speed: 2500 RPM Max
Fan Air Pressure: 5.0 mmH2O
Fan Noise Level: 37.6 dB(A) Max
Besides, its four-pin PWM control works well for both the pump and radiator fans and provides you precise speed control and the perfect balance of high performance and acoustics regardless of your usage and heat levels.
Furthermore, the unit is well-suited for Intel and AMD motherboard, providing you the flexibility to pair it with your machine. You will also find 38cm of premium tubing that makes mounting and routing a breeze.
Lastly, you will love the classy ROG logo and slash-cut designs on the pump's housing that glow with RGB lighting and delivers the vibrant burst of shades and sleek style right at the heart of your PC.
All these effects are customizable to match your PC's look.
Best Durable One: EVGA CLC 240 MM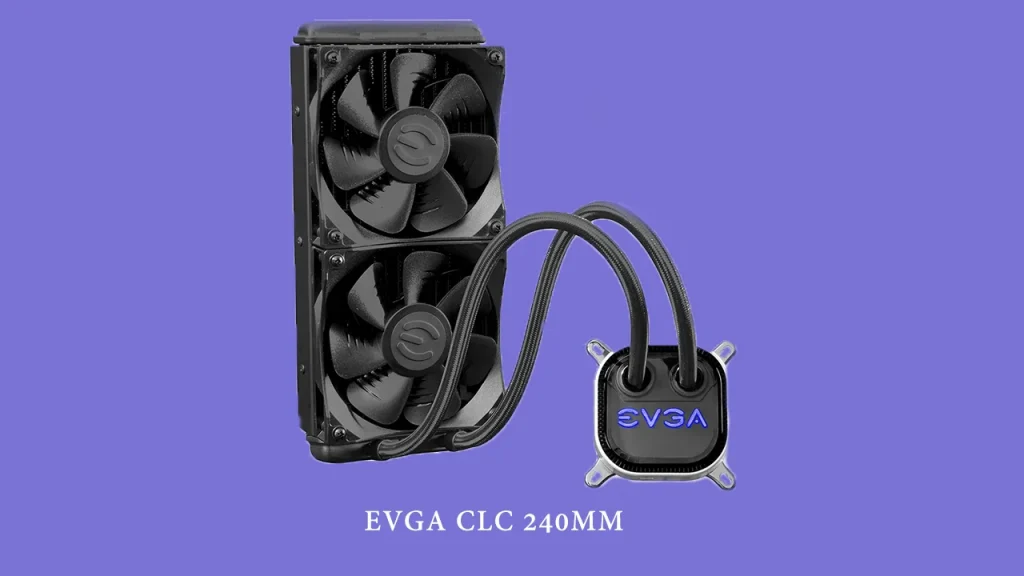 Covered in shiny black paint, this EVGA CLC 240mm AlO is the most durable one on the market. Plus, the unique flair of RGB LED lighting above the pump head looks awesome.
Another plus of having this durable AIO cooler is that it's pretty affordable than the others despite RGB implementation.
However, remember that you will find a complete RGB LED setup on other AIOs that goes to their fan blades, but that's not the case with this EVGA CLC 240mm AlO as it only has RGB on its pump head.
Related : You might need a CPU for playing VR Games
The glossy black finish on the pump's head, radiator, and hose make this one of the most attractive out there. Furthermore, the RGB lighting is customizable, and you can play with it using the Flow Control software.
You can adjust the light's colors, the fan speed, and the pump's output. You can also monitor various settings such as fan's RPM and coolant temperature through this software.
Moreover, this modern and latest EVGA CLC 240mm AlO supports almost all modern AMD and Intel processors, and it's hard to find any major player left out in the cold.
Some models that we are sure about include Intel LGA 2066, 2011, 1151, 1155, 1156, and 1366; for an AMD, it works well with AM2, FM2, AM3, AM4, FM1, or TR4.
RGB LED
PWM Support
Radiator Material: Aluminum
Fan Speed: 2400 RPM Max
Fan Air Pressure: 4.4 mm-H2O
Pump Noise Level: 20dB(A) Max
Fan Noise Level: 39.9 dB(A) Max
In terms of quality, this EVGA AIO doesn't disappoint at all. The hoses come nicely covered in a sturdy nylon satin braiding that gives a premium feel and superb functionally reducing kinking and leakage.
However, we didn't find the pre-applied thermal paste reliable. It feels chalky and doesn't live up to the standards. Hence you will have to buy a tube for yourself.
But its cooling is impressive and outperforms many others in the 240mm class. However, we noticed a bit of noise during testing, but it was not a terrible one and bearable.
Coming in at an affordable price, this 240mm AIO definitely offers a high-value proposition and comes backed with a five-year warranty by makers.
It features the best cooling capabilities in the 2400 class, and you will get all the features that you would expect in a 240mm cooler. Indeed, the best 240mm water cooler on the market. Highly recommended!
Why We Recommend
Best Cooling Performance

RGB Works Fine

Powerful high-flow fans
Mounting the radiator and fans was easy peasy.
Why We Don't
High noise levels at full speed
Best RING RGB Cooler:Thermaltake Floe Riing RGB 240 TT Premium Edition
Thermaltake a name that needs no introduction. It is among the pioneer to embrace the RGB trend in PC building, and Thermaltake Floe Riing RGB 240 TT Premium Edition reflects why it holds the major share in the computer world.
This Thermaltake Floe Riing RGB 240 TT features excellent RGB LED implementation that hard to find in others.
It comes with dual 120mm fans and an efficient pump head covered elegantly with beautiful RGB lighting. If you were more concerned about the looks, you will love this Thermaltake AIO cooler.
You can also control the lights via software, and you will also find Android and iPhone apps to control the same.
Related : Motherboard for CPU 5900x Ranks Top
However, Thermaltake's software is a bit complicated to use and lacks some essential features. It allows you to modify the light settings and fan speed, but you will have to restart the system when changing profiles.
On the brighter side, installation is effortless like others. Just screw it into the place, and you're done. The Thermaltake's AIO comes with a pre-applied paste that is effective and efficient. Overall the installation is a breeze.
It comes with two 120mm Plus RGB fans and a proficient LED waterblock. Plus, it's a large surface radiator, when combined with a high-performing waterblock and pump, guarantees you the best CPU cooling.
ARGB LED
PWM Support
Radiator Material: Aluminum
Fan Speed: 1400 RPM Max
Fan Air Pressure: 1.54 mm-H2O
Pump Noise Level: 20dB(A) Max
Fan Noise Level: 24.7 dB(A) Max
Additionally, both the waterblock and the fans are designed with several addressable LEDs compatible with AI interactive voice control.
Despite the software drawbacks, you cannot overlook its high performance. The Thermaltake Floe Riing RGB 240 TT Premium Edition is among the best coolers in the class and competes well with some large 280mm cooler.
The unit is highly impressive and fully capable of maintaining the adequate temperature of highly clocked machines. This high-end 240mm AIO cooler can handle whatever comes in its way.
Lastly, we will say that this 240mm cooler by Thermaltake offers you full control along with the best cooling capabilities.
This is an ideal choice for all enthusiast that don't mind its hefty price and they will love the looks and Floe Riing's top-notch performance.
Best Closed Loop Cooler For Price:ID-COOLING ZOOMFLOW 240X Snow
The ZOOMFLOW 240X SNOW is an all-in-one liquid CPU cooler that comes with an efficient 240mm radiator built for optimum CPU cooling.
The unit is specially designed with an addressable RGB LED pump head, and you will find two adjustable RGB cooling fans to match with your PC build flawlessly.
Furthermore, the AIO's radiator measures around 274mm long, 120mm wide, is 27mm thick, and it features high-quality and lightweight aluminum materials.
You will also find dual tubes between the radiator and the head. Both these tubes are 400mm long and come nicely covered in a high-quality sleeve material.
You will find a copper cold-plate that efficiently moves all the heat away from the CPU on the other end of the tube. Under the head, you will find a ceramic bearing pump with enhanced fin count capable of delivering 2100 RPM and 106 L/H of airflow.
ARGB LED
PWM Support
Radiator Material: Aluminum
Fan Speed: 1500 RPM Max
Pump Speed: 2100 RPM Max
Fan Air Pressure: 1.78 mm-H2O
Pump Noise Level: 25dB(A) Max
Fan Noise Level: 26.7 dB(A) Max
The AIO also features a reliable pair of 120mm ARGB fans that are further supported with hydraulic bearings to enhance performance.
Both these fans rotate within a range of 900 to 2000 RPM and deliver you a 55.2 CFM of max airflow.
Another prominent feature of this AIO is its noiseless operation. To be precise, the noise range is from 16.3 on the low-end, whereas the max is up to 33.5 dB.
Lastly, another feature that makes it stand above the rest is its cost. You will get the best return for your bucks and performance that you cannot find with the others.
Best Cheapest 240 AIO Cooler: Cooler Master MasterLiquid LC240E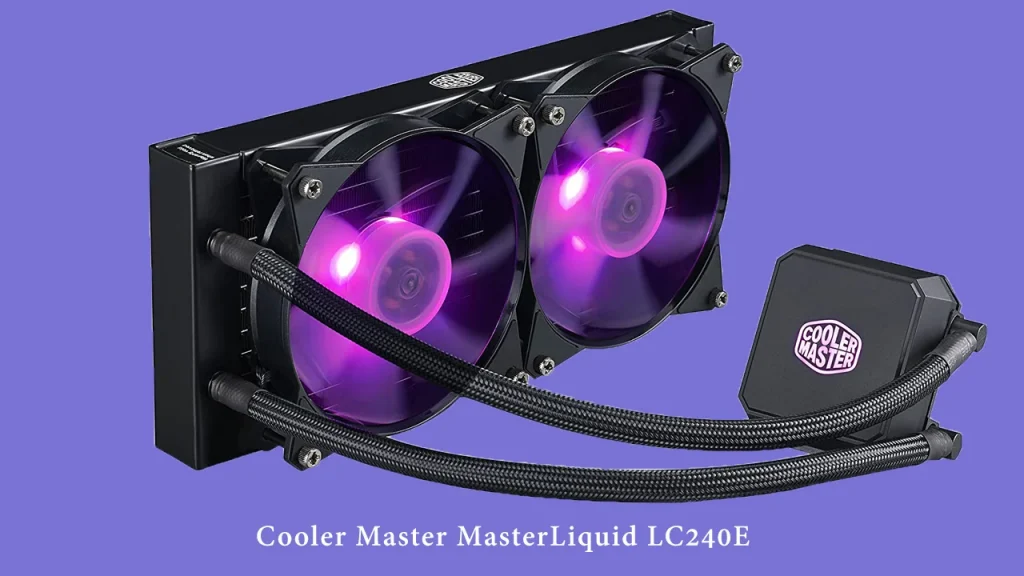 Last on our list is the Cooler Master's MasterLiquid LC240E AIO cooler with all the bells and whistles you would need for your machine.
It compliments CPU performance by executing a high-quality dual pump and handles. The airflow is the best and consistent, thanks to two 120mm fans. Plus, you will also get an RGB feature on the fans.
The MasterLiquid LC240E is a reliable solution to the heating problem and offers optimum liquid cooling. Especially when you consider its price range, it can easily keep up with most premium coolers on the market.
The AIO's tubes come reinforced with Fluorinated ethylene-propylene (FEP) for enhanced durability and ensure that the liquid will flow smoothly along the cycle without affecting other components.
RGB LED
PWM Support
Radiator Material: Aluminum
Fan Speed: 2000 RPM Max
Fan Air Pressure: 2.34 mmH2O Max
Pump Noise Level: 15dB(A) Max
Fan Noise Level: 24.7 dB(A) Max
Comes With RGB Fans
RGB Controller Included
Furthermore, its pump and fans don't make noise on a regular load. However, we noticed a bit of noise on excessive loads, but it was tolerable.
In terms of installation, you will not have any difficulty. You will find all the necessary hardware with the purchase for a simple installation. If installed correctly, it also supports overclocked machines.
All things considered, this budgeted AIO looks cool, thanks to its unique RGB lighting, and you have the option to customize it as per your preferences.
Overall, it has a good price to quality ratio and does its job well of maintaining the desired temperature values.
Make Your Choice
So, all this brings us back to the original debate: Which is the best 240mm AIO on the market?
The answer mainly depends on how you use your machine, on your specific workload, and what you expect from your new AIO.
If you need a silent working along with the most efficient cooling, all the units mentioned above will serve the purpose well.
Hence we will advise you to carefully consider how you use your machine and how you are planning to use it in the near future when finalizing your choice.
But one thing we can assure you that AIO is the ultimate solution for your heating problem that you can use with almost all. Lastly, it's up to you to your specific requirements in deciding which is a better fit for your computer.