The most conventional mistake made by a blogger when he chooses a platform for his blog is lack of knowledge regarding the differentiation between the 2 integral sub-parts of WordPress i.e. wordpress.com and wordpress.org! Both the platforms provide comprehensive solutions but they cater to different sets of consumers.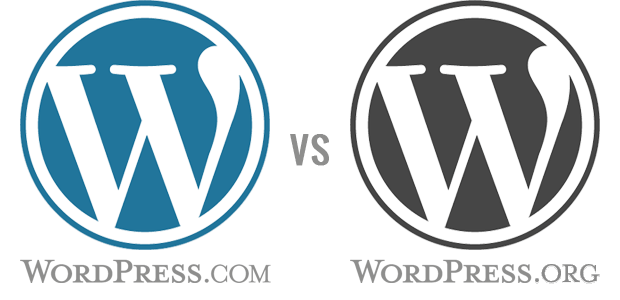 If you are looking for a super flexible customizable platform for a serious blog then you should go for wordpress.org. On the other hand, if you are a hobby blogger with no motives to monetize, then you might consider wordpress.com.
Below, we have enlisted some integral aspects that you should look at before making your final choice amongst the 2 options.
New to WordPress?
If you have just ventured into the world of blogging, you would probably have this one basic question-
What is WordPress and what are the sub-types of it?
Well, answering the age-old question, WordPress is basically an open source content management system based on Php and MySQL. You can use wordpress for numerous purposes such as blogs, arcade, e-commerce website, portfolio, gallery, rating website and much more.
Now, in WordPress you initially get 2 options to choose from in accordance with your needs. These 2 options are-
Scroll down to know the primary differences between the 2 platforms and which needs they cater to!
.COM VS .ORG
So finally, here we are to put some light on the dilemma.
Beginning with wordpress.com, it is a hosting platform which has several plans in order to address your wants on the basis of various storage options and advanced features.
WordPress.com has both, free as well as paid plans that are enlisted as follows:-
Free plan- Won't cost you anything
Personal plan- $36 / year
Premium plan- $99 / year
Business plan- $299 / year
VIP plan- Starting from $5000 / month
In case you are wondering about the benefits and drawbacks of wordpress.com, consider going through the pros and cons mentioned below:-
Pros:-
If you want to manage your own web server and hosting without spending money then wordpress.com would be an adequate pick for you!
The platform offers 3GB of free space along with many customizable options.
WordPress.com features auto updates and backups!
Cons:-
Your viewers would get to see ads on your website if you opt for the free plan. Also, you won't get to share the revenue from the ad clicks which means that you won't earn anything out of the advertisements on your website unless you opt for the premium or business plan where you get to share the revenue with WordPress.
The free plan users are not eligible to use any third party statistical software such as Google Analytics and they are bound to depend on WordPress stats.
Free plan users do not get to upload plugins.
WordPress does not facilitate any integrated payment gateway on its websites.
On the other hand, if we talk about wordpress.org, it is a powerful full-fledged platform for you to enter a world full of possibilities. It is loaded with flexibility and it gives you loads of options to customize your website without any constraints. Checkout the Pros and Cons of it for further insight!
Pros:-
You are in full control when it comes to adding free, paid or custom plug-ins from wordpress.
You are entitled with all the revenue from the ads running on your website.
You can use powerful statistical tools like Google Analytics to keep track of your website.
You are eligible to use self hosted WordPress to create an online store and sell commodities.
Cons:-
You would need to incur some cost for hosting in accordance with the traffic on your website. Initially, the cost for hosting is around $3 or $10 per month.

It is imperative that you find yourself the best possible hosting service provider, as per your budget, since your sites activities will be directly dependent on it.
From a personal point of view, we'll recommend you to choose Godaddy.com. the services that they offer, at a price that they ask, is second to none. If it seems a pricey, you can use these domain offers and get your wordpress website started for as low as Rs 99/month.
You are initially responsible for the updating of your website and backups on your WordPress. But this is not much of a hassle because there are hundreds of plugins for you that facilitate auto backups. Also, you can update wordpress easily by just a click!
Which one to choose?
If blogging is just a hobby of yours and you do not consider the monetary aspect then we would suggest you to go for wordpress.com.
On the other hand, if you want to run a business or a formal organisation and earn out of it then we would suggest you to consider wordpress.org.
Rest taken into account; we would leave the decision up to you!
Conclusion:-
WordPress is an all-embracing solution to your varied needs. Its extensive outreach helps you in expressing your business, ideas and emotions in the most alluring manner. Moreover, the bifurcation of WordPress into .com and .org extensions further helps you in making a choice according to your needs.
WordPress is definitely one of the best picks when it comes to blogging but the list of solutions does not end here. You can also checkout different blogging platforms such as blogger, Wix, Problogger etc. and unleash the potential within you at its best!