Thermal paste is one of the most crucially essential things in a computer. It effectively transfers all the heat from your processors and chips onto the other medium such as heatsinks. When a PC executes tasks, it tends to generate a lot of heat, especially on memory, processor, and graphics card. Therefore, it should have proper means to transfer that heat out of the components to cool them down.
However, most people have a question, does thermal paste expire? Yes, thermal pastes do expire. However, it takes several years of regular use for a thermal paste to go bad or expire. If you recently applied the paste (let us say six months ago), you needn't worry. But, if you purchased a used system or a graphics card, you should probably change the thermal paste.
Speaking of which, when you are out to buy a used PC or a graphics card, you should almost always change the thermal paste before use, even if it looks good. Moreover, if your PC handles many loads (let's say gaming or rendering), and the temperatures are spiking then the paste will likely go bad sooner.
Working with many processors and graphics cards, we know a lot about thermal pastes and their workings. Let us share our knowledge with you.
Is My Thermal Paste Expired? How to Check?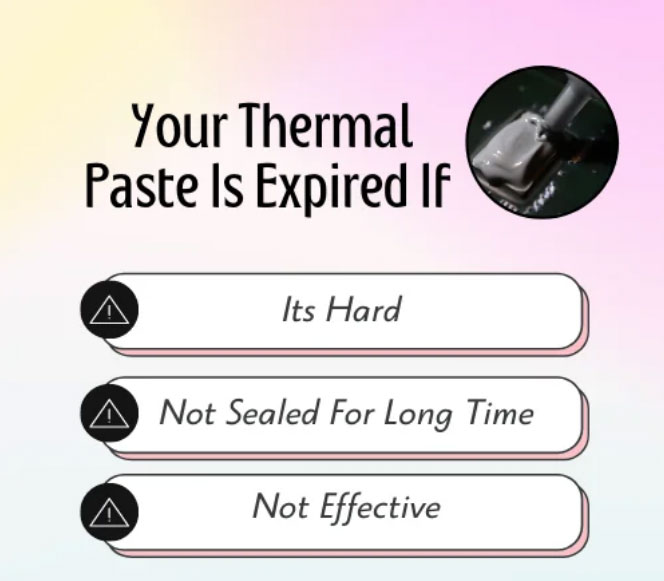 There are a few different ways a thermal grease expires. It has been stated before that thermal pastes can go wrong after some time. And there are various ways to check whether a thermal paste requires changing.
First and foremost, you will notice high temperatures if your paste is expired. Rising CPU or GPU temperatures can indeed be a cause of different cases. However, 70 out of 100 times, it is due to either dust or bad thermal paste. If you notice rising temperatures, you should immediately check your thermal paste and change it if required. Unfortunately, this is the only way to check your thermal paste's life on a software level.
On the hardware level, if you find your thermal grease in a highly liquid form or dry as a rock, it requires changing. The thermal paste has gone bad, and you should immediately get it replaced.
Moreover, the quality of the build of the thermal paste can also affect the overall life. There are different thermal pastes like carbon, metal, and silicon. And they have a different shelf life.
What is the Average Thermal Paste Shelf life?
The average shelf life of a thermal paste is around 3-5 years. However, it depends on different factors like the quality, carbon, metal, or silicon, how often you use your PC, and what kind of work is performed on the PC.
Most of the processer comes with thermal paste. In that case, it expires in about 6 months on average.
However, keeping all things in mind, a thermal compound takes around three to five years to go bad.
How Long does Thermal Paste last after Opening?
You should also remember that thermal paste can also go bad quickly if you do not cover it properly after opening the tube. It will likely dry out completely within days if you leave it uncovered.
If you cover the opened tube of thermal compound properly, it has almost the same shelf life as a new and unopened thermal paste. However, keep a note that exposure to water and air will cause it to oxidize and expire quickly.
Moreover, an unopened thermal paste can also expire. You should always look at the expiry date before purchasing and keep the three to five years of shelf life in mind.
We created a infographic for a quick read on thermal paste and its expiry.

What are the Top Long-Lasting Thermal Pastes?
When you are out on the market to get a tube of thermal paste, you are provided with many options to choose from. The different types, materials, and qualities can often confuse someone who hasn't had prior experience in this field. Therefore, we compiled a shortlist of effective and excellent thermal pastes.
Arctic Silver 5 AS5
If you are looking for an inexpensive thermal paste that provides performance on par with top-quality compounds, then Arctic Silver 5 AS5 is perfect for you. Its low cost is due to having less silicone. However, you needn't worry. It will not affect your performance by any great margin. Moreover, this tube has enough paste to apply on multiple processors and graphics cards, which is a good bang for your buck.
The average arctic silver 5 shelf life is around 12 months to 2 year.
With that being said, Arctic Silver 5 AS5 is for users looking for a budget-friendly and effective thermal compound.
Noctua NT-H1
Noctua NT-H1 is another perfect budget-friendly option. Its performance can be compared with one of the most expensive thermal pastes out in the market. Moreover, Noctua provides three years of shelf life with this thermal paste. However, it will most likely work perfectly for more than three years.
Therefore, you should consider checking Noctua NT-H1 before confirming your choice.
CoolLaboratory Liquid Pro
CoolLaboratory Liquid Pro is an electrically conductive and liquid-metal-based thermal paste that provides excellent cooling and heat transfer. However, this thermal paste can be a little difficult to apply. But, it confirms the deal on the performance sector. This thermal paste has a conductivity of 79 W/mk, which is suitable for heavy loads and overclocking.
That being said, if you are looking to overclock your PC, then CoolLaboratory Liquid Pro is one of the best options for you.
Conclusion
There is a lot to it when it comes to thermal pastes, and the expiration of this grease is one of them. Thermal paste does the most important job in the PC: to transfer all the heat generated from your PC components to a different medium to dissipate it. Therefore, a good and a working thermal paste should always be your priority.
There are different ways to check whether the thermal paste expire or not. High temperatures, watery texture, and rock-hard dry material are some indications. You can read the more detailed answer above in this article.
Also, a thermal paste has a shelf life. After it has expired, its performance in transferring the heat greatly declines. This leads to higher PC temperatures, potential damage, and PC components melting down. Therefore, you should always be careful.