The online is not just a new world; it is a brand new market. Every other person is moving to or at least attempting to move to the internet these days, with their own website or blog. A great website is what we all are trying to look at and trying to sustain.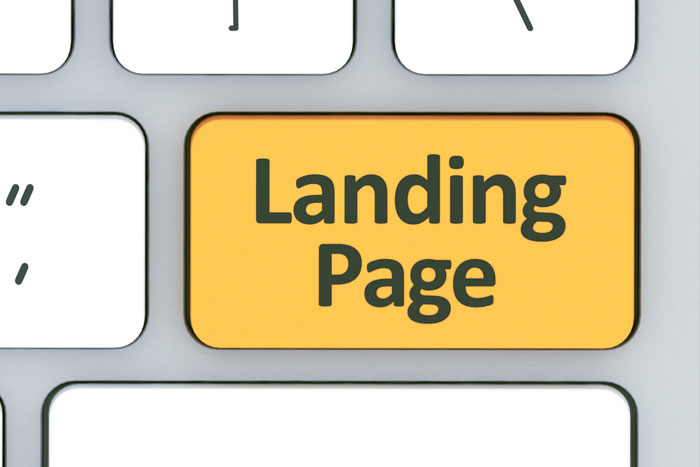 Every website has one single anchor; its landing page. A great landing page is the utmost need of a great website. A landing page sets the look and feel of your website and to a very great extent change the impression you create.
To create a landing page of your own, just as per your need or lets say in the DIY fashion, the internet has a lot of tools. There are so many vendors like GetResponse and PageWiz claiming to help you create the landing page that you always wanted.
And if you are wondering which one should you choose, then we have the perfect help for you.
Here we compare GetResponse and PageWiz from the very basic and help you sort the best out.
Here we begin!
Best in Design Availability!
We will test the abilities of GetResponse and PageWiz to provide you incredible designs to choose from. The basic reason, why we need a landing page tool is to give you a professional looking website and a major part in that is played by the templates that the tool offers and hence it naturally becomes our first assessment point.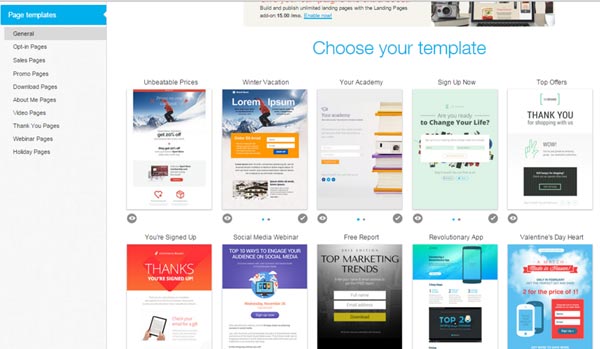 GetResponse provides you with multiple options and huge number of templates. It also has a gallery of pictures from where you can choose to customise the already existing templates .It is also amazing to see that the pages have responsive design and hence can fit to any device screen.
PageWiz on the other hand is one of the oldest and trusted landing page creation tool. It provides you with optimised templates. It gives you the option to design the page yourself right from the scratch!! Individuality sells right 😉 In case you do not want to make it yourself you can also choose from pre-designed templates. It supports video landing page or exclusively for mobile. Hence, giving the optimised feeling to the choices. The only downside is just above average and not-so-eye-catching set of templates.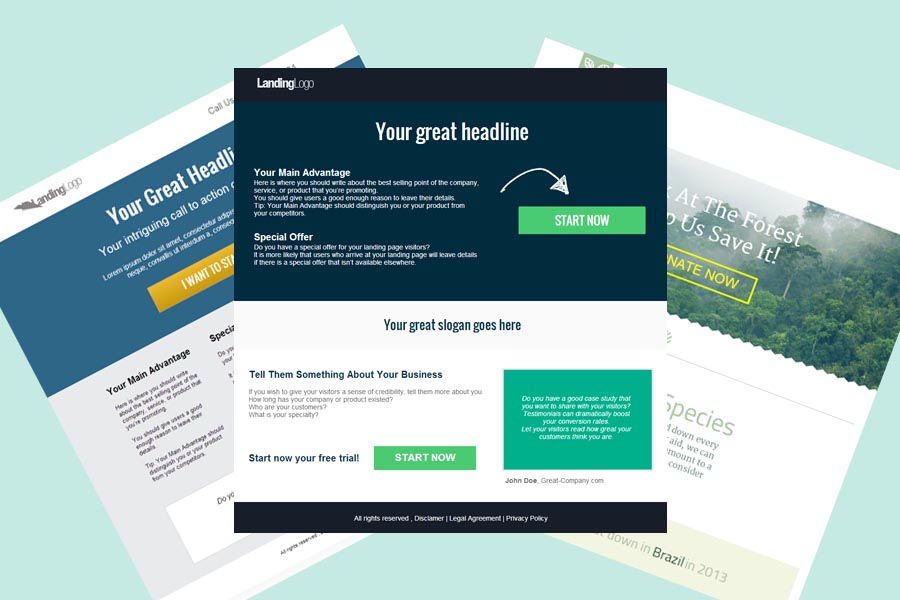 The abundance of options, designs and images to choose from give GetResponse a plus point against PageWiz. GetResponse gives a flexibility and also allows you to change any HTML code that you want to, so that you can give a unique and customised feel on your landing page.
You can choose PageWiz if you need an optimised, one-purpose landing page but GetResponse gives you an all purpose option.
Best in Ease of Editing!
There is no point in paying for a tool that is too difficult to use and hence how easy it is to use the landing page tool forms an integral part of our assessment.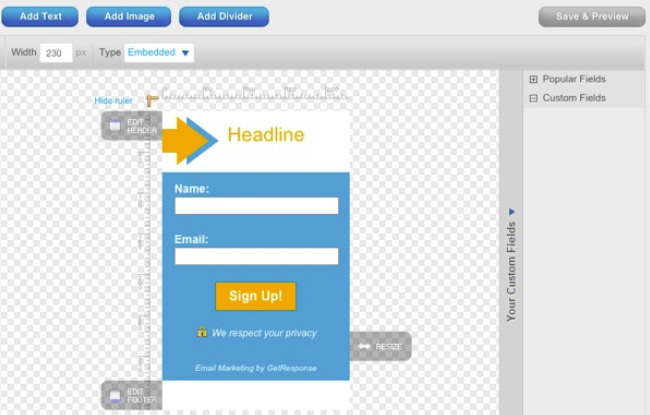 GetResponse and PageWiz both support an easy to use editor with multiple tools. Both have a drag and drop editor which makes editing or creating a customise page easy and mess-free. GetResponse also allows you to change or edit the HTML coding, this option can be seen on the top right corner of the page.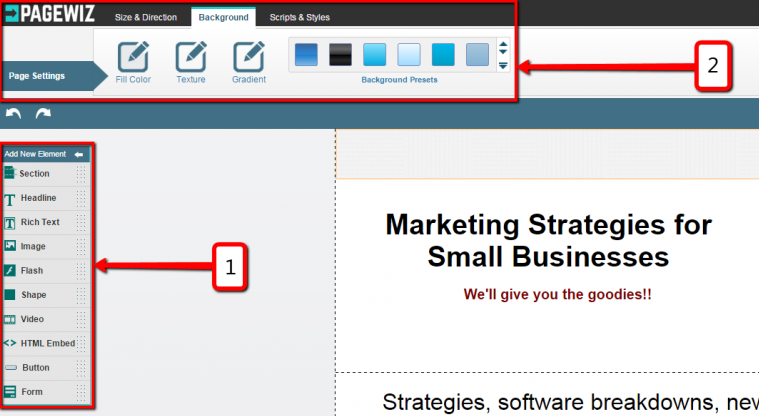 PageWiz and GetResponse both support a one click save and publish option and hence establish the easy usage.
Best in Third Party Integration
Internet is widely netted and your website must be well linked to social media or other important third party vendors as per your need and business requirements.
PageWiz helps you to integrate your page to Google Analytics, Facebook, YouTube and a number of email marketing services, like AWeber, MailChimp, Constant Contact, helping your email marketing needs. It also has a widget feature that allows you to add HTML and JavaScript
GetResponse on the other side integrates your page to social media giants like twitter and YouTube along with google analytics and Facebook. The absence of any email marketing services is not a worry reason being, all your email marketing needs are taken care by GetResponse itself. All your email marketing needs can be supported by GetResponse without any extra cost.
Best in Customer Support
A shallow customer support has led down many great businesses and plays a major role in repeating customers. So we need to access both these providers against the customer support they provide.
GetResponse and PageWiz both provide support through Live-chat and email. GetResponse one serves extensive video tutorials and provides documents which can be downloaded and are helpful in getting acquainted with the tool.
PageWiz on the other hand is one of the oldest tool with clients like Chevrolet and Philips their customer support is well established and trustworthy.
Best in Pocket
PageWiz starts plans ranging from $29 to $3,999 per month and hence you can easily customise your package and pay for what you choose. It also gives you a 30 days free trial and all it plans comes with an option to create unlimited number of landing page.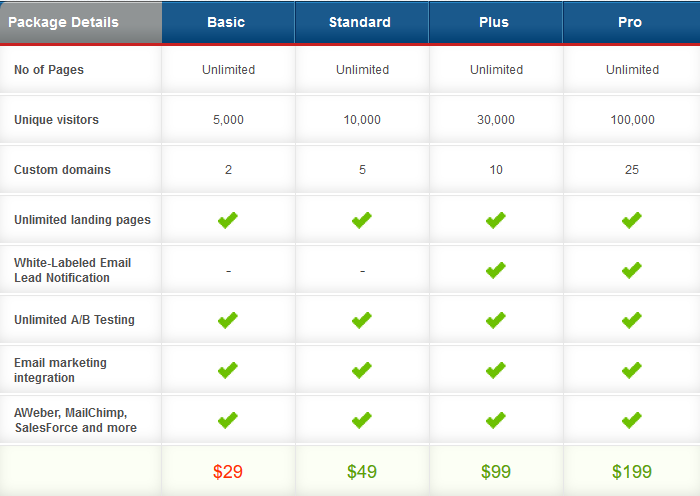 GetResponse however is more pocket friendly, with 30 days of trail period and a basic package worth $15 a month. That's not all, this $15 will also include all your email marketing needs. As GetResponse takes care of all your email marketing requirement under all its packages. So you save all the money spent by others in email marketing as well. Making it a great option for your budget.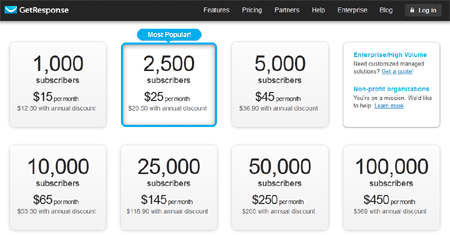 Verdict
If you are looking for and old and trustworthy tool, PageWiz is the answer but if you need a pocket friendly, modern and flexible tool that takes care of all your email marketing too, GetResponse is for you.