You must have noticed that over recent weeks many of the websites that we visit display some form of cookie notice advising us that the website uses cookies and providing information on their cookie policy. Often we have to click that we have read them before they will go away and let us view the website. It might be a little annoying, but webmasters have no choice; they are simply complying with the law.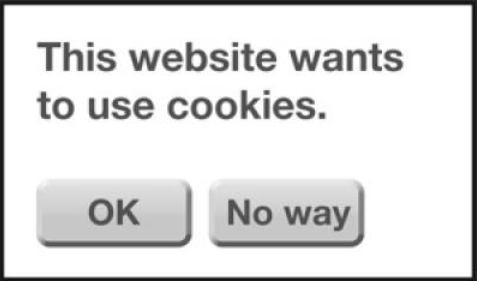 Over recent years electronic communication has been subject to ever more laws and regulations. For some time all business email has been subject to a number of rules regarding how it should be handled, for instance what should be stored, for how long, and what should be deleted and the rules are referred to as email compliance. To find out more about email compliance and how it may affect you, please visit Mimecast.com.
And now we have cookie compliance, which became law on 26th May 2012.
The truth is that most people don't understand cookies. While nearly half the people questioned understood something about them, only 13 percent really understood them. If you are in the majority, then briefly a cookie is a short text file that identifies your computer to the website and which can use that cookie to tailor the information that you are shown.
Cookies can have many functions, for instance counting visitors, auto-completing forms, shopping basket items, storing user preferences, and authentication. Many websites have a large number of cookies, on average fourteen per page, with around a third from the website owner and the rest from companies that analyse website use and deliver ads.
The new law means that users must opt in to the use of non essential cookies. An essential cookie is one that is essential if that website is to deliver the service demanded by the users, for instance storing shopping basket items and banking security, and a non-essential cookie is one that is used for analysis, targeted ads, and visitor recognition that is used to tailor the experience delivered on subsequent visits.
The penalties for non-compliance can be severe, for instance the maximum penalty is £500,000. However given the number of websites there are today, policing the new cookie law is going to be a major challenge.