Regardless of how small or big your business is, you need a continuous supply of marketing design material. We are talking about posters, banners, infographics, social media posts, and more. However, marketing isn't the only thing about running a business, and you need these design materials daily. So, the idea of having an in-house designer doesn't seem so practical.
Besides paying someone a full-time salary, you would make that person waste so much time. However, on the other end of the spectrum, we have freelancers, which is not always the most convenient option. There are other logistics-based challenges, too, if you are wondering. This is why a graphics design platform like Penji becomes the ideal choice for many organizations out there.
In this article, we will introduce you to Penji and explore how well the platform can help the marketing needs of an up-and-running business.
What Is Penji?
Penji is an on-demand graphics design platform that connects organizations in need of design material with professional designers. However, the process works seamlessly, and organizations can rely on Penji to get a superb collection of high-quality content on time.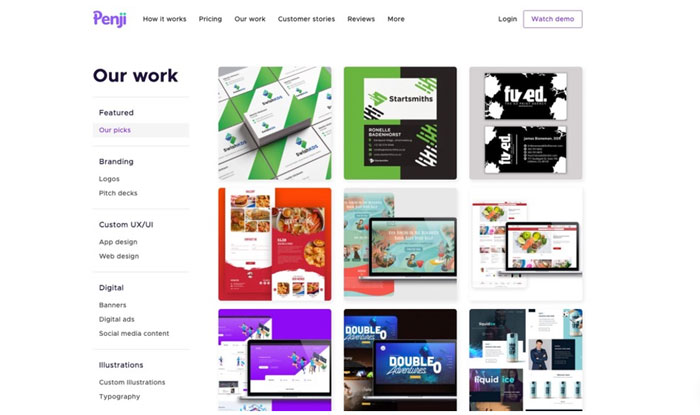 It is different from hiring a freelancer from one of the many freelance job websites out there. At the same time, your organization does not have to worry about any contracts or monthly salary. You can use Penji to get an unlimited supply of design content that pertains to various categories. For instance, this singular platform can provide you UI/UX designs, logos, web design, digital designs, marketing campaigns, print ads, infographics, and even packaging & labels.
More importantly, instead of paying the designers for individual projects, you pay for a monthly subscription. Depending on the plan you have chosen, Penji can give you one or more types of designs. Either way, you can have an unlimited number of designs.
Who Needs Penji?
We think Penji is a great addition to any organization, regardless of its size. However, we believe you need a service like Penji if you can relate to the following situations.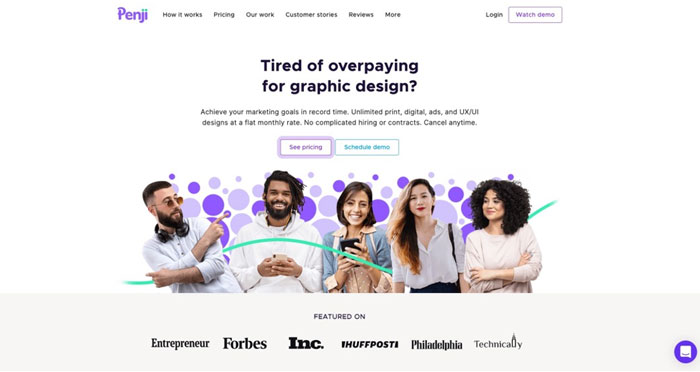 You are part of an organization that needs a regular supply of design material, but you don't want to hire a full-time designer.
You don't want to deal with freelancers since the process is unreliable and takes up a lot of time from your side.
Even though you don't want the hassle of contracts and payroll management, you need to get designs at a faster turnaround time.
Given the number of designs you need every month, hiring freelance designers for individual projects is becoming an expensive affair.
You need a unified platform where you can handle the supply, feedback, revisions, and other aspects of professional design.
You should probably know whether you need Penji by now. By the way, thousands of brands, including Lyft, Reebok, University of Pennsylvania, and AWeber, use the on-demand design service from Penji.
How to Use Penji? How Does It work?
One thing we love about Penji is that it has streamlined the entire process of on-demand graphics design. It means you can get the design you need in a few easy-to-follow steps. From a logistics standpoint, this system can help you save a lot of time.
You need to follow just four steps to get the desired design.
You can create a new design project where you provide information about what you need. You have to clarify what you are looking for and provide some necessary information. You can also upload files useful for the project, if any.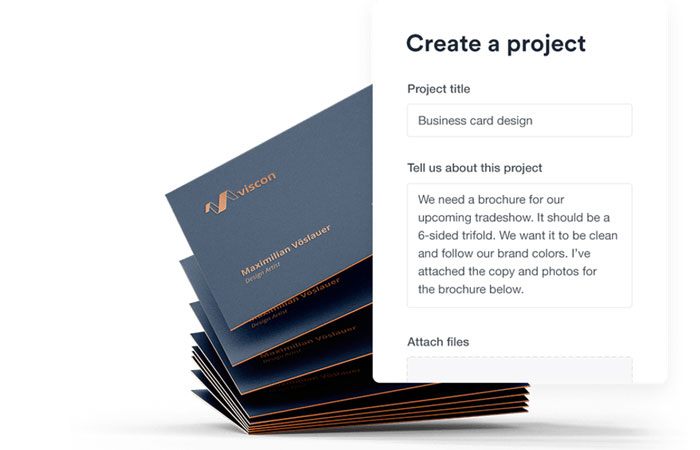 Penji uses a number of algorithms to choose the most suitable graphics designer for your project and assigns the task to them. If you wish to, you can talk to the designer to provide more details about the project.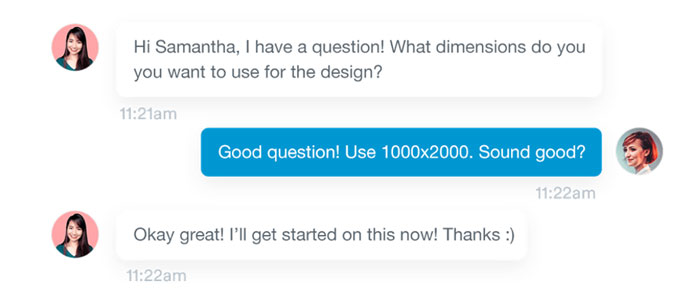 Once the designer has completed the first draft, there is an option to review the designs and submit some feedback. While the first draft takes 24-48 hours, revisions will take less than that. You can get the revised designs in just one day.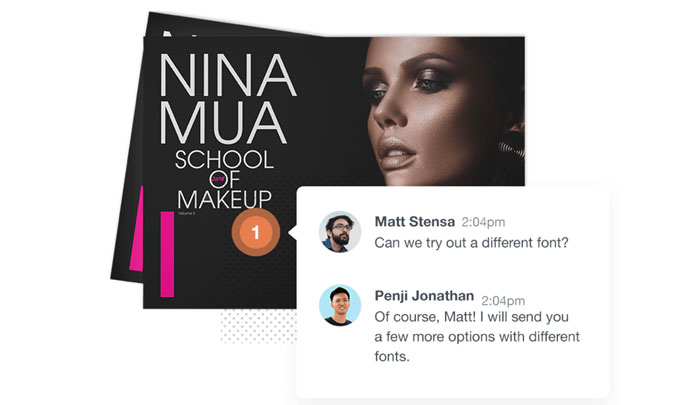 If you are satisfied with what the designer has provided, you can download the designs in a format of your choice. Of course, Penji stores all your files on the cloud, and you can download them when you please.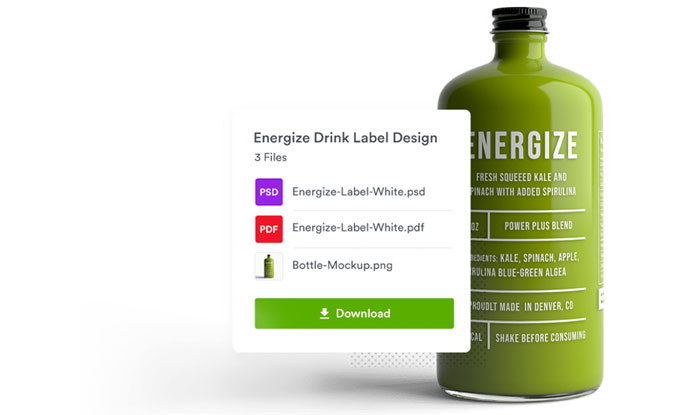 The best part? You can repeat this process as many times as you want. Depending on the plan you have got, Penji will even let you submit multiple projects and get them delivered. Once again, compared to the hefty task of choosing the right professional, assigning them a task, waiting for corrections, and finalizing a design through multiple projects, the Penji solution is not only time-saving but also enviable.
Other Features We Loved on Penji
Here are a couple of features that we loved on this on-demand graphics designing platform.
As we mentioned earlier, you can finish unlimited design projects using Penji. These designs may be print, digital, hybrid, or something as advanced as an application UI/UX.
The Penji dashboard comes with some team collaboration features too. They make it easy for anyone to bring in their team to provide feedback on the design.
At every point of the project, Penji offers human support to its customers. If you think something is wrong and need help, you won't be annoyed by bots.
We also found that the task management aspect of Penji is so effective. The platform can even assign the task to another designer if you don't like the preliminary designs.
We think this is a great place to start with everything.
Penji Pricing
Reasonable pricing plans are also a reason why we can recommend Penji without doubt, you know. You can choose between three plans mainly.
The Pro plan starts at as low as $399 per month and gives you 1 designer and support for 2 users. However, if you need Illustration and UI/UX design services, you should check out the Team plan, which sets you back at $499 per month. Finally, there is an Agency plan, which costs $899 per month but offers 2 designers and support for up to 10 users.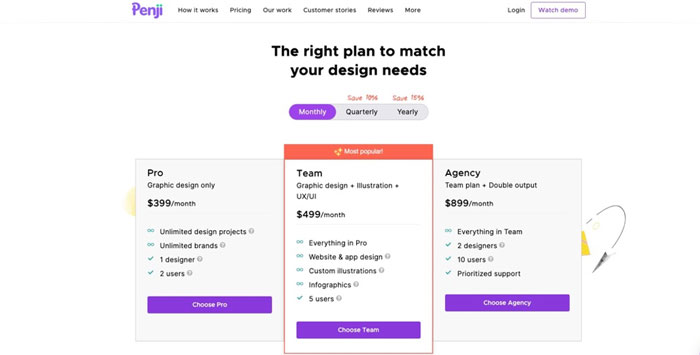 Compared to what you have to pay for individual projects and the hassle of contracts and payrolls, we think these pricing plans are superb.
The Bottom Line
In light of how well it performs in different aspects, we believe you cannot go wrong about Penji as a source for consistent design supply. It checks all the necessary boxes and provides a seamless on-demand designing service that every business will find useful. We think Penji is as innovative as a graphics design service can get.