Some might tell you that written content is dead and that we are in the era of interactive content delivery. However, if you ask the experts in marketing, they will have a slightly different opinion. Unlike the old days, you cannot survive the competition and SEO tactics without high-quality content. As a business, you need a regular supply of blogs, marketing content, and other forms of communications to keep things in check. SEO-optimized content that brings you organic traffic and better visibility is just one of the aspects.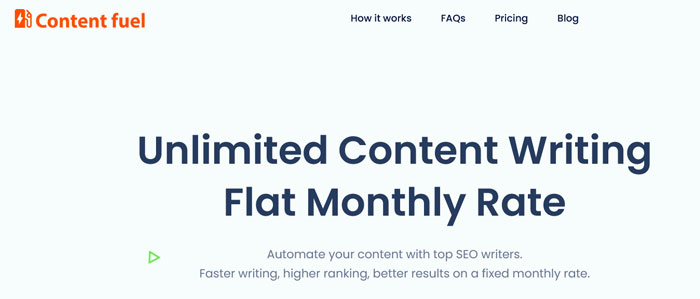 The problem, however, is with fulfilling this constant need for content. While freelance content writing isn't a reliable option many times, hiring a full-time writer is overkill for most businesses. It makes us wonder if there was a better option between these two.
And we think Content Fuel has got almost everything right in this sector. In this review, we will explore the content writing service from Content Fuel and why this writing service subscription is suitable for businesses out there. We will start with the basics as always.
What Is Content Fuel?
Content Fuel is a subscription-based content writing service designed for businesses and individuals. Anyone can purchase one of the Content Fuel subscriptions and get a considerable amount of content delivered per month. Of course, this process is way different from hiring a full-time content writer or assigning the task to a freelance content writer you find through a platform. In this particular case, you deal with a company that provides the content you need. As we said earlier, the service seems to have captured the specific needs of marketers, SEO agencies, and small businesses that need a regular supply of content.
How Does Content Fuel Work?
One thing that makes Content Fuel an effective solution for many business entities is the streamlined process it follows for content delivery. On any day, Content Fuel can give you SEO-optimized and tailor-made content within three steps.
You have to submit your requirement for the content. You can use Content Fuel to get articles, blogs, infographics, and even email newsletters. The platform allows you to provide as much information as you can about the project.
The Content Fuel platform will evaluate your project requirements and assign the writing job to the most suitable writer on its team. The company claims to employ only the best-in-class writers to take up the writing tasks.
Once you have received the first draft, you can evaluate the content and request changes if you need any. The best part? You can repeat this task as many times as you need until you are 100% satisfied with what you have.
Depending on the subscription plan you have chosen, Content Fuel may take 48 to 72 hours to complete the projects. Content Fuel seems to be the best solution for SEO writing and ghostwriting needs alike in the first look. Since everything is managed by the platform, you should not have logistics-related concerns, either. It also comes with some of the most compelling pricing plans we have seen.
Why Content Fuel?
Here are some of the reasons you should check out the content writing subscription services from Content Fuel.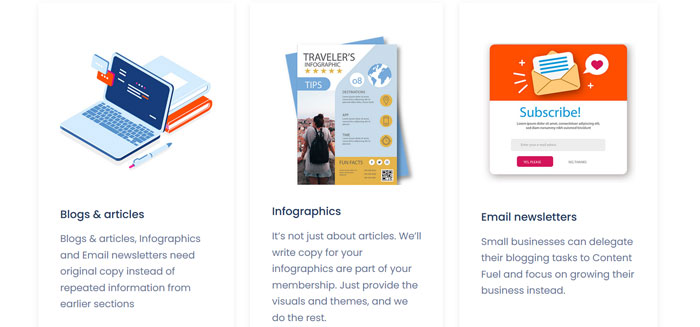 Managed: Content Fuel is a managed content writing service. Instead of dealing with writers, you get to communicate with a company. This company assigns your writing tasks to a skilled writer and can assist you in the review/revision process.
Optimized: Unlike a random freelance content writer you come across on a platform, Content Fuel employs writers who can generate SEO-optimized and high-quality content. If you are running an SEO agency, for instance, this is a huge relief.
Versatile: As said, the blog writing subscription from Content Fuel is versatile. You can use the single platform to fulfill your different content writing needs, including email newsletters, well-researched articles, and regular blog posts.
Reasonable: Depending on what is at stake, Content Fuel is a reasonable option for many businesses out there. It's like Netflix for content, you know. Instead of paying for individual blogs and articles, it needs you to pay a single monthly subscription.
We think this is a great place to start. We should also check out the pricing plans from Content Fuel.
Content Fuel Pricing Plans
As you could guess, you can choose between a variety of pricing plans at Content Fuel. As of now, there are a total of three plans to choose from.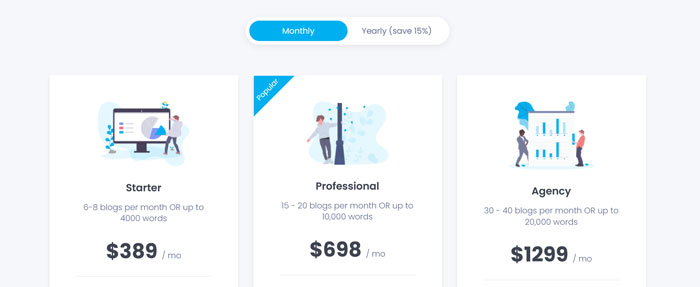 The first plan, called Starter, is suitable for those who need 6-8 blogs or up to 4,000 words of content every month. You can get almost any type of content, and Content Fuel offers a dedicated writer and a dedicated account manager to smoothen things. This plan costs $389 per month.
The second plan, called Professional, is great if you need more content. Here, you can get 15 to 20 blogs per month or up to 10,000 words of content. Of course, you will have all the benefits we mentioned in the last plan. This plan costs $698 per month.
The third plan on Content Fuel is called Agency, and it can give you up to 30 to 40 blog posts per month. Or the agency can go all the way up to 20,000 words of customized content. This plan would cost you $1299 per month, though.
All these plans come with a turnaround time of 48 to 72 hours. We think that is just amazing for companies that want content on a priority basis.
The Bottom Line
Conclusively speaking, Content Fuel is an excellent content writing subscription service for a wide variety of businesses, including SEO agencies and marketing firms. As long as you choose the best plan for your needs, this service can save you a lot of time, money, and effort.