The macOS Monterey is one of the biggest updates rolled out by Apple. The latest macOS version comes with incredible features like Universal Control, enhancements to FaceTime, a revamped Safari, etc. It also comes packed with security improvements and bug fixes. So, if you haven't yet installed Monterey, you are missing out on some truly exciting features and settings. Also, you will have to download and install the latest OS version sooner or later, or your system will start to lag, and the performance will become sluggish.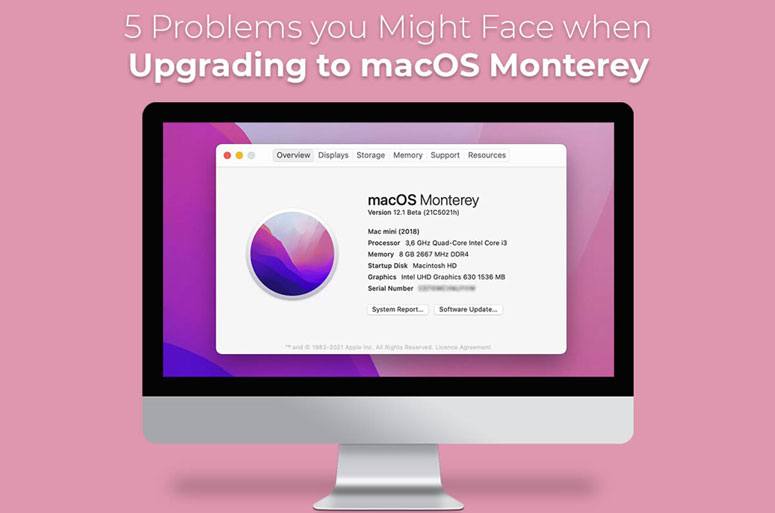 Before you decide to upgrade to Monterey, you need to check these to avoid problems during installation:
Check if your Mac model is compatible with Monterey.
Ensure your Wi-Fi connection is stable. You cannot install the latest OS version without a fast Internet connection.
Your system must have at least 20Gb of hard drive space. If there isn't enough space, you need to clean your system. Get rid of all the redundant files and apps you don't use anymore so that there's enough space for installing Monterey.
These preliminary checks might prevent installation problems when you are upgrading to Monterey. However, you might still experience bottlenecks and troubles. Keep scrolling to know what you must be prepared for so that you don't lose sleep.
Interruptions while Downloading Monterey
Interruptions during download are a common problem encountered by users. The problem is quite frustrating, and it can annoy you. It steals time and makes users go back to the start to download the macOS version again. Starting the process from scratch can be quite irritating. You can avoid this hassle by ensuring you are connected to a stable Wi-Fi connection. Also, you must have enough space for the download to complete smoothly.
Your System keeps Freezing
During the installation of Monterey, you might find your system unresponsive or frozen. It could happen for a few reasons, but the most common causes are your hard drive running out of space or too many processes running in the background. It might be that your system has incompatible apps, and because the apps are crashing, your system is freezing. Another reason why does my Mac keep freezing is malware.
To fix a frozen Mac, you need to clear the clutter from your system and stop all the processes running in the background that you don't need. Also, you must scan your system for malware and immediately remove suspicious apps or programs. You must even be careful before downloading anything from the Internet.
The Latest macOS Version is not Getting Installed
So, the download process is complete, but you cannot install the update. If this happens, the reason might be purely technical. You can boot your system in Safe Mode and try installing the latest macOS version. You can also try resetting the NVRAM/PRAM and the SMC. Resetting these should fix the settings on your system and resolve the problem.
If these don't solve the problem, check if your system is compatible.
Your System is Overheating
After you have successfully installed Monterey, you might find your system overheating. Most users have reported this issue. If this happens, it means the hardware of your system cannot cope with the improved performance requirements. You can fix this problem by resetting the SMC or changing the fan settings on your system's controller. If your system is old, however, the problem might persist.
The Fan Noise might be Unbearable
Many users have complained that the fan noise increased terribly after they upgraded to Monterey. This might be the different processes running in the background after your system has been updated. There might be multiple automatic updates working in the background. You need to give it a few hours, and the sound should subside.
If it doesn't, you can restart your system after a few hours and see if the problem persists.
Besides these, you might run into problems with Bluetooth and Wi-Fi after the update is complete. If the Bluetooth is giving issues or not connecting, you need to update the Bluetooth module. As for the Wi-Fi, you can switch off the Wi-Fi router and switch it back on to see if the problem is solved. You can also forget the network you are connected to and reconnect it.
The Bottom Line
These are some of the problems you might encounter when downloading and installing macOS Monterey. Even though the issues might discourage you from upgrading your system, the update is worth it. Monterey is the biggest update released by Apple after Big Sur, and the features it brings with it can improve your productivity. So, check if your system is compatible with the latest macOS version, create hard drive space for the update, check your Wi-Fi connection and start the installation process.