Virtual Private Networks, better known as VPNs, have become quite popular among web users in the past decade. Given that the internet is constantly under the threat of surveillance and censorship, VPNs promise to keep things secure and smooth. Currently, using a VPN is considered the best way to safeguard your web identity and protect your privacy from various threats. However, if you ask us, we think people have started taking VPNs for granted. Many believe that connecting to the internet using a VPN single-handedly offers all sorts of protection — which is not the case. No technology is foolproof, and VPNs are not an exception.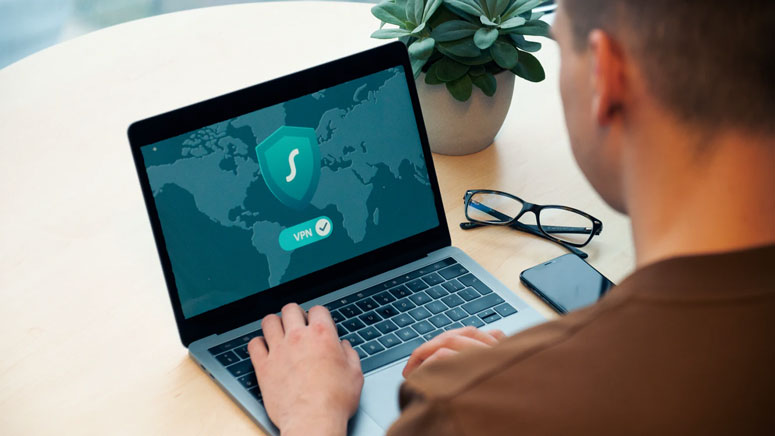 As you know, the tech industry has seen the rise of too many VPN apps and protocols in the past years. Most of these apps or protocols bring new features to the scene. For instance, some have brought one-switch web traffic kill for an Enhanced User Experience. However, the effectiveness of a VPN is still a matter of debate. More important is the question of how you can test the effectiveness of a VPN. Through this article, we like to introduce an adequately powerful way to test the effectiveness of a VPN: WhatLeaks.com. Shall we have a look, then?
What Is WhatLeaks.com?
In case you have never heard of it, WhatLeaks.com is a way to understand what information is being leaked about you. The website will analyze your connection and extract as much information as possible.
It needs to be noted that WhatLeaks.com is more than an IP tracking service. Of course, you can understand the IP address of your connection, but it is just a start. Some of the information that WhatLeaks.com will capture from a connection includes:
The IP address that you are connecting from
If the IP address belongs to any IP blocklist
Geolocation of the IP address with maximum precision
If you are using a proxy or a TOR network for connection
Whether you have JavaScript enabled on the browser
Browser and Operating System information
Network ports that are open at the time of connection
In addition, based on the device you are using and the dataset provided at the time, WhatLeaks.com might track more or less information about the network. Wondering how you can use WhatLeaks.com to test the effectiveness of a VPN? We will tell you.
How to Test the Effectiveness of a VPN using WhatLeaks.com?
As we said, WhatLeaks.com will capture information about what your connection is leaking when you use a connection. And VPNs are expected to hide this information by replacing it with something else. For instance, a VPN with a server in Amsterdam will show an Amsterdam IP address instead of your actual IP. You can use the following steps to understand if it happens.
First, you have to keep the VPN disconnected and open WhatLeaks.com on your browser. Ensure that you do it when you have a stable internet connection.
Now, look at the data on the webpage and capture a screenshot. Keep this screenshot for reference.

Second, you can connect your computer to the VPN service. Make sure you remember the server you have connected to. Then, you can open WhatLeaks.com on the computer.
Now, look at the webpage and take a screenshot. You can compare the second screenshot with the first one to what information a VPN has or has not blocked.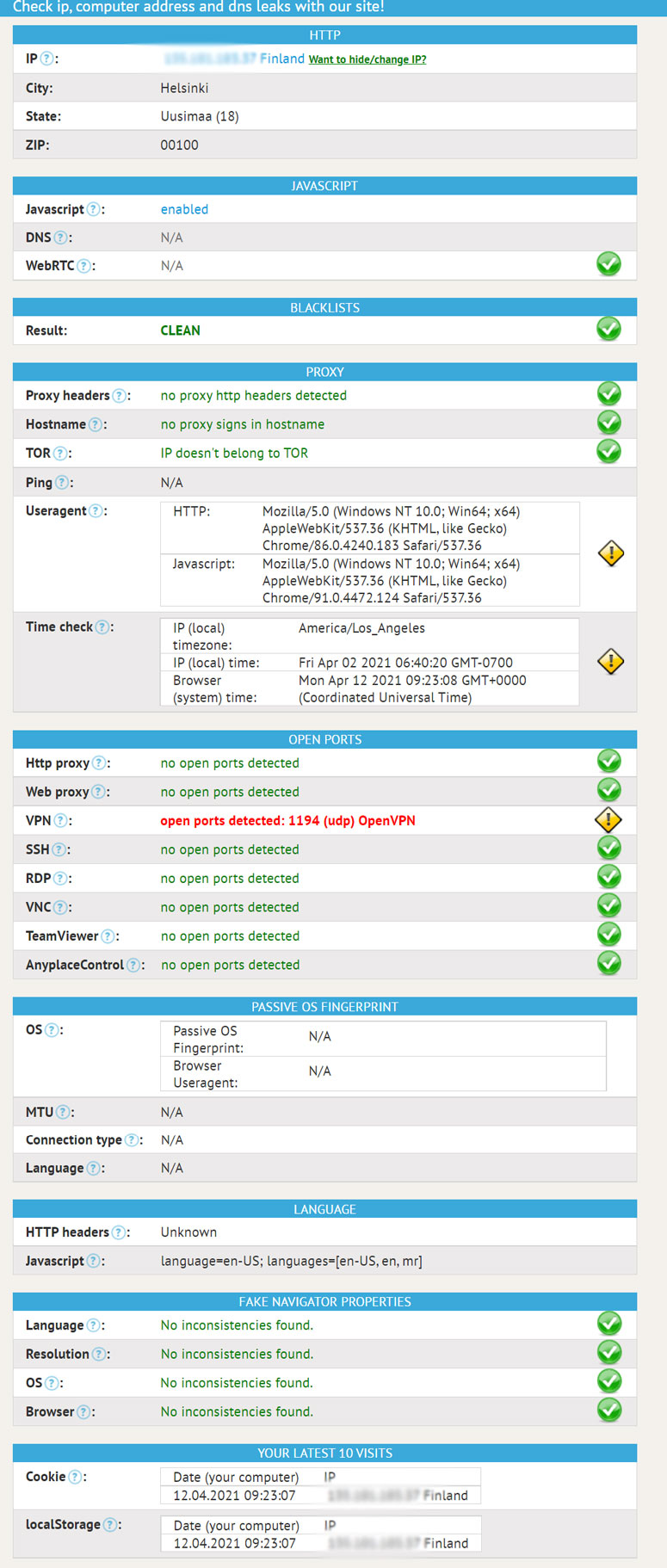 If you see that the second screenshot does not contain information that can be traced back to you, it means the VPN is working perfectly. However, if you see that a lot of information is available to the public even as a VPN connection is active, you have to doubt the effectiveness of the VPN service you are using. As you can guess, this manual method is more effective than ready-to-consume VPN tests.
It is worth noting that WhatLeaks.com does not leave you with raw data. Instead, the platform will indicate how secure each of your network aspects is. For instance, if the connection is leaking more information than it should, you can say so by looking for red flags. On the other hand, you can see yellow and green flags if an issue is less intense.
WhatLeaks.com also makes a few points about WebRTC, a feature available on newer Chrome, Firefox, and Safari. It gives a few suggestions on how to take the best care of WebRTC and prevent the tech from sabotaging privacy-focused actions like using a VPN service. In short, WhatLeaks.com does not bluff when it is talking about VPN security.
What Does WhatLeaks.com Tell Us about VPNs?
If you have time and resources, you can test these things by yourself. If not, you can count on the gist from our experience.
After testing multiple VPNs that claim to protect your privacy, one thing is clear. Free VPNs are not the best option when you want to protect your privacy. These VPN services sell a lot of data and leak so much info to the public. After all, we have to keep in mind that if WhatLeaks.com can access your data, a hacker can most definitely do that easily. Therefore, if your VPN-based connection reveals information traceable to you, the VPN is not good enough.
It leads us to the proven idea that free VPNs are almost worthless. But, of course, everyone has different needs for using a VPN. For some, it is about unlocking blocked content. For others, it is for using region-exclusive web services. For instance, if you want to protect your sensitive transactions from hacking and a wide variety of security issues, you HAVE TO get a premium VPN service. Otherwise, the VPN will be another kind of bloatware on the system.
The Bottom Line
We hope WhatLeaks.com helps you understand whether you are using an effective VPN service. If not, you can consider it a nudge to upgrade to a premium VPN service. After all, you do not want any compromises when it comes to privacy and security, correct? And it is better to pay for a paid VPN service than living under the impression that your data is secure when it most definitely is not.