Whether you are an immature businessman or a manager successfully running your own business at a large scale, you always need a perfect project management in order to climb the steps to success. A business man must be able to effectively handle, manage and organize his projects equally well till the end.  Meeting deadlines is also something very important which contributes to project management. Without all these, one can never achieve the desired goals neither ends up with a complete success in many projects. So here we will discuss a perfect solution to this possible problem, ZOHO, the best project management tool.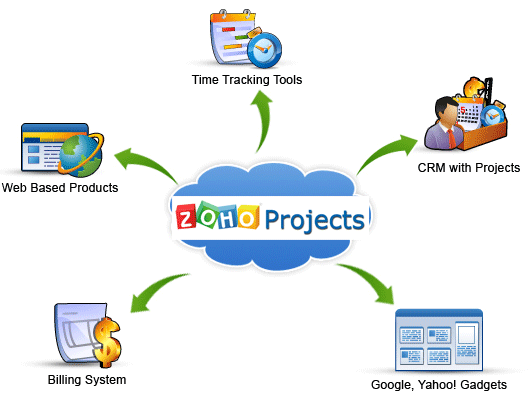 Zoho is a cost effective and affordable tool provides the user with easy controlling of a project from start till end in order to achieve the best possible results. You just need to sign up for using it with first project for free. Normally, its price varies depending on the projects you are handling using this online management tool but for unlimited use, it costs $80/month to which no one should refuse.
You may enjoy all the essential business services by using this tool. These services include Zoho CRM, Zoho invoice etc. and combining all these you get a pathway to success. It is obvious that such a popular tool will be much user-friendly. The registration process hardly takes a minute and after that you may start with your work. Get a simple tutorial or a tour of this web-based tool and you will soon find using it much easier. Its mixed interface of Google and Facebook makes it somewhat more user-friendly as many of us find it easy to use. However, you cannot make any customizations to it appearance which I think is not bad if you like simplicity.
Now let's talk about how it helps in project management. First of all comes the dashboard. It is quite simple and easy to understand how to carry out different processes. Here it summarizes your and the people with whom you are connected recent activates. Along with that you may also check your project's status. Using Zoho, you can easily share the necessary details and updates regarding your project with your team. This fast communication allows an effective team work and coordination. By setting your goals to be achieved in the project, tasks to be done and deadlines to be met, you can easily divide the work among your team. Such a coordination and planning will definitely give you the best results.
Another interesting feature of Zoho is its meta-view. In it you can see details of all your running projects and you may easily select the project you want to work on. However, you can only get it once you get the main Zoho projects login.
You may still doubt the usefulness of this tool. So let's have a look on the reviews and see how their experience with it was.
After all these reviews, there is no space left for any appropriate excuse for not using Zoho as means of moving your business towards success in a smart way.