If you plan to overclock your system, then you need to seriously think about getting an aftermarket best 360 aio liquid cooler for superior performance with low CPU temperature.
There is a misconception among the users; many think that AIO coolers are not the best and reliable choice due to their durability. You will hear rumors that AIO leaks after a short time, or they just won't live up to the expectations.
That's a shame as all-in-one liquid coolers are great pieces of tech that can efficiently keep your PC cool, especially if you are a pro gamer or you are using an overclocked machine.
Despite all the criticism, AIO coolers (or All-In-One coolers) are popular among users due to many reasons. Similarly, after installing it, you won't have to make any efforts other than monitoring your PC.
Furthermore, if adequately maintained, the AIO will serve you for a good 6 to 7 years. The best AIO brands claim that their pumps will last up to 70,000 hours, which equals eight years.
Before you head out on the hunt to pick the AIO for your CPU, we will advise you to ensure that it supports your PC's socket. Then we will recommend you to read our comprehensive list of the best 360mm AIO liquid cooler so that you can pick the right one as per your PC and requirements.
Best 360 AIO – Comparison
ARCTIC Liquid Freezer II 360
Best AIO 360mm Water Cooler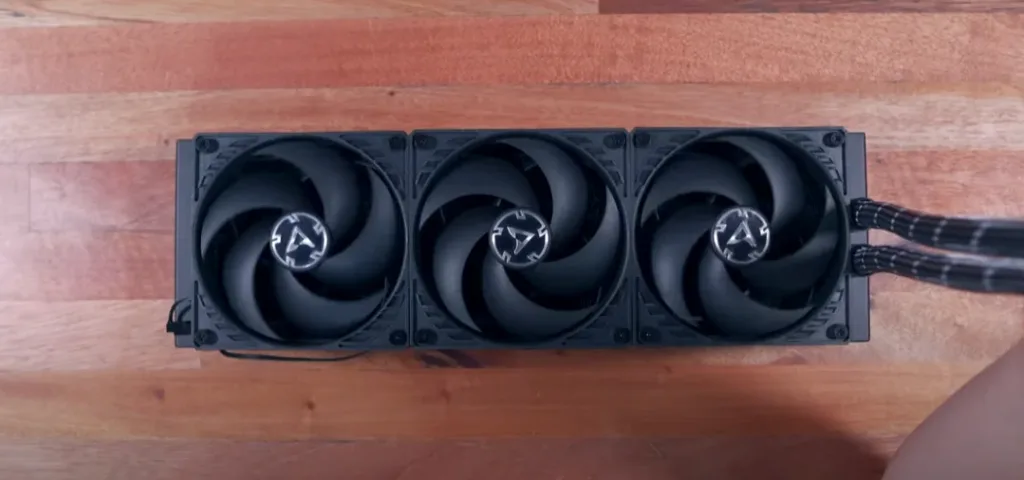 In these days, you will see amazing RGB effects in almost all AIO, but this ARCTIC's Liquid Freezer 360mm II AIO forgoes them and for the right reasons. The ARCTIC Liquid Freezer II means just business and supreme functionality. The unit is popular among the users for its insane performance at an excellent price.
Some of you might consider this a drawback but keep in mind that the brand dominates the CPU accessory market because of its exceptional performance. This ARCTIC Liquid Freezer looks great without any RGB lightning.
It features an elegant matte black finish along with a stylish pump head that looks and performs incredibly. The pump head also includes a 40mm fan for matchless cooling.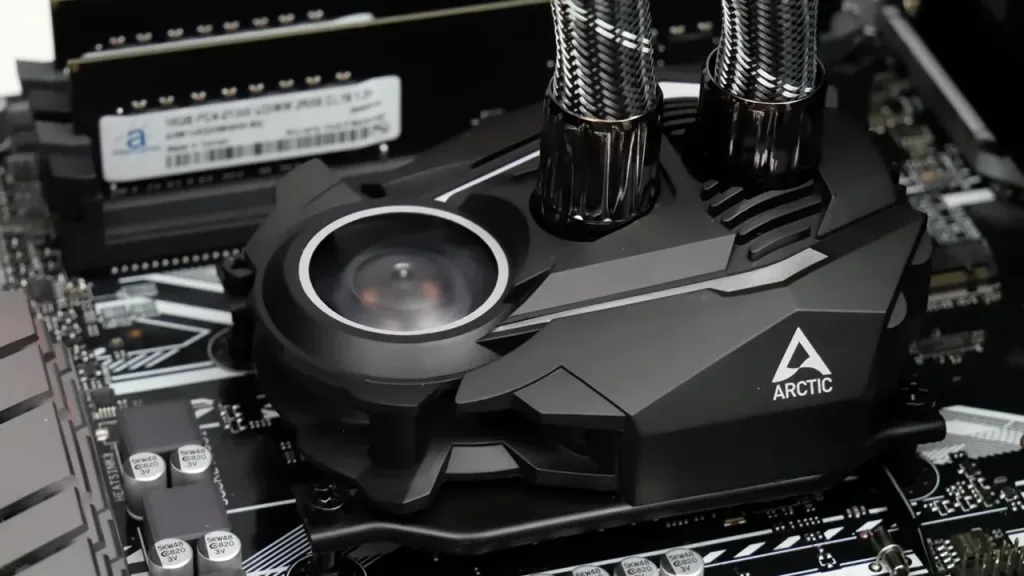 As for the compatibility, you can use this AIO with all modern sockets. As for the performance, the AIO offers optimum cooling that is the best in the class.
Furthermore, the unit is well-suited to use with highly overclocked PCs and efficiently maintains the adequate temperature even under extreme load.
Another impressive feature of this AIO is its silent operation. It's the quietest 360mm AIO coolers, and no other AIO matches its thermal performance.
Overall, The ARCTIC Liquid Freezer II 360mm AIO offers high value for your bucks. Its top-notch cooling performance, quiet operation, extreme build quality makes it one of the best out there and our top pick. If you can overlook that flashy stuff, it is the wise and safest investment.
Thermaltake Floe Riing RGB 360 TT Premium Edition
Best Price To Performace Pick
Next, we present the Thermaltake's Premium Edition of Floe Riing RGB 360 AIO featuring RGB effects like you have never seen before and in 360mm is among the best performers. Style, functionality, and power, you will get all of these from this 360mm Thermaltake's AIO.
You will find a vibrant RGB setup on the Thermaltake's Floe Riing AIO. You will see elegantly placed lights on the pump's head and over its three 120mm fans. Plus, adjusting them as per your taste is also a breeze by using the Riing Plus software.
Additionally, you can also control fan and pump speed via this software. App also allows you to switch between different cooling profiles, and you can also install its mobile app on your mobile device.
Furthermore, Thermaltake's AIO supports every modern processor on the market. You can comfortably use it with Intel sockets, and it also works well with many AMD sockets.
It comes in a smaller size too for fitting in a small case. It is one of the best liquid coolers in 240mm size.
The durability of this AIO is matchless, while the installation is simple. Its rotatable hoses come sleeved in braided nylon, and dimensions are around 360mm hence you can fit it into tower casings. Its thermal plate resists heavy pressure efficiently, and the unit comes with pre-applied thermal paste to keep things mess-free.
In terms of cooling performance, the AIO is the best to use for highly overclocked builds. As per consumer reports, the AIO is safe to use with customized gaming and streaming builds cpus and high-end graphical machines.
However, the unit's only drawback is the short warranty period. You will get only a 2-year warranty on the purchase, which is short, but its overall build quality ensures that you will use it for several years.
All things considered, this gorgeous all-in-one liquid cooler with amazing RGB and top-of-the-line cooling mechanism scores full marks in every department.
NZXT Kraken Z73
Best Premium Liquid Cooler
Like Thermaltake, NZXT is another brand that you can trust when it's about computer hardware and accessories. The brand is also the best when it comes to AIO liquid CPU coolers. This NZXT Kraken X73 is ideal for high-end gaming rigs and overclocked build.
This stylish, modern, and glossy 360mm AIO cooler features elegant RGB lighting while its all-black exterior looks amazing. As compared to the previous NZXT X72, this Kraken X73 comes with major improvements in all departs.
One notable upgrade comes with its Asetek Pump that has become entirely silent and delivers much better performance as compared to its ancestors. Besides, NZXT X73 features a much bigger LED ring with a swivel top that you can set as per your preferences.
Furthermore, its aluminum radiator and three high static pressure fans deliver a speed of 500 to 2000 RPM. The AIO's fans also feature Fluid Dynamic Bearing (FDB) that further enhanced its durability and maintains an airflow of around 73.11 CFM.
The cooler's fully sleeved tubing offers additional support and protection, whereas its copper base plate provides efficient heat dispersion.
The next significant improvement comes in terms of compatibility. The AIO is suitable to use with various Intel and AMD sockets, including AMD AM4 and TR4 sockets. The installation is also straightforward without any special tools.
In terms of cooling, this NZXT beast competes with all the best aio 360mm liquid coolers on the market. However, some reviewers stated that its fans have a high speed that creates some noise while working. But no consumer denied its silent cooling even under extreme load.
Lastly, it also features addressable RGB LEDs on the water block. Plus, you can easily customize them via the NZXT CAM software. Through this software, you can quickly adjust pump speed and observe various aspects and settings of the AIO.
So, if you want a premium and attractive 360mm AIO that keeps things cool inside your build, NZXT Kraken X73 is what you should go for.
ID-COOLING Auraflow X 360 Snow
Best For White Theme Build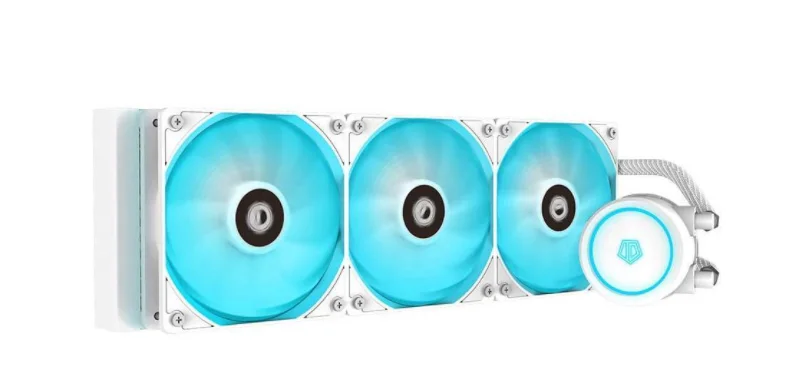 You will find many glossy black units on the market, but this ID-COOLING Auraflow X 360 Snow features glossy white, and it is perfect you really want something unique for your build. Plus, its RGB setup gives it an entirely different look.
The Auraflow X 360 Snow's AIO also features great compatibility. Unlike others, you can also use this AIO with the AMD Threadripper. Plus, you can safely use this with Intel's 1150, 1151, 1155, 1156, 1366, 2011, or 2066. As for AMD's users, you have all the support for FM1, FM2, AM2, AM2+, AM3, AM3+, AM4, and TR4.
Furthermore, the hardware and components of the AIO feature top-notch build quality. The unit comes with three 120mm fans that are well-designed, and you will also find a unique pattern on each fan's blade. The unit's pump head also features a large contact plate that makes it compatible with the most powerful processors.
Like other premium AIO's this cooler also comes with sleeved hoses that are smartly braided to prevent leakages and punctures to ensure its longevity. While AIO's installation is simple, thanks to the uniquely designed screws. Plus, no need to use any special tool; a normal screwdriver will do the job.
For a budget build, a CPU cooler like vetroo v5 will just work fine too if you are not planning to overclock.
The cooling mechanism is efficient and perhaps the best in the 360mm class, no matter you use it for overclocked or customized gaming builds. However, it's worthy of mentioning here that the AIO is not entirely silent. You will feel fan noise during heavy loads, but the cooling is quick and as per standards.
Altogether, the ID-COOLING Auraflow 360mm AIO is a great choice, especially when you consider its affordable price tag. The unit features striking looks that look unique and match well with all builds.
Lastly, if you want a high-end 360mm AIO cooler at a reasonable price, this ID-COOLING AURAFLOW X 360 Snow is the best.
Corsair iCUE H150i Elite Capellix
Best RGB 360mm AIO
Looking for an efficient and quiet CPU cooler for your PC? Have you considered this Corsair's iCUE H150i AIO cooler? The unit's compatibility is the best, and it works well with all AMD and Intel boards.
Moreover, it comes with three robust PWM fans, while its pump head features remarkable RGB lighting. You will also get a 5-year warranty so that you can buy it with full confidence.
As you would have expected, this Corsair AIO comes with the necessary mounting hardware to make installation an effortless one.
Furthermore, it supports modern CPU sockets, such as TR4/sTRX4 and AMD Threadripper CPUs, along with their mounting hardware. As a bonus, you will also find the main block cover for aesthetic purposes.
The included three ML120 cooling fans include cutting-edge magnetic engines, and their durability and specs ensure extraordinary longevity. Unlike other classic patterns, these engines deter the fan's rotor and reduce friction, leading to a superb performance with lower energy consumption.
Moreover, the AIO's fans also feature a high RPM of 2400, while its frosted blades with an elegant black frame also feature RGB LEDs. The noise level is between 10 to 37 dBA, but it mainly depends on your PC's load. Besides, via iCUE software, you can easily play with the setting and shut off the fans to eliminate noise levels.
Overall, this AIO shines above the rest both in terms of cooling and noise level.
Cooler Master MasterLiquid ML360 Mirror
Best Looking 360mm Liquide Cooler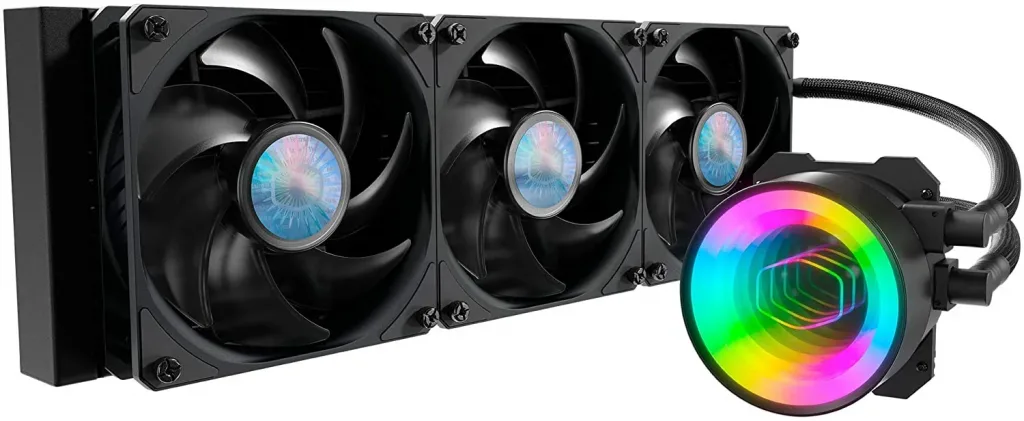 Next comes the Cooler Master ML360 all-in-one liquid cooler featuring a mirrored pump head. Keep in mind that this Cooler Master is the most appealing cooler in this class.
Cooler Master might not be the first to present the mirror pump heads, but their beautiful design is the best in the class. The unit comes loaded with addressable RGB LEDs that add value to the overall look. However, you will only find RGB on the pump's head, and the rest of the AIO is all-black.
However, quality and performance-wise, this Cooler Master's AIO lacks nothing. The unit comes with a dual pump specifically designed for enhanced water flow.
Plus, its EPDM is effective against leakage. The Sickleflow 120mm fans come nicely covered in a rubberized to reduce noise during working.
Compatibility-wise, you can use it with Intel's LGA 1156, 1150, 1151, 1155, 2011, and 2066. For AMD, it is compatible with AM2+, AM3, FM2+, AM3+, FM1, FM2, AM2, and AM4.
Installation is simple like other premium AIO's on our list, and it comes with a detailed manual and necessary hardware to make the installation hassle-free.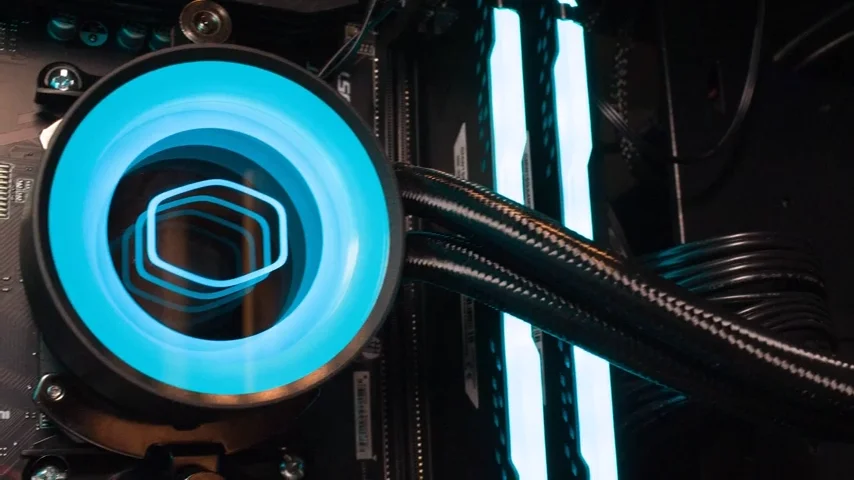 While the AIO's cooling abilities are matchless and at the top of the 360mm class, but we liked its sound dampening abilities the most. At maximum speed, the fans work at only 32 dBa, a noise level that would be unnoticeable in any casing. So, if you want nothing but the silent AIO liquid cooler, this ML360 Mirror is the safest bet.
The only downside of the unit is that it lacks RGB on the fan blades, which might be important to all reserved PC builders.
All-in-all, the Cooler Master MasterLiquid ML360 Mirror has all the capabilities to cool down any machine while maintaining the minimum noise level. Plus, its mirrored pump head is the most attractive on the market.
ASUS ROG Strix LC 360 RGB
Silent Liquid Cooler With Great Performance
This ASUS ROG AIO CPU cooler features an efficient all-in-one liquid cooling mechanism with Aura sync to ensure reliable performance for many Intel and AMD sockets. It is also suitable for overclocked PCs and keeps things cool and calm inside the case. Furthermore, it comes backed with five years of warranty by the makers.
No matter how long and intensely you use your system, this ASUS AIO CPU cooler ensures decent cooling, and it can efficiently handle any workload to ensure smooth working speed.
To be precise, it comes with four pins of connectors that offer a snug and appropriate fit. This AIO CPU cooler features durable and strong sleeved tubing with three exclusively designed ROG fans that offer leak-free performance and reliable resistance.
Besides, this CPU cooler features durable radiators that ensure static pressure. It comfortably fits most chassis sizes. During testing, idle CPU temps were between 32C to 35C, which was fine.
Testing it under heavy loads, the CPU's average temperature was around 60C – 70C. And all fanatics know this is acceptable.
We missed the only thing in this AIO; there is no LED or screen to monitor various settings such as CPU Temp, voltage, etc. Overall, this ASUS ROG Strix LC 360 AIO Liquid Cooler works well and offers efficient cooling. Plus, its fans are quite as well.
Lastly, the ASUS ROG Strix LC 360 is a wonderful choice for all RGB enthusiasts that feature an enhanced good cooling sensation and allow you to smoothly use your PC.
DEEPCOOL Castle 360EX
Cheap Option For 360 Liqauid Cooler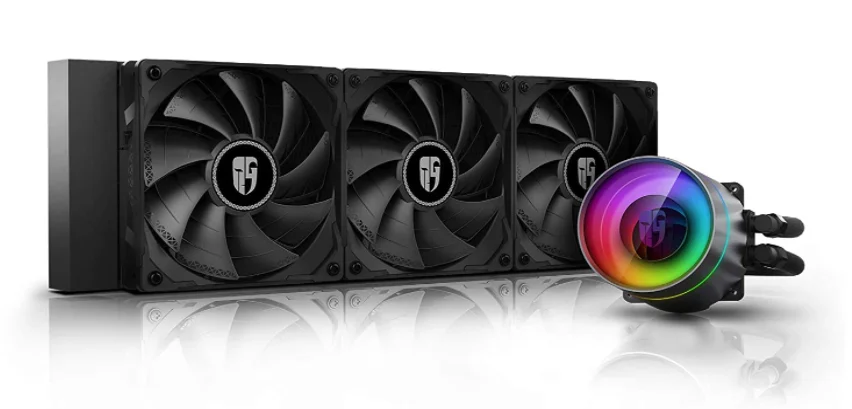 Next on our list comes a relatively new brand effectively making its name is the Castle 360RGB from DEEPCOOL. For those who are hearing the name for the first time, let me tell you the name might be new, but the performance and functionality are the same as you will get from an expensive brand.
Furthermore, the unit comes nicely polished with the durable build quality and top-notch materials all around. Moreover, it comes with a double window covering the company's logo. You will also find an attractive LED array that offers real depth.
Additionally, it comes with three addressable RGB fans designed to offer an excellent glow, thanks to the included translucent fins. If you are not using addressable RGB motherboards, no problem. There is an in-line controller that ensures that you can use those LEDs effectively.
The Castle 360EX competes with all other AIO and allows your PC to operate at its full potential without overheating. As compared to the other premium AIO on the market, the difference was only 3 degrees.
However, the unit's only downside is that the block is quite tall when installed. So, we will advise you to check your PC's dimensions.
Lastly, this Castle 360EX AIO liquid cooler performs well, looks lovely, and above all, you can get it at an affordable price.
EVGA CLC 360mm AIO RGB
Super Quality And Value To Money
The EVGA CLC is another name in the computer accessories world that you can trust. This 360mm AIO cooler ensures a static pressure of 4.04 mmAq (max). It ensures better and consistent movement of air by utilizing a resistance pressure.
Furthermore, this EVGA 360mm AIO is compatible with almost all modern sockets. You can safely use it with Intel LGA 2066, 2011, 2011-v3, and more. The unit is also suitable to use with AMD AM2, AM3, AM4, TR4, and other modern sockets.
Moreover, it comes with seven blades on each fan that guarantees optimal cooling and the best performance to disperse all the heat generated by your PC. Plus, you can use it with overclocked PCs, and it allows you to use any software without low response.
The fans are well-designed and deliver a high RPM of 500 to 2400 RPM to ensure good working. Besides, the installation of this AIO is simple and needs no maintenance if installed correctly.
In addition to this, you will also find a 74. 82 CFM of max airflow that confirms that all of your PC components work smoothly. The unit's RGB effects on the pump's head look amazing, and you can comfortably customize them using the provided software.
Lastly, this EVGA CLC 360mm AIO RGB CPU cooler is a wonderful choice if you prefer optimum cooling without any hassles.
GIGABYTE AORUS RGB AIO Liquid Cooler
Best Option For Ryzen 7 3700X CPU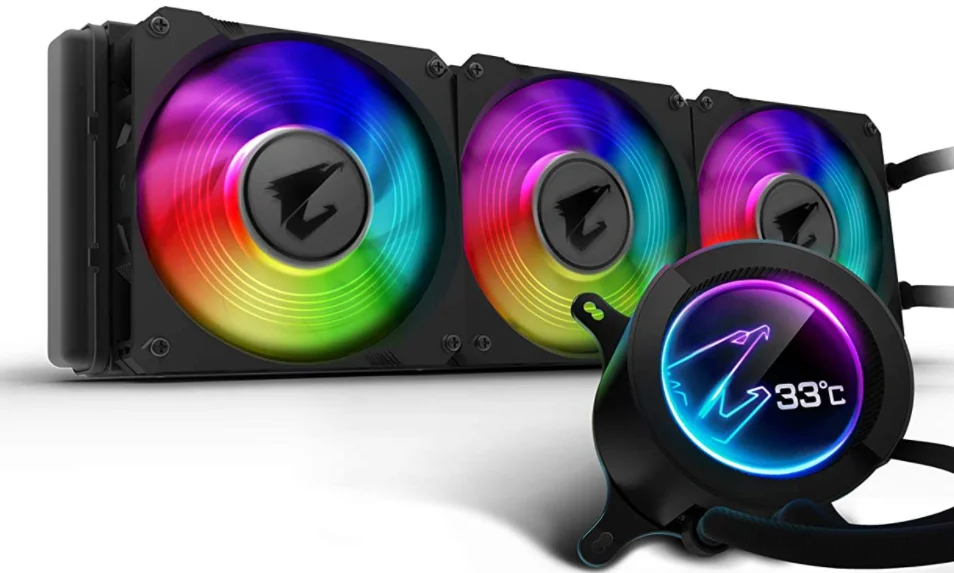 This Gigabyte's Aorus AIO cooler heavily emphasizes RGB lighting while delivering the optimum cooling for your PC. The AIO features good cooling performance along with a flashy and customizable LCD screen above the pump.
However, its software is not that simple, and you will have to juggle a bit to manage and adjust the pump and fans settings.
The Aorus Liquid Cooler comes with the required hardware and supports a variety of Intel and AMD CPU sockets as well as AMD's Threadripper. You will also get Aorus-branded thermal paste with the purchase. However, the copper base plate comes with a pre-applied patch.
The unit's pump comes nicely covered in an aluminum housing. Plus, it also features a 60mm LCD display for easy monitoring. Tubing is also durable and fully sleeved in black braided nylon.
The RGB effects are customizable, and for this purpose, you will need Aorus Engine and RGB Fusion software. Furthermore, you can also use the Aorus Engine app to control pump and fan RPM controls.
The base of this Aorus 360mm liquid cooler features a unique tooth retention system for the replaceable mounting plates. The Aorus Liquid Cooler 360 features a standard 360mm aluminum radiator that works well, and it is highly durable.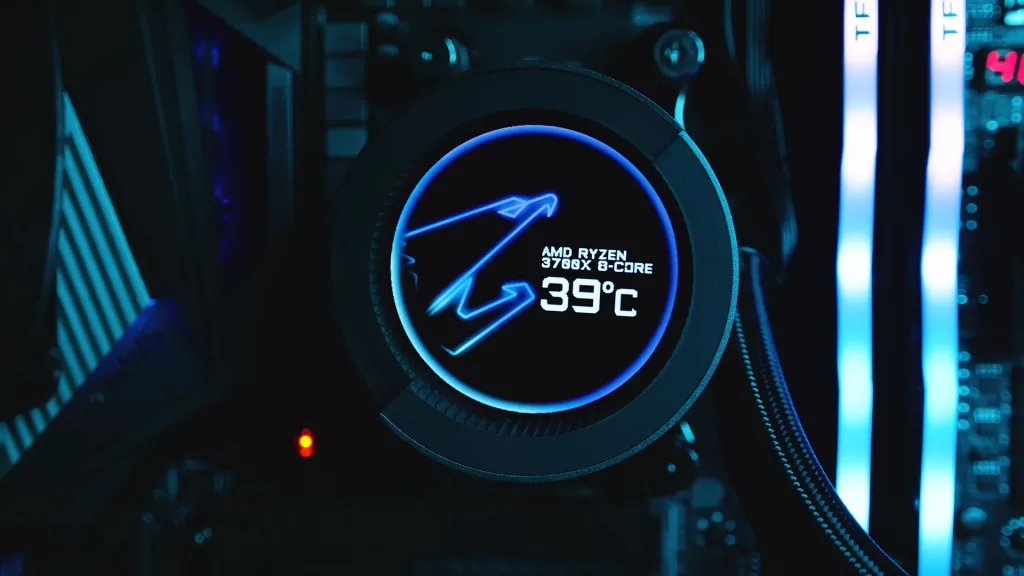 The unit also includes 120mm dual ball-bearing fans that deliver 2500 RPM at 59.25 CFM. You can adjust the fan's speed via 4-pin PWM headers. The unit's base is evenly milled, and we didn't notice any flaws between the copper plate and a steel rule.
Furthermore, it performed well even under extreme loads during our testing, and consumer reports also confirm the same. So you can safely fit in overclocked machines. The installation is also simple and uses the standard 4-post mounting offsets along with knurled thumbscrews.
Lastly, it is the best 360mm AIO on the market, and if you don't mind its hefty price, this is the AIO to opt for your high-end machines.
MSI MAG CORELIQUID 360R CPU Cooler
Best Budget Option
The MSI MAG Coreliquid 360R is the best choice for all the enthusiast looking to make the maximum use of RGB. The AIO features flashy RGB lights in all prominent places. You will find amazing RGB effects on the fan blades and pump head.
Furthermore, another unique feature of this Coreliquid 360R is that its pump is mounted on the radiator block. So, say goodbye to the traditional cooler design as you will see in the other AIO on the market.
Moreover, you can easily mount the RGB lighting by using MSI Mystic Light. However, this software doesn't control the other features, only the lights.
In terms of the build quality, it is reliable and certainly solid. The AIO's hoses come sleeved in braided nylon that provides enhanced support and looks rather sleek than the others. Additionally, the radiator and pump combo is exceptionally durable and only include high-quality plastic materials.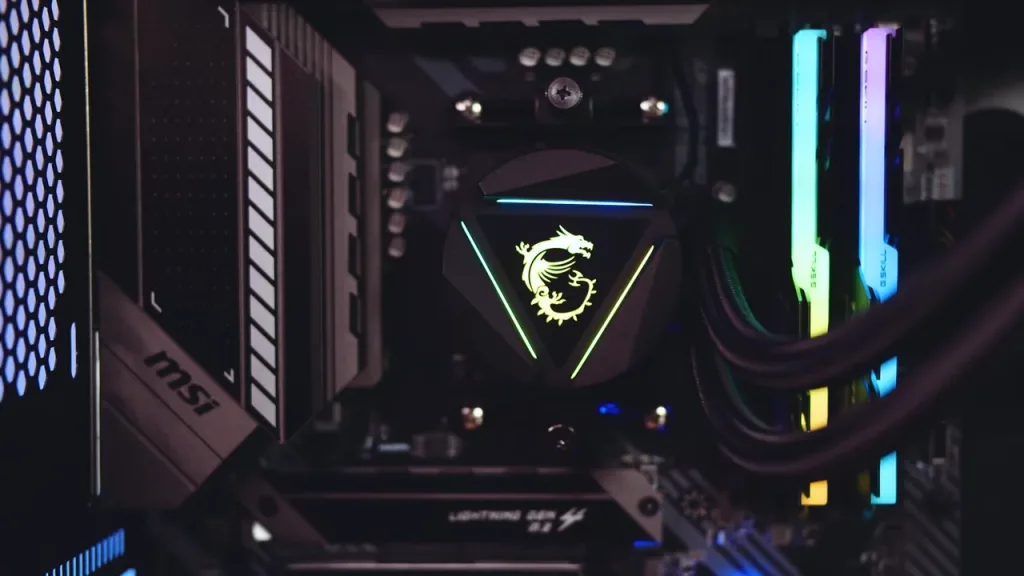 As for the installation, it is simple and makes good use of the rotating pump head. The head can swivel up to 270 degrees, so you can easily install it in an upright position regardless of the configuration inside your PC.
Besides, this MSI Coreliquid 360R CPU cooler works well with almost all modern machines. It offers support for Intel's LGA 1150, 1366, 2011, 1151, 1155, 1156, 1200, 2011-3, and 2066, as well as for the AMD TR4, sTRX4, AM4, AM3, AM2, and SP3.
While during the thermal testing of this MSI MAG Coreliquid 360R clearly indicated that it is the best on the market and safe to use for any powerful machine. If you love the RGB lighting effects, you'll definitely get higher returns for your bucks.
Conclusion
If you are still on this post and have read all our reviews, we are sure that you have made up your mind about which AIO is the best for your PC. And if you are still thinking about which 360mm AIO is the best for you, we will say that pick any from the list, and you will not be disappointed with the results.
Whether you are loyal to any specific brand or find it hard to determine the best performer or looking for the affordable or most expensive AIO, there is an AIO liquid cooler for everyone on our list. Just keep your requirements in mind before finalizing your pick, and you're good to go.