Lyst is one of those digital shopping companies that continuously offer very good deals that a lot of us are attracted by. But those who have never ordered from LYST might find some of those deals too good to be true, and wonder, is LYST legit or a scam? We'll review LYST and tell you everything about it. If you're short on time, here's a simple answer:
LYST is not a scam. It is a legit website and it is safe to buy whatever you want from LYST. But you don't have to take our word for it — we have included reviews and proofs for what we are claiming later in the article, so continue reading if you are interested.
With a pandemic keeping us quarantined within our homes, online shopping has seen more growth in the recent years than ever before.
That has made it is easier to buy things, but online shopping comes with its own set of risks.
Scams are far more common than ever and that is why every time we come across a good deal on a website we've purchased from before, we're afraid of it turning out to be a scam.
On that note, we're going to talk about the following things in this article:
What is LYST, where they're located and a little bit about their company. Is it safe to buy from Lyst.com? Or is Lyst a scam? We've researched and compiled an answer to this question, and we'll be attaching proofs for everything we say.
What is LYST.com?
LYST is an online fashion store that has thousands of options to choose from. They have a mobile app as well.
According to their official website, LYST has over 160 million annual shoppers and they offer products from over 17000 brands, including some of the leading brands in the industry such as Gucci, Patao etc.
The reason LYST is so famous is because of its wide variety of products. You don't need to go to different websites to buy from different companies, you can shop from multiple brands on LYST itself.
They also have some very aggressive pricing at times, which is another reason they are talked about a lot.
Overall, LYST is a very good option for your fashion choices… assuming they actually deliver the products. And that the products are real.
Let's get to the main topic, is LYST a genuine website?
Is LYST legit? (Our LYST Review)
LYST is legit, and it's totally safe to shop on their website or mobile app. (Please note that we are talking about the official LYST website, lyst.com. Beware of fake websites.)
How do we know that?
Well, their customers are the most valuable alibi that you'll come across.
Here are a few comments on a Reddit thread that asked whether LYST was legit or a scam: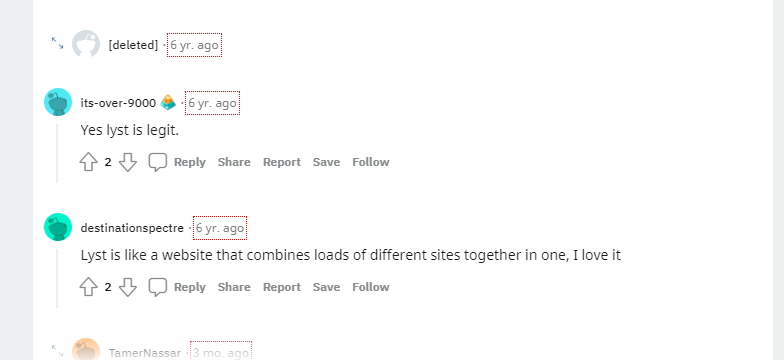 Not enough to satisfy you?
Well, I'm a customer of LYST myself. I've ordered on multiple occasions from the website and I have received what I ordered, safe and sound.
I was actually impressed by how fast they deliver. This is my genuine LYST review and is in no way sponsored.
On Sitejabber, LYST has 4.5 stars among 21 reviews. The number of reviewers is not the highest, yes, but it is not zero nonetheless.
That being said, LYST does have a few critical reviews that refer to LYST as a scam on the same website. Some of these reviews even say that they haven't received their product.
But LYST officials seem to have replied to those reviews, asking them for more information so that they could look into it.
This is one of those reviews:
Here is what the LYST Rep replied:
Now I can't say for sure that this person received their order, but I hope that they did.
From all the reviews that I've heard, LYST customer support is very responsive and answers queries.
Here is another Reddit comment about LYST.

I think we can assume that LYST is legit, from my personal experience and from what other customers have shared.
There are a few bad reviews here and there, but honestly, I have never seen a product/company or service have completely positive reviews.
There will always be one or two reviews that will contradict all the other ones.
Is Lystdiscount.com legit?
Lystdiscount.com is not the official LYST website and is a scam. As of 2022, the website has shut down but there was a time when it used to work and they'd promote the website on Facebook via ads.
You should always beware of fake websites such as this one. LYST.com, and their official apps on Play Store and App Store are the only places that you should purchase from.
Does LYST.com sell fake items?
LYST does not sell fake items. The products that you buy on LYST get delivered directly from the retailer and are 100% original items.
How we do know?
First of all, LYST is a verified seller for all of the brands that they sell. This means that the brands recognize LYST.com as an authentic seller.
Secondly, if you're still anxious – you can always confirm. After you receive your product, you can confirm whether it is real or not.
The specific steps for doing this depends on the brand that you buy, but most brands have a way to distinguish between real and fake products.
Where is LYST based?
LYST is based in London and that is where their headquarter is located. That appears to be their only office at the moment, but the brand is growing every day and we expect them to open more offices soon.
How does LYST work?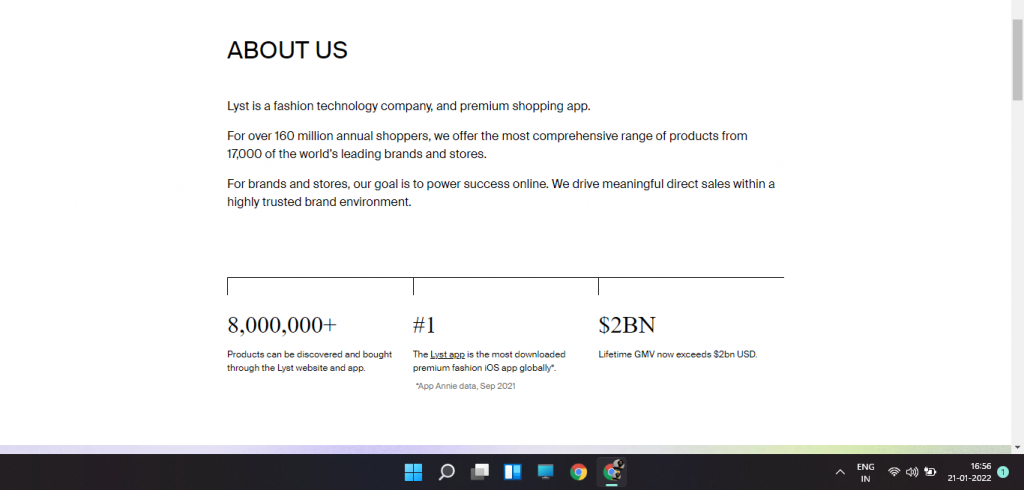 LYST is a global fashion search engine. When you make a search for a product on LYST, their algorithm searches through over 2000 stores and 9000 designers.
Because LYST does not depend on one store or brand, they have an immensely large catalog of products. There is almost an endless number of products to choose from.
Once you have searched your product and you click on it, LYST takes you to the official website of the retailer.
They track every visit that they send to retailers, and they get commissions from those retailers if a visitor decides to purchase.
It's like affiliate marketing, really. Just on an extremely large scale.
Taking as well as processing the order and delivery is completely in the hands of the retailer and not LYST.
LYST hugely depends on data and analytics. They have a very creative team of data scientists that continue to take the platform to new heights.
LYST is able to provide personalized recommendations to every user based on their activity, and this immensely increases the conversion rate.
Is the LYST app free?
Yes, the LYST app is completely free to download and install. However, purchasing a product from LYST is not free. You will be redirected to the retailer's website when you click on the product and will have to make a payment.
Conclusion
So, is LYST legit? Certainly. You should stay worry-free while making purchases from LYST. LYST provides original products, which are neither refurbished nor being resold. They highly focus on quality and every retailer they forward you to will certainly be trusted and provide decent customer service. Happy shopping!